Matt Groening's Netflix Series Disenchantment Sets Debut Date, Releases First-Look Images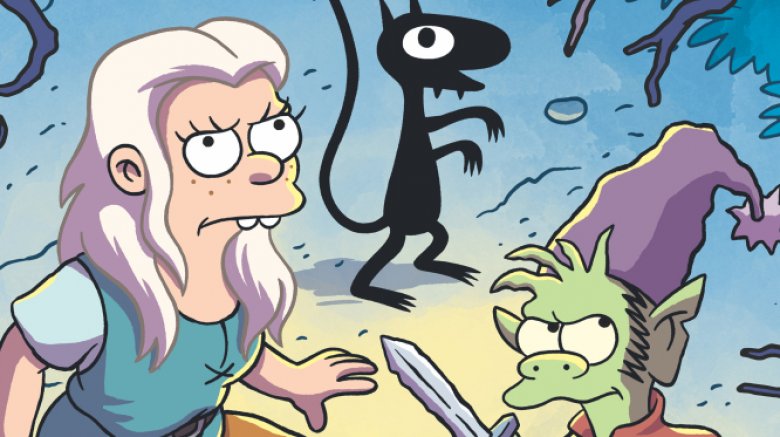 Netflix/The ULULU Company
Art thou ready for this?
Netflix has dated and unveiled the first look at its newest animated series, Disenchantment. The brainchild of The Simpsons creator Matt Groening, the comedy fantasy show nabbed a 10-episode order from Netflix, which will launch the entire first season of the series on August 17.
Courtesy of Variety, the streaming service also dropped the drawbridge to the show's proverbial castle to let everyone have a look at the main characters of Disenchantment: the liquor-loving princess Bean, her spunky but short elf companion Elfo, and her very own demon named Luci. Broad City actress Abbi Jacobson lends her pipes to Bean, with Academy Award-winning The Descendants screenwriter and Friends from College actor Nat Faxon voicing Elfo and The Eric Andre Show's own Eric Andre providing his voice to Luci. 
The series takes place in the "crumbling medieval kingdom of Dreamland," and follows Bean and co. through their many misadventures as they encounter "ogres, sprites, harpies, imps, trolls, walruses, and lots of human fools." 
Rounding out the voice cast of Disenchantment are John DiMaggio, Billy West, Maurice LaMarche, Tress MacNeille, David Herman, Matt Berry, Jeny Batten, Rich Fulcher, Noel Fielding, and Lucy Montgomery in undisclosed roles. 
Rough Draft Studios (Futurama) does the animation for Disenchantment, which has Groening and Josh Weinstein (The Simpsons, Futurama) attached as executive producers. The ULULU Company produces the series for Netflix.
Catch Disenchantment on Netflix starting August 17.