Kiernan Shipka Would Love To Revisit An Adult Sabrina Down The Line - Exclusive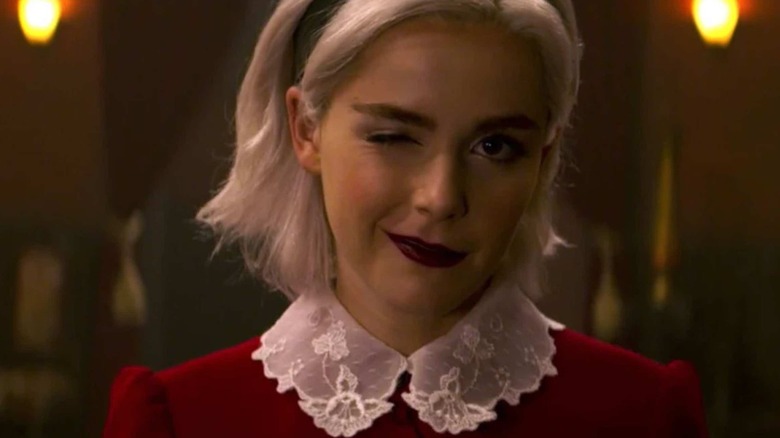 Netflix
The character of Sabrina the teenage witch first premiered in October 1962's "Archie's Madhouse" #22, eventually becoming a major character in the Archie Comics universe. Her first adaptation came with the 1970s animated fantasy sitcom "Sabrina the Teenage Witch" before the Melissa Joan Hart-starring 1996 live-action TV movie "Sabrina the Teenage Witch" launch a seven-season series. It made Sabrina a household name outside the realm of comic fans.
When 2017's "Chilling Adventures of Sabrina" debuted on Netflix, it was immediately notable for abandoning the sitcom format for a full-fledged supernatural horror series. Set in the same universe as The CW's "Riverdale," "Chilling" boasts Kiernan Shipka as the powerful young witch in a series that's more comfortable with bloody scribbles in Lucifer's book than cheery sitcom laughter. While the series' fourth and final season was released on December 31, 2020, the character appeared in the sixth season of "Riverdale" to have a little more of a final hurrah.
In an exclusive interview with Looper, we spoke with Kiernan Shipka about her time as Sabrina Spellman/Morningstar. While "Chilling Adventures of Sabrina" has wrapped and its sister series "Riverdale" is also concluding, the actress revealed she'd still return to the character without hesitation — and she has a pretty stellar pitch on how to do so.
Sabrina the Adult Witch?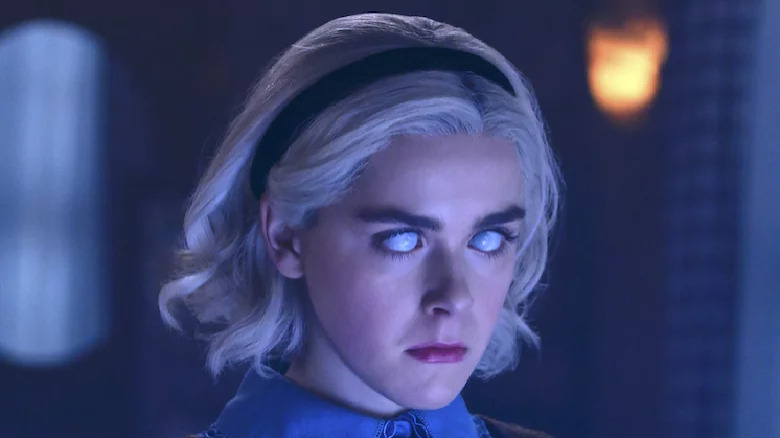 Netflix
In our interview, we asked Kiernan Shipka about her experiences returning to the character in "Riverdale." "It was another dream come true to revisit her," she said, "because I love her so much." At the same time, she admitted, "I don't feel like I got to say a super-proper goodbye, so it was really nice to slip on the headband again." As it turns out, while "Chilling" may have ended, the character never left her. 
"I remember reading my lines out loud for the first time [while] going over them for the crossover episode," she explained, "and the second that I said them out loud, I was like, 'Oh my gosh, she's here.'" To the talented young actress, it was a strange feeling. "It was this wild experience where I realized she was still in my body, and I love her and I don't want to stop playing her," she revealed, admitting she'd return in a heartbeat. "I don't know what it looks like," she said, "but if anyone says, 'We need Sabrina,' I'll be like, 'I'm there.'"
While "Riverdale," too, is ending, Shipka has a pitch for Sabrina's hopeful future. "As I get older, I also get excited about what an older version of her would look like," she explained. "She was such a feisty teenager, and if witches have a frontal lobe, it wasn't developed yet," she said of the younger adaptation of the character, "and I would love to see a more mature version of her somewhere down the line." It's a great idea on how to evolve a truly interesting character, and one can only hope we might yet see Sabrina's future.
Kiernan Shipka's new film "Wildflower" is in select theaters, on digital, and on demand.