Brendan Fraser On An Encino Man Reboot: 'Why Not?'
YouTube/Disney
Academy Award winner Brendan Fraser is riding high after the success of "The Whale." Surely, he has his pick of projects at this point in his career. Fan support seems to lean heavily in favor of sequels to "The Mummy" and "Encino Man" (and for finally releasing "Batgirl"). In an interview from 2019 with Entertainment Tonight Canada, Fraser sounded like he'd be all in for a revisiting "Encino Man." When asked about fans wanting to talk to him about "Encino Man" all these years later, Fraser said, "It's a pleasure. It warms my heart."
Fraser burst onto the scene in the beloved Pauly Shore comedy "Encino Man" back in 1992. In the film, he played Link, a recently defrosted caveman who learns to live and party in the Valley in then-modern-day California. Fraser has been praised for his comedic and lovable performance in the film. It wasn't much of a critical success when it was first released, but has since amassed a pretty substantial cult following.
When asked if he'd be down to do a follow-up to "Encino Man" by ET Canada, Fraser simply said with a smile, "Why not? I mean everything's getting remade." Making fans of his career very happy, he also followed up that comment by saying he'd like to play Rick O'Connell from "The Mummy" one more time as well. Fans were thrilled with Fraser's comments about going back to the movies that helped make him such a loved actor. Little do they know a reboot of "Encino Man" may already be in the works.  
An Encino Man 2 may be on the horizon from Disney+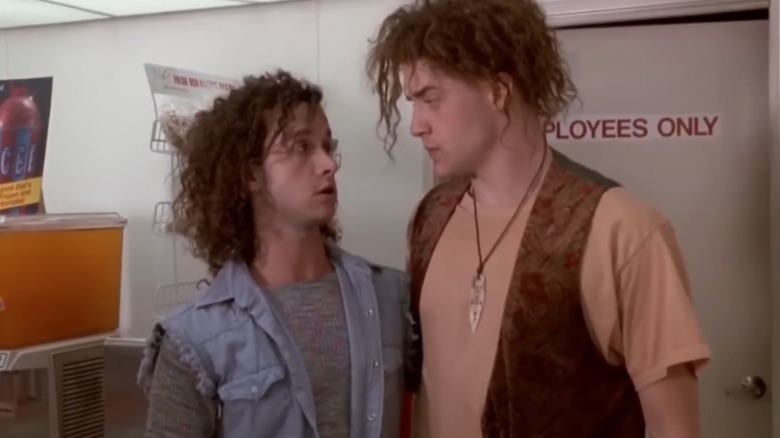 YouTube/Disney
In a 2022 interview with Inverse, Pauly Shore disclosed that talks have been underway with Disney+ about doing a sequel to the cult favorite '90s comedy "Encino Man." Brendan Fraser has said he'd be down to return, and Shore seemed very into the idea, having laid out ideas for sequels to some of his hit movies in the past. If "Hocus Pocus" could get a (pretty good, mind you) sequel on the streaming platform, "Encino Man" feels like it's on the same wavelength of nostalgia, so to quote Fraser, "Why not?"
Shore said he'd be happy to make the sequel for the sake of the fans. He would want to make sure that Brendan Fraser and Sean Astin would be able to return to their roles as well. Original film screenwriter George Zaloom was asked in the same interview if he knew if there was going to be a follow-up. He wouldn't say yes or no, but simply said, "We may be pleasantly surprised." Fans are hopeful that an "Encino Man 2" will come to fruition. Fraser's name bankability is at an all-time high and Disney+ would be smart to cash in on that success right now.