The Walking Dead's Norman Reedus Had To Film This Scene Solo Due To A Concussion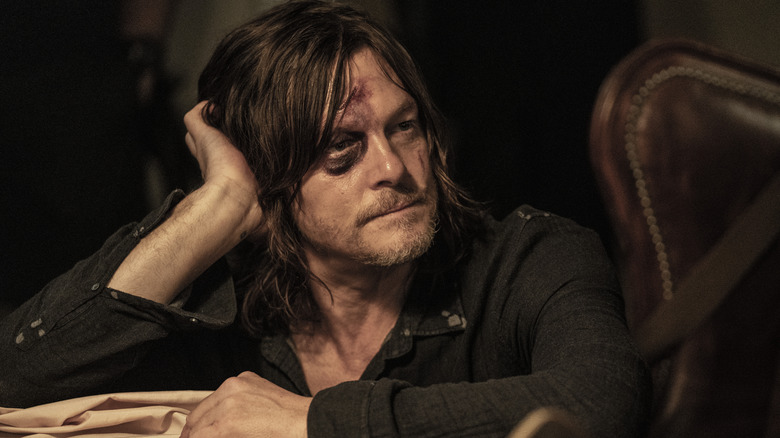 Jace Downs/AMC
While a number of spin-offs have followed, and are soon to follow, the original "The Walking Dead" ended its epic 11-season run at the end of 2022. Fan favorite character Daryl Dixon, played by Norman Reedus, wrapped up his current storyline at the end of the show before going off to star in the upcoming aptly titled "The Walking Dead: Daryl Dixon" spin-off. His ending didn't go off without a hitch, however, as the accident-prone star suffered a concussion during the filming of the "TWD" finale.
In 2005, Reedus was involved in a nasty car accident that left him with a titanium, surgically repaired left eye socket. The actor has stated in the past that this has left him with a sensitivity to light and with some awful occasional headaches. When he suffered a head injury on "The Walking Dead" finale, the actor was terrified for his safety. Reedus had also suffered injuries falling off a motorcycle and brutally cutting his hand on a prop vending machine while filming the zombie series. He quickly recovered from the finale's injury, but it didn't come without an injury that left the actor dizzy.
In the series finale of "The Walking Dead," Negan (Jeffrey Dean Morgan) and Daryl, both of whom are getting their own spin-off series in 2023 and 2024, give a symbolic nod to each other as they part ways for the final time. No dialogue was said between the characters, both of whom share a rich history, but their powerful head nod said it all. Creatively, it was the right call for the duo, but Reedus had to film his portion of the scene separately since he had suffered a concussion directly prior to filming.
Reedus' friendship with Jeffrey Dean Morgan helped him know how to play their final scene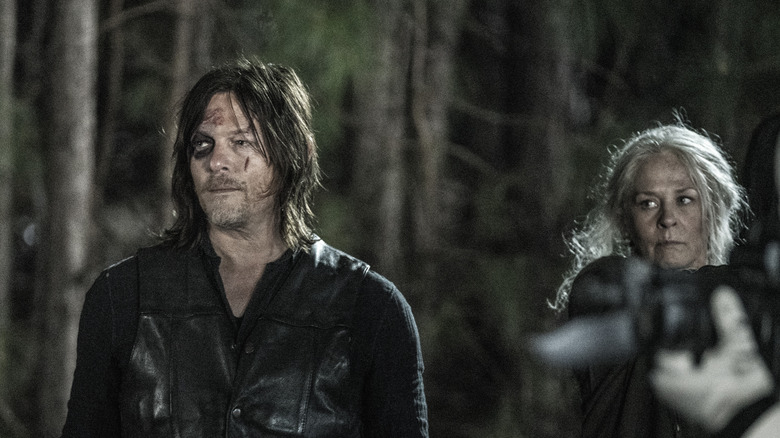 Jace Downs/AMC
Norman Reedus explained to Vanity Fair how and why filming went down separately for Negan and Daryl's final scene in the series finale of "The Walking Dead." He said that Negan actor Jeffrey Dean Morgan had to leave the set of "The Walking Dead" immediately to head to New Jersey to film his character's spin-off, "Dead City." Morgan filmed his half of their interaction and send-off while Reedus was still out with a concussion. The concussion was so bad, Reedus said, that he had to be unavailable to film for several weeks. Reedus said of Morgan, "I didn't see what he did. I went off what I imagined Jeffrey would do because I know Jeffrey so well. [Special makeup effects artist Greg Nicotero] kind of explained to me what he did ... I knew how Jeffrey would do it, so I just played off that."
Reedus said he felt pretty dizzy when he came in to film his part of the scene, but he felt okay enough to do it despite knowing he was still suffering from a concussion. The scene went off without a hitch, and it's now part of "Walking Dead" history. 
Reedus joked about the black eye he was left with after suffering the concussion and explained why it made it into the show. He said, "I've had so many real black eyes on the show, and some of them are written into the story line, some of them we cover up with makeup, and then some of them we enhance. But it's no coincidence that I got knocked out on camera right around the time that I was really knocked out."