Ian Bohen's Favorite Yellowstone Season 4 Moment Involves A Bunkhouse Brawl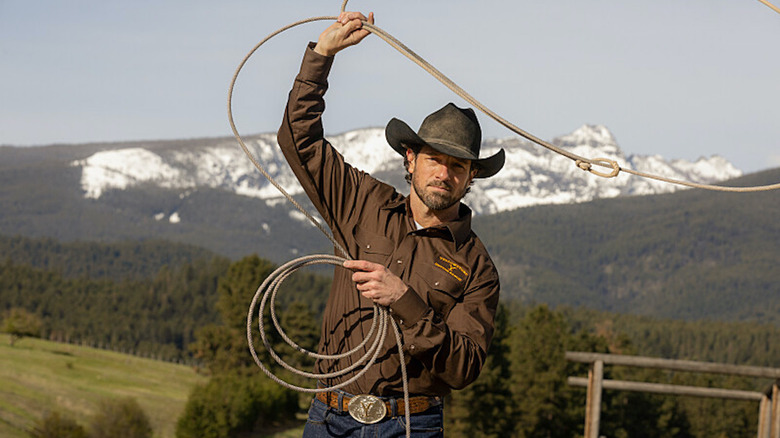 Paramount Network
Sure, it's a lot of fun to watch John Dutton and his brood face off with their various enemies (and often with each other) from one episode of "Yellowstone" to the next. But any true fan of the series knows the crazy cowboys that call the Yellowstone Dutton Ranch bunkhouse home are the series' under-the-radar all-stars. And few of that motley crew of wranglers and rabble-rousers are quite as well-loved by "Yellowstone" fans as the level-headed Ryan. 
Said character has been portrayed by "Teen Wolf" alum Ian Bohen since "Yellowstone" made its Paramount Network debut in 2018. And you would indeed be hard-pressed to find a supporting player on the series that more fits the "fan-favorite" bill. You'd be just as hard-pressed to find a bunkhouse dweller more devoted to the Dutton Ranch, though that loyalty has been tested on the regular in recent seasons of "Yellowstone."
That was particularly true during the show's fourth season when things were hardly peaceful within the typically cozy walls of the bunkhouse. And when TV Line asked Bohen to name his favorite scene from Season 4 during a 2022 interview, he admitted the bunkhouse tumult fueled the moment, stating, "The first thing that comes to mind is when Lloyd [Forrie J. Smith] stabs Walker [Ryan Bingham] in the bunkhouse."
Bohen says the buildup to the Season 4 fight made the payoff all the more impactful
The fateful encounter came just past the midway mark for Season 4 of "Yellowstone," and did so in an episode titled "I Want to Be Him." As for how the infamous tussle went down, it was hardly a full-on bunkhouse brawl. Rather, it finds Dutton Ranch regulars Lloyd (Forrie J. Smith) and Walker (Ryan Bingham) on the verge of blows after barrel-racer Laramie (Hassie Harrison) upsets the balance of bunkhouse power by dropping the former in favor of the latter.
Feeling spurned, and cast out by his bunkhouse buddies, Lloyd goes off the rails, making matters even worse when he flings a knife into Walker's chest rather than throwing the expected punches. It was, of course, hardly the first time things had gotten tense between Lloyd and Walker, who'd often been at odds over the first three seasons of "Yellowstone." And as Ian Bohen told TV Line, the bunkhouse showdown was all the more impactful, "because we watched those [two] in acts 1, 2, and 3 develop that taunting and teasing to fighting to attempted murder really ... and then when we have to subdue Lloyd and take him to the boss."
Dramatic payoff aside, Bohen admitted shooting the scene was one of the heavier days he's experienced on the set of "Yellowstone." He also shared that working with his favorite co-stars ultimately made the day enjoyable. And that's hardly a surprise given how tight the bunkhouse crew has clearly become over the years.