Melanie Lynskey Says The Younger Cast Of Yellowjackets Has The More Challenging Job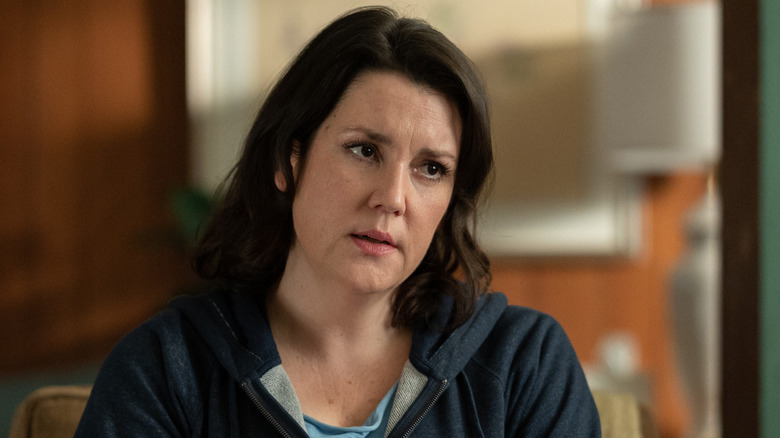 Kailey Schwerman/SHOWTIME
As fans know, "Yellowjackets" isn't lacking in intense moments in either timelines. In the '90s timeline, the teens must fight for their lives in the wilderness, which eventually leads them to cannibalism. Meanwhile, in the present timeline, the survivors are still grappling with the trauma of their time in the woods while trying to live normal lives and avoid blackmailers.
If it makes for an intense experience just to watch "Yellowjackets," one can only imagine what it's like for the actors of both timelines to have to bring the survival scenes, whether physical or emotional, to life. Both timelines are heavy, so some may wonder which cast had the more intense job — the kids or the adults. Turns out, Melanie Lynskey, who plays adult Shauna, has an answer. 
"[The younger cast members] have the harder job for sure," Lynskey told The Hollywood Reporter in an interview, and it's easy to see why she believes this.
Lynskey thinks the young cast does a great job despite the pressure on them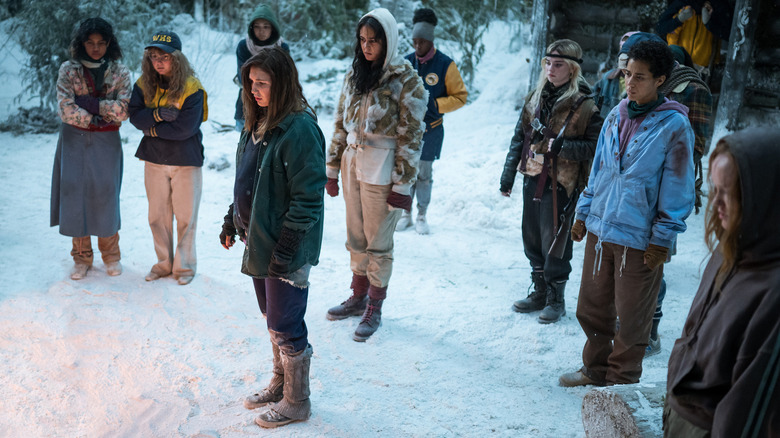 Kailey Schwerman/SHOWTIME
During her interview with The Hollywood Reporter, "Yellowjackets" star Melanie Lynskey was quick to heap praise on to the younger cast, which includes Jasmin Savoy Brown, Sophie Thatcher and Samantha Hanratty, as well as Lynskey's younger counterpart Sophie Nélisse. 
"They're all so talented, like they're gonna do an incredible job," Lynskey said, "but a lot is being asked, for sure." When the interviewer pointed out that Lynskey and the older cast members also have plenty being asked of them as well, the actor deflected the attention back to the younger cast. There are a few reason why they have such a mighty task, including the environment the younger cast is in.
"You know, they're also outside all the time," Lynskey said. "It's different."
To see these young actors take on the elements, check out "Yellowjackets" Season 2, which premieres on March 24, 2023.