Here's What Critics Are Saying About Yellowjackets Season 2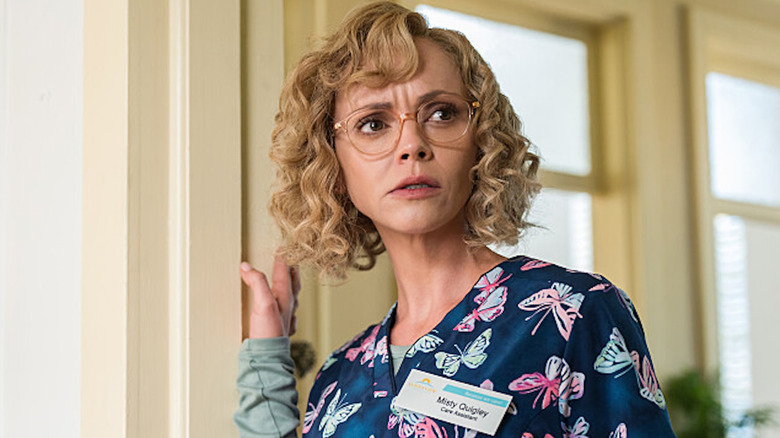 Kailey Schwerman/SHOWTIME
Fans of "Yellowjackets" – the Showtime thriller created by Ashley Lyle and Bart Nickerson — eagerly await the show's approaching second season, which will premiere on Showtime on March 24. With a few major reveals given in the Season 1 finale, such as the fact that Lottie (Courtney Eaton/Simone Kessell) made it out and is alive in the present timeline, as well questions left unanswered, the Season 2 premiere couldn't come soon enough.
Season 1 was undeniably a hit, amongst viewers and critics alike, and fans hope Season 2 to be just as gripping and entertaining. Thankfully, it seems their expectations will be met, at least according to what critics have to say so far. The second season of "Yellowjackets" currently holds a perfect Tomoatometer score on Rotten Tomatoes based on the earliest reactions from critics. 
"'[It's] Yellowjackets' delivery of its previously made promises — of unfurling its grotesque mysteries it taunted in Season 1," Mónica Marie Zorrilla from Inverse wrote, "that makes Season 2 even better than its buzzy predecessor." Other critics are largely in agreement with Inverse's review that there is a whole lot to love about Season 2, but some critics have minor reservations.
Many critics think that the second season lives up to the first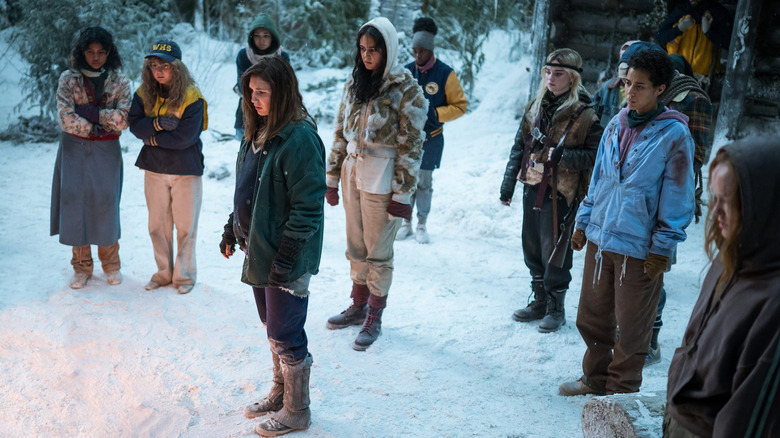 Kailey Schwerman/SHOWTIME
Take one look at the Rotten Tomatoes page for "Yellowjackets," and it's clear that critics love Season 2 so far. Vanessa Armstrong at /Slashfilm wrote that the sophomore season keeps up with everything that made viewers love Season 1, such as the compelling character development and a catchy soundtrack of '90s hits.
"[The show is] still gripping, still disturbing, still keeps the characters front and center, and still doesn't get too bogged down by the mystery enshrouding it all," Armstrong said.
Meanwhile, Emily Zemler of Observer mused about the fact that co-creators Ashley Lyle and Bart Nickerson had a lot to live up to given how much of a hit the engaging first season turned out to be, but she also promised that Season 2 is satisfying. 
"[Juliette] Lewis, [Christina] Ricci, and [Melanie] Lynskey make 'Yellowjackets' such must-see TV," Zemler wrote. "All of the show's actors are strong, but it's this trio, playing wonderfully f***ed up women who have no interest in so-called good behavior, who are the most captivating." 
Zemler was far from the first critic to comment on the strong acting of the season. Gwen Ihnat of The Wrap, for example, declares that the show's cast is better than ever. Here at Looper, Matthew Jackson has nothing but praise for Season 2 as well. 
"'Yellowjackets' Season 2 becomes one of the most thrilling rides you're likely to take on the small screen this year," Jackson said. "One of TV's best shows just got even better, and it still feels like it's only the beginning.
Some critics have some reservations about the new season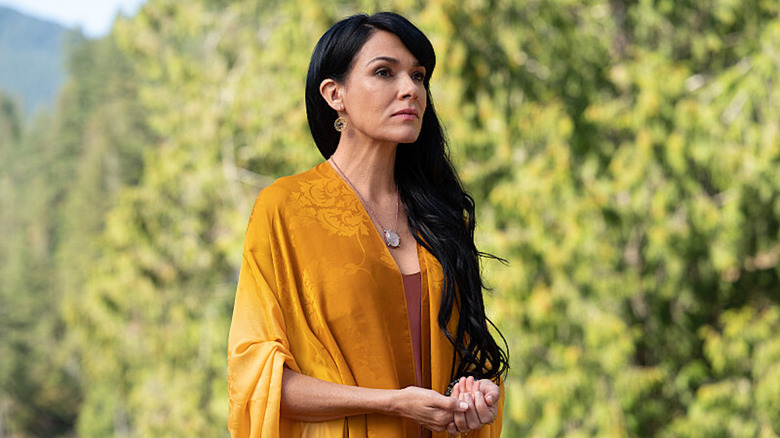 Kimberley French/SHOWTIME
With Season 1 being such a hit, it's no surprise that critics have high expectations. While many critics have heaps of praise for "Yellowjackets" Season 2, some critics also have reservations. Carly Lane of Collider, for one, notes that the past storyline continues to be much more compelling than the present storyline. 
"What keeps the modern-day mysteries interesting are the strengths of the show's cast," Lane wrote, "but they still pale in comparison to everything that still hangs over the wilderness. One early reveal [in the past storyline] is so stark, so unapologetic in its boldness that it seems difficult to imagine how it could be outdone, and then it is, in a fashion that could only be described as 'Yellowjackets' at its most horrifying." 
Kristen Baldwin of Entertainment Weekly had similar thoughts, declaring that the viewer can feel the strain of keeping up two storylines in two different timelines. Meanwhile, Ben Travers of IndieWire praised the thematic focus and the performances, but he noted that the plot seems to be stalled. 
"There's a hesitancy — toward character development, definitive actions, and forward momentum — that simply wasn't there before," Travers wrote, "and one has to wonder if that's necessary to build out future seasons, or if it's simply the result of a successful series biding its time." 
Gwen Ihnat of The Wrap had reservations about the supernatural elements that pop up in Season 2, as well, declaring that she hopes the back half of Season 2 steers away from that.
All in all, even the critics who expressed their criticisms of the season emphasized the overall success of "Yellowjackets" Season 2. In conclusion, the 100% Tomatometer score on Rotten Tomatoes is a sign for viewers to tune in.