Vertigo Gets The Remake Treatment At Paramount (With Robert Downey Jr. As Lead?)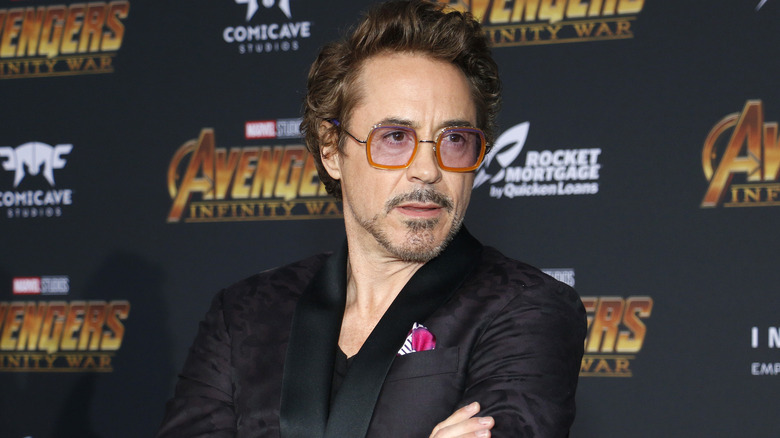 Tinseltown/Shutterstock
Paramount Pictures has tapped "Iron Man" actor Robert Downey Jr. as the lead star in its "Vertigo" remake.
Deadline reports that Paramount Pictures is developing a remake of the 1958 Alfred Hitchock suspense thriller, widely considered one of the greatest films ever made. The script is set to be written by Steven Knight, the beloved "Peaky Blinders" creator. While this is certainly a career high for the British creative, it's not the only reason he's in the news — the writer is currently penning the next "Star Wars" flick.
Paramount Pictures distributed the original Hitchock classic, making them the prime contender for the remake. Details are slim on the upcoming remake, including who the lucky director is, but one thing is certain: Robert Downey Jr. will be taking on the lead role. The Oscar-nominated actor, best known for starring as Iron Man in the highly-profitable Marvel Cinematic Universe, has largely kept a low profile since he wrapped up the super-powered role in 2019's box office-breaking "Avengers: Endgame."
Robert Downey Jr. will take on James Stewart's role
The outlet reports that Robert Downey Jr. is circling the lead role populated by James Stewart in the original Alfred Hitchcock venture. It remains to be seen how faithful the remake is to the original, which was about a retired detective-turned-private detective suffering from acrophobia, who gets roped into tracking his friend's wife.
Downey Jr. is said to be closely attached to the film, producing it under his Team Downey banner. The production company, founded by Downey Jr. and his wife Susan, most recently produced the 2020 "Dolittle" film, the actor's first major role following his Iron Man retirement. The actor is next set to star in Christopher Nolan's "Oppenheimer" and Park Chan-wook's upcoming "The Sympathizer" series.
"Vertigo" is just the most recent Alfred Hitchock flick to get the remake treatment. Ben Wheatley directed Armie Hammer and Lily James in Netflix's 2020 adaptation of "Rebecca," which Hitchock first brought to the big screen in 1940.
The upcoming "Vertigo" remake hasn't been dated.