Timothy Olyphant And His Daughter Had A Hilarious Dynamic On The Set Of Justified: City Primeval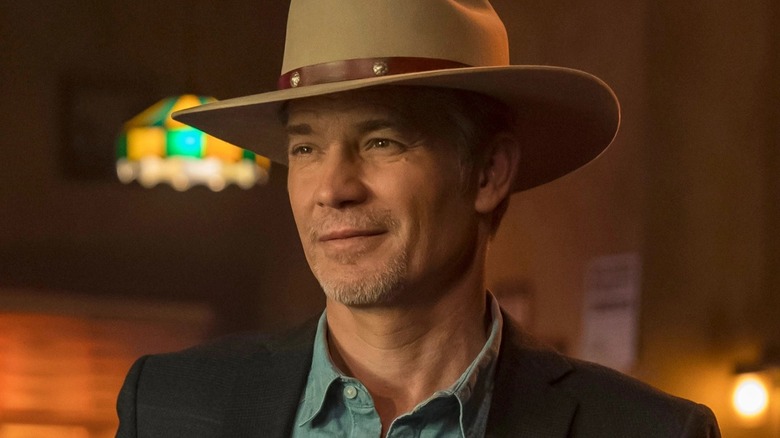 Chuch Hodes/FX
Timothy Olyphant may be returning to the "Justified" universe, but Raylan Givens won't be exactly how fans remember him. FX's revival, entitled "Justified: City Primeval," is a miniseries inspired by Elmore Leonard's book of the same name. This time around, the role Raylan's daughter Willa will be played by Olyphant's real-life daughter, Vivian Olyphant. And while casting a relation as your onscreen daughter adds a level of realism, Olyphant has admitted that filming went pretty much as you would expect. When Seth Meyers asked Olyphant how it was working with his daughter, he had the perfect response.
"I don't recommend it," he answered with a grin. Olyphant elaborated on how family dynamics translated to the on-set culture. While some coworkers may feel a level of intimidation because of Olyphant's status as the series lead, there was unsurprisingly one exception on the "Justified: City Primeval" set. "We hired the one person, guaranteed, who doesn't feel that way at all. In fact, she's not only not nervous around me, she's kind of over it." All things considered, this is probably the exact push-and-pull you want for the actors playing family members. But, unfortunately for Olyphant, he had to suffer for his art.
Timothy Olyphant's daughter was more popular than him on set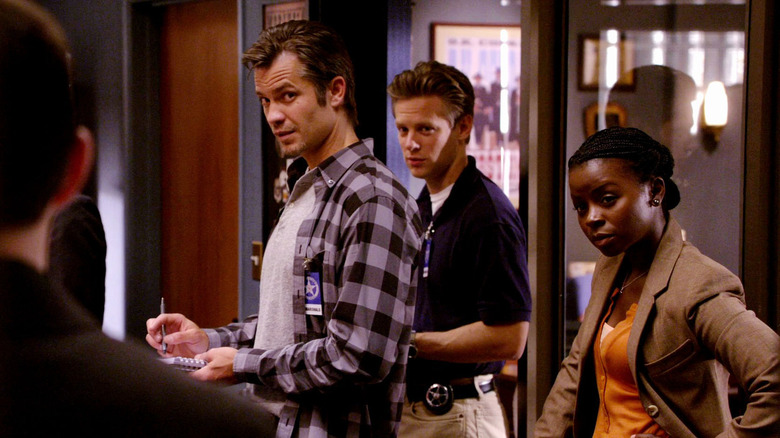 FX
The showrunners were understandably a little nervous about allowing Vivian Olyphant to audition for "Justified: City Primeval." It's not every day that your series lead and his daughter just happen to be the perfect match for the characters they're portraying. Their concerns were assuaged when she impressed in her audition and quickly became a favorite on set. Speaking to Seth Meyers, the star of the show revealed that his daughter proved to be more popular than him.
"She'd write 'favorite Olyphant' on the big board and put my name and her name," Olyphant revealed. "I lost in a landslide." He would have received zero votes had it not been for his role in "The Mandalorian," he added. "There was like one 'Star Wars' geek that voted for me." Apparently, Vivian was treating the experienced actor (who is also an executive producer on the show) as her father and not the series lead, so he had to pull rank. "You know what it's like to have to whisper to your daughter, 'You can't talk to me like that,' on the set of your own show?"
Olyphant had Meyers and his studio audience howling with laughter as he recalled his tales from the set, but he made sure to let them know that acting opposite his daughter was ultimately a very rewarding and memorable experience. "She was remarkable and it was a joy to work with her," he said.