The Trailer For Queen Charlotte: A Bridgerton Story Brings Us To The Beginning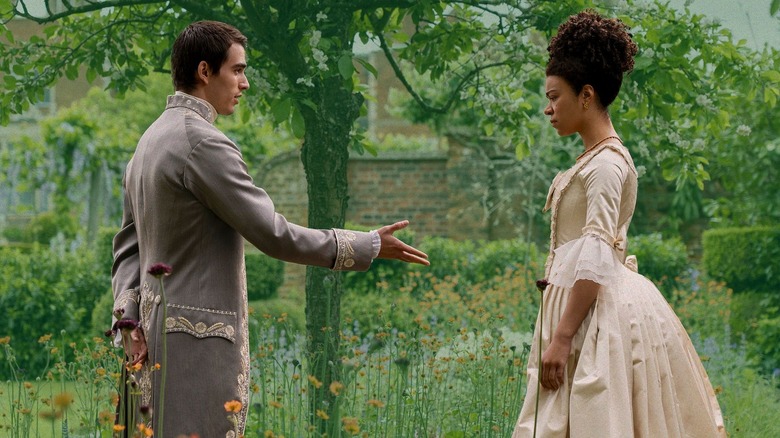 Netflix
"Bridgerton" fans have a lot to look forward to this year. In addition to the long-awaited Season 3 due out sometime in the near future, Netflix's Regency-era romance is set to unleash a prequel series that chronicles the origin story of Queen Charlotte (India Amarteifio).
Last month, Netflix gave fans a teaser for "Queen Charlotte: A Bridgerton Story" that hinted toward a story about political intrigue. The first official trailer, meanwhile, leans into the romantic and risque sensibilities that the franchise was built on. Charlotte meets King George (Corey Mylchreest), finds him utterly spellbinding, and, before they know it, they're holding hands in the garden and making out by sultry candlelight.
Of course, with this being a "Bridgerton"-verse show, there are some stumbling blocks for our protagonists to overcome before their love can truly blossom. With that in mind, let's take a look at the latest footage for "Queen Charlotte: A Bridgerton Story."
King George is hiding something, but he is dashing
As you can see from the trailer, King George is up to something here. He's an elusive figure who takes a minute to introduce himself to his wife-to-be, and it just so happens to coincide with her trying to escape over a garden wall. From the get-go, Charlotte is expected to consider it a privilege to marry him, simply because of his noble status and power. However, Charlotte isn't interested in only being the king's baby machine — she has loftier ambitions and wants a man who's around for her. 
In one scene, King George can be seen traveling through a dark passageway with his posse. Who does that unless they're hiding something? Afterward, Young Brimsley (Sam Clemmett) says, "She's his wife. She should know him." Fortunately, Charlotte isn't willing to accept his secrets and demands more from her husband, suggesting that this series will be full of drama and twists.
As far as trailers go, this is a good one. It does enough to create anticipation for the upcoming "Bridgerton" prequel series and doesn't give away too many spoilers. That said, all of our questions will be answered on May 4 when "Queen Charlotte: A Bridgerton Story" trots onto Netflix.