Queen Charlotte: A Bridgerton Story's First Teaser Gives Fans A Taste Of The Romance That Started It All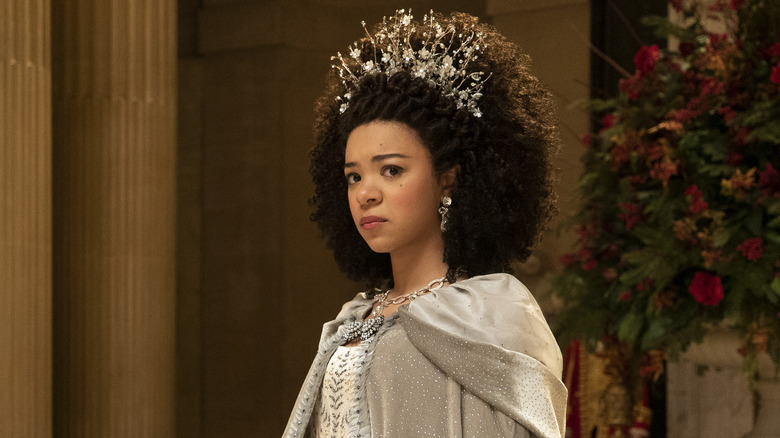 Liam Daniel/Netflix
"Bridgerton" has been an incredibly successful and overly romantic peek into an altered version of England in the 1810s. The show's stories take place during the Regency era, when, in real life, Prince George (eventually George IV) ruled in place of his father, King George III, who suffered through several unpredictable bouts of an incapacitating illness that affected his mental and physical state. Modern researchers believe he suffered from porphyria. The severity of his condition sent the whole monarchy into a tailspin, leaving Charlotte to rule the court socially and her son to wield power elsewhere.
Netflix's "Queen Charlotte: A Bridgerton Story," a prequel and spin-off series, is set to mix reality with fantasy and explore what happened decades before the library-rattling, starlit romancing of the main thrust of "Bridgerton." It takes us back to when Charlotte was a young bride who achieves something rare within the monarchy; a love match that will result in a happy (at least at first), large family and lead to her founding a dynasty that still reigns over Britain to this day.
True love and duty are set to collide
As you can tell in the above trailer, "Queen Charlotte: A Bidgerton Story" is set to mix a little political intrigue into the usual "Bridgerton" combination of romance, gorgeous scenery, and historical drama. During the trailer, we see glimpses of a young Charlotte (India Amarteifio) meeting for the first time with a younger version of King George (Corey Mylchreest). The gentle romance of the moment gives way to glimpses of passionate kissing, the sight of Charlotte and George being crowned, and a moment in which Charlotte must fight for herself. "This is my home," she says. "I am the queen!" Young Lady Danbury (Arsema Thomas) also appears to urge Charlotte to fully claim her position at court and ensure the continuance of her power there.
For those worried that this prequel series and spin-off show might shed Golda Rosheuvel, who plays the original Charlotte in "Bridgerton," there's no need to worry — we get to see several glimpses of her looking imperious in a dimly-lit throne room. Other cast members include Michelle Fairley (Princess Augusta), Sam Clemmett (Young Brimsley), Freddie Dennis (Reynolds), Richard Cunningham (Lord Bute), Tunji Kasim (Adolphus), Rob Maloney (Royal Doctor), Cyril Nri (Lord Danbury) and Hugh Sachs (older Brimsley). Ruth Gemmell is also expected to appear as Lady Violet Bridgerton.
"Queen Charlotte: A Bidgerton Story" will debut on Netflix on May 4.