Jumanji Sequel, Men In Black Spinoff Posters Unveiled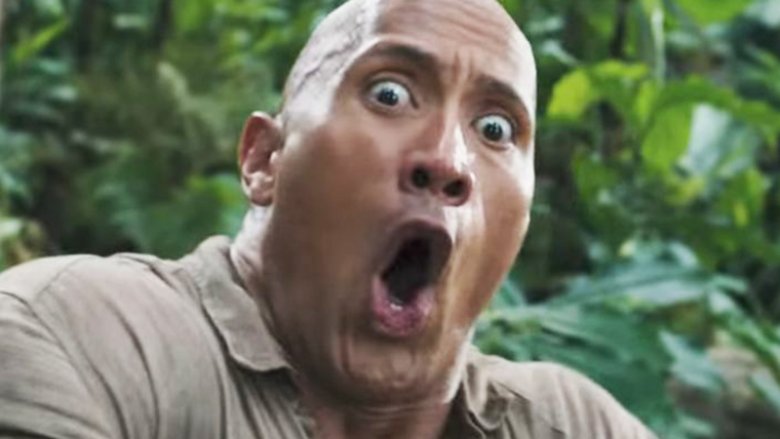 It's double the poster fun in the movie world today. 
During this week's Licensing Expo in Las Vegas, Sony Pictures unveiled the first posters for its Jumanji: Welcome to the Jungle sequel and its untitled Men in Black reboot spinoff film. 
The one-sheet for the second Jumanji flick, which is a follow-up to the follow-up that reimagined the classic Robin Williams-starrer from the 1990s, promises that the central crew will find themselves back in the jungle for more antics and unexpected troubles. It doesn't indicate what the sequel will officially be called, although the poster does include the "Jumanji" title and features silhouettes of Karen Gillan, Dwayne "The Rock" Johnson, Jack Black, and Kevin Hart, all of whom are standing in front of the Jaguar Statue the 2017 movie was focused on. 
In the first Jumanji: Welcome to the Jungle, the four characters — Gillan's Lara Croft-like martial artist Ruby Roundhouse; Johnson's Indiana Jones-type archaeologist Smolder Bravestone; Black's cartographer, cryptographer, archaeologist, and paleontologist Sheldon "Shelly" Oberon; and Hart's zoologist Franklin "Mouse" Finbar — drop into the lush but dangerous world of the Jumanji game and journey to return the Jaguar's Eye to its place in the statue. 
The Jumanji: Welcome to the Jungle sequel brings back director Jake Kasdan (Zero Effect, Walk Hard: The Dewey Cox Story, Bad Teacher) and screenwriters Scott Rosenberg (Pain & Gain, Venom) and Jeff Pinkner (The Amazing Spider-Man 2, The Dark Tower). The film is set to launch in December 2019. 
As for the Men in Black spinoff poster, things are even sleeker. The image, shown below, hints at a refreshed film and also maintains the futuristic aesthetic of the original by featuring a pair of black sunglasses with what appears to be a laboratory of some kind reflected in the lenses. Up at the top of the poster, fans can spot the Men in Black logo, as well as a tease that the reboot will touch down in theaters in the summer of 2019.
The new Men in Black swaps Will Smith and Tommy Lee Jones' Agents J and K for Thor: Ragnarok costars Chris Hemsworth and Tessa Thompson, who team up as the unnamed leads. Iron Man and Transformers: The Last Knight screenwriting duo Art Marcum and Matt Holloway penned the script. Fast and the Furious franchise creative F. Gary Gray is in talks to direct the spinoff, which is set for a June 14, 2019 release.