American Pickers' Frank Fritz Once Bought A Pennzoil Sign For $750
What if someone told you that Frank Fritz from "American Pickers" once paid $750 for a Pennzoil sign? You'd think they were crazy. Moreover, you'd be well within your rights to call the story a bald-faced lie. The very notion seems preposterous. $750? That's a lot of lettuce.
But you'd be forgetting one vital detail: "American Pickers" is professionally shot and edited by a well-paid production crew. That's right. This little "Frank Fritz paid $750 for a Pennzoil sign" yarn we've been spinning? There's evidence to back it up — mountains of the stuff — as much as 42 seconds of video.
See, it all went down in the "American Pickers" bonus episode "Quite the Stache," from all the way back in Season 15. Somewhere in West Texas, Fritz found himself immaculately-kempt-beard-line-deep in a pick at the ranch of collectors Cecil and David. That was where he, like Ace of Bass before him, opened up his eyes and saw the sign.
Frank Fritz found a daisy of a Pennzoil sign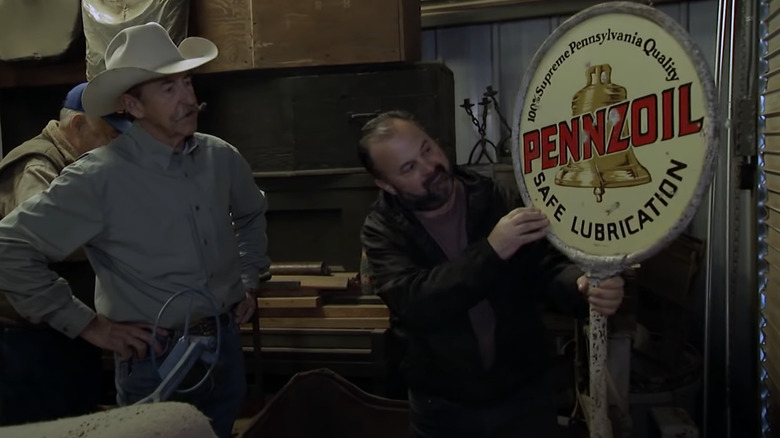 History
It was a sign that any collector would feel lucky to pick. "Pennzoil," it stated, promising "100% Supreme Pennsylvania Quality." What is Pennsylvania quality? Does it mean "at least as good as 'Rocky'" or "at least as good as 'Rocky V?'" That's between Pennzoil and their deity, and it made no difference to Frank Fritz. To Frank Fritz, the sign meant one thing as it sat in that garage: Unadulterated picking ecstasy.
"You'd have to step up pretty big to buy that one," the owner of the Pennzoil sign asserted. "I'm thinking around... around $650," said Frank Fritz. "Make it $750," retorted the owner.
Fritz fired back with an offer of $700. The owner, with nerves of tempered steel, fired back, cementing his price of $750.
A deal was struck, and Fritz took home an antique sign promising "Safe Lubrication" for $750. There's no reason to feel sorry for the acclaimed picker — by his own estimation, he would be able to turn that sign around once he got it to the "American Pickers" store, where he reckoned he could get as much as $1,100 for it. That's a lot of cheddar. Nice work, Frank Fritz.