NCIS: Hawaii: Captain Joe Milius' S2 Return Left Fans Wanting More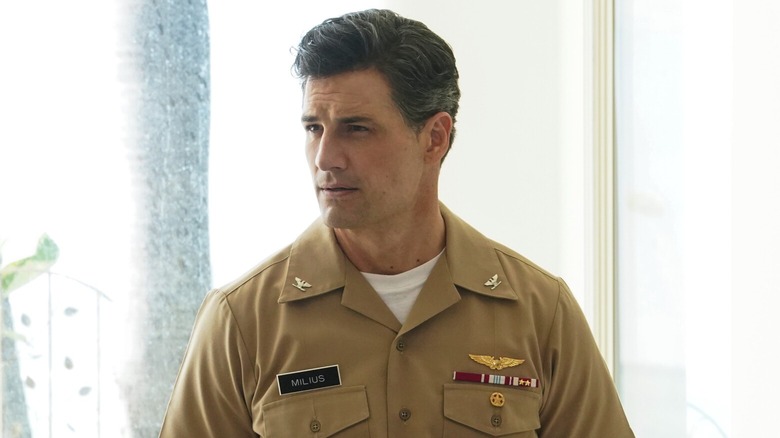 Karen Neal/CBS
This article contains spoilers for "NCIS: Hawai'i" Season 2, Episode 17 — "Money Honey"
Network procedural dramas typically go through many cast members in their broadcast lifetime, but many previous characters have also returned later on down the line. The "NCIS" franchise is an excellent example of this trend, with its latest series, "NCIS: Hawai'i," saying hello to Season 1's recurring guest star Enver Gjokaj who played Captain Joe Milius for six episodes in the debut season.
His return to the Pearl Harbor Field Office in Season 2, Episode 17, "Money Honey," surprised many fans. On Twitter, @hawaii001105 tweeted, "I need joe to stay in hawaii #ncishawaii," which included two crying emojis and a split screenshot of Jane (Vanessa Lachey) and Joe. This sentiment was shared by @wigglyniggly1, who commented, "jane and joe are too cute and i love his lil relationship with alex #NCISHawaii," along with a crying emoji.
Not only are fans and even those unfamiliar with the character happy to see Joe return, but many are hoping he stays around for good or at least on another recurring basis. Here is what viewers have to say about Enver Gjokaj's comeback to "NCIS: Hawai'i."

Fans are hoping that Captain Milius stays at the NCIS in Hawai'i
CBS
According to Celeb Dirty Laundry, Captain Milius returned to help the Hawai'i office capture a high-profile suspect who had successfully eluded capture. Along the way, there was also a lot of chemistry between the captain and Special Agent-in-Charge Jane Tennant. Since their last encounter was in the Season 1 finale, the charisma is not surprising. Fans took to social media to let their feelings about the former couple be known.
On the show's subreddit page, u/lenochod6 stated how they hoped that the couple would get back together and stay together this time. The pairing was also acclaimed on Twitter, with @portia_brn observing, "Stop Joe and Jane are so cute I love them. #ncishawaii." @MeredithJJacobs was also a fan of the reunion and tweeted, "From adorable to awkward in less than a minute. It's still good to see Joe again. Definitely rooting for him and Tennant. #NCISHawaii."
@GoWhereYouGrow kept the Jane and Joe lovefest going by wondering aloud when the two would eventually get together, while @lauren_lever took a moment to let the world know that the investigators made her smile. It is unclear if Enver Gjokaj will reprise his character as sporadically as he did during the first season, but based on audience responses, it would be a welcome development.