Star Trek's Melissa Navia Loved The Matrix Elements In Strange New Worlds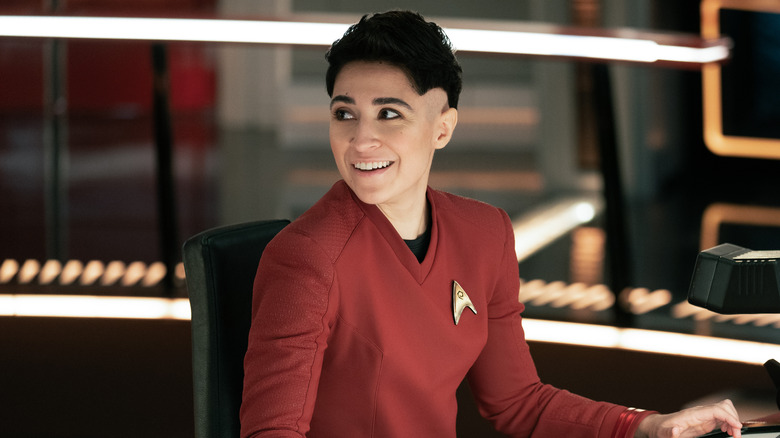 Marni Grossman/Paramount+
It's talked about less than the MCU, or the Star Wars Galaxy these days, but fans of the "Star Trek" universe are currently living through a bit of a second golden age. And assuming Paramount+ keeps cranking out high-minded hits like "Star Trek: Discovery," "Star Trek: Picard," and "Star Trek: Strange New Worlds," the franchise should continue to earn cheers from fans old and new.
"Strange New Worlds" is the most recent of those offerings, debuting in early 2022. Set a decade before the first "Star Trek" saga, the series went into production boasting a special effects budget beyond anything the original series likely could've imagined. And much of it covers the groundbreaking AR wall technology the series' creative team uses to bring the titular vistas to life on screen.
Those worlds are truly unlike any "Star Trek" has seen. But the AR tech is even more useful to creatives as it provides actors with virtual environments instead of green screens, giving them something visceral to react to in effects-heavy scenes. And as series star Melissa Navia — who plays Enterprise helmsman Erica Ortegas — recently told TrekMovie, working with such advanced technology can sometimes feel like stepping into the world of a very different sci-fi classic. "My favorite thing was in Season 1, but it would like occasionally stop working," she said, adding, "Like half the screens go black, and then it goes a little green, and you feel like you're in the Matrix."
Special effects work on Strange New Worlds was an adventure for Navia and her co-stars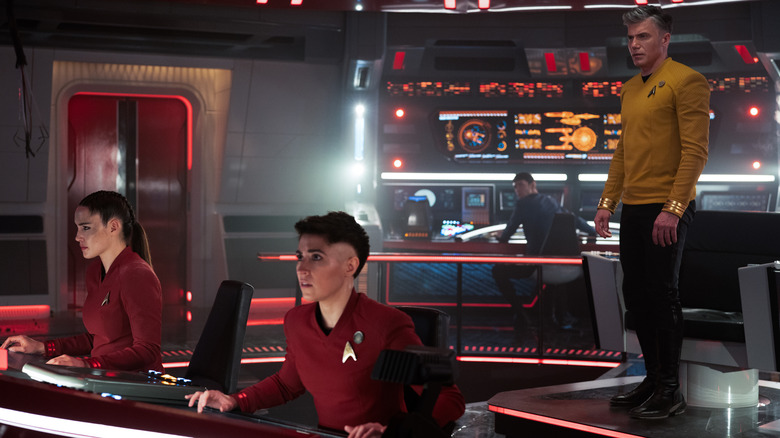 Marni Grossman/Paramount+
Of course, as Erica Ortegas didn't often join the Enterprise's away team when they set out to explore worlds strange and new, she didn't get quite as much time with the AR wall as some of her castmates. As much as she clearly enjoyed walking in the pseudo-Matrix, her "Star Trek: Strange New Worlds" co-stars eventually clued her into the fact that the malfunction wasn't such a cool thing, with the actor telling TrekMovie, "I would get so excited because it was my first time doing it and everyone else who'd done it before, like Rebecca [Romijn], would be like, 'This means we're going to be here that much longer.'"
Melissa Navia's co-star, Celia Rose Gooding, admitted during the same interview that everyone had a similar learning curve working with AR technology on the first season of "Strange New Worlds." "I think it was totally a learning experience because of the technology of how it works," Gooding said, claiming it can be wildly disorienting to work in the virtual environments until you actually get your bearings.
With a season's worth of wall work behind them, Gooding went on to say the best is yet to come from the "Strange New Worlds" effects team.  And we cannot wait to see those Season 2 sights with our own eyes.