Popular Comic Books That Still Don't Have Live-Action Adaptations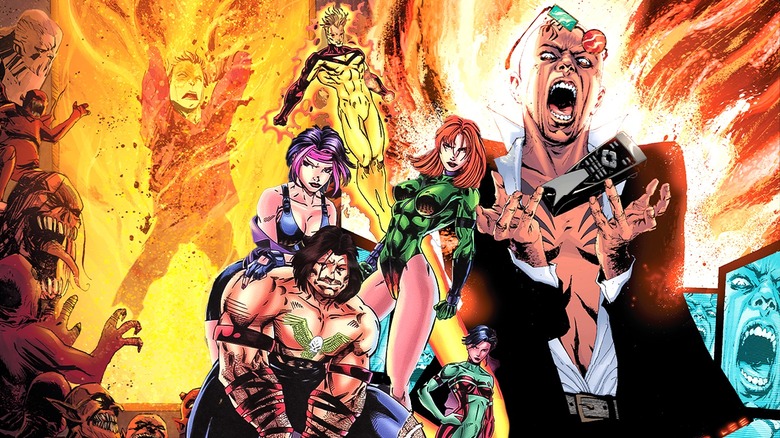 Static Media
The internet is full of endless chatter about supposed superhero fatigue and whether or not comic book adaptations are heading towards retirement. Truth be told, this conversation has taken place for years, yet the genre continues to power ahead, dominating the box office and television ratings alike. The situation is much like anything else in the entertainment biz: People will continue to tune in as long as the material is interesting and provides something fresh to watch. Consequently, creators working in film and TV remain interested in finding comic book properties that haven't yet enjoyed live-action adaptations. Regurgitating current heroes can only take you so far, after all — we might love Scott Lang, but a movie like, say, "Ant-Man VIII: Scott Takes Manhattan" is a fairly remote possibility.
Ferreting out new comic books to adapt may sound like an impossible task, considering how gung-ho the industry has been about acquiring these assets. But in fact, there is a plethora of popular comics that have not piqued the interest of television and film executives — or not seriously enough to get them into active production, anyway. It's true that many of these properties peaked in popularity in different eras — some before the big comic book boom in the late 2000s, even — but a good story remains a good story. These books have been well-received for a reason, and a few of them are still going strong to this day. We're here to take a look at the popular comic books that still don't have live-action adaptations, from space-faring family dramas to post-modern epics.
Ronin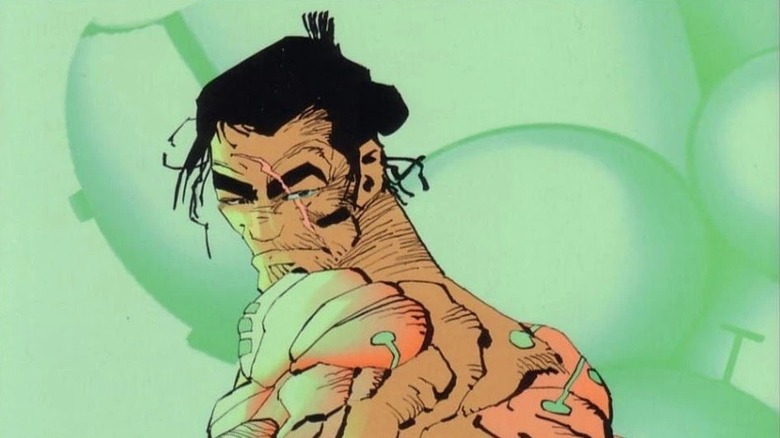 DC Comics
Legendary comic book creator Frank Miller isn't only renowned for his iconic runs on "Batman" and "Daredevil," which fundamentally shaped the modern day versions of both characters. He has also produced a wide variety of creator-owned comics, including classics like "Sin City" and "300," which have been turned into big-screen blockbusters. Despite the success of the aforementioned productions, another one of Miller's most famous works hasn't received much love from the entertainment industry.
Released in 1983 by DC Comics, "Ronin" is a cyberpunk spectacle about a 13th century ronin and demon, who are reincarnated in new bodies in a dystopian future. The fan-favorite story ran for six issues and received a sequel in 2022 under Miller's new publishing venture, Frank Miller Presents. At one point, "The Whale" director Darren Aronofsky was linked to a live-action "Ronin" film; however, that project never got off the ground. In 2014, it was reported that Syfy was eyeing a potential television series adaptation of the seminal comic book series. In the end,  however, nothing came to fruition from that venture either. However, with Miller now in control of the rights for the sequel under the umbrella of Frank Miller Presents, most of the middlemen may have been removed as potential obstacles. The time might finally be right for "Ronin."
The Darkness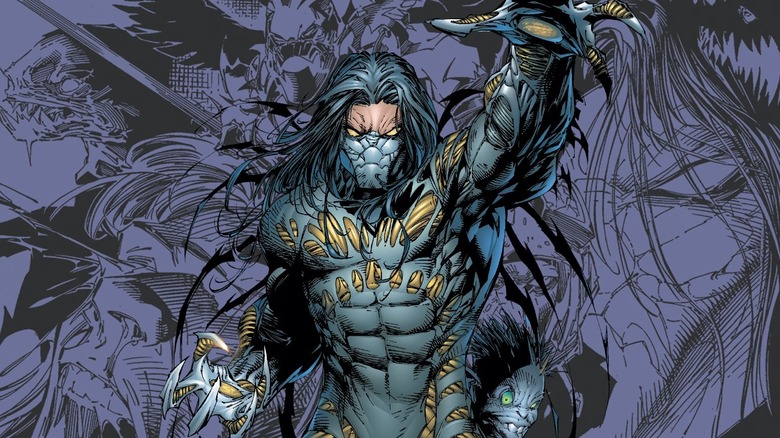 Top Cow Productions
Mobster Jackie Estacado receives cosmic powers from an entity known as the Darkness, which protect his body, bestow him with supernatural abilities, and open a portal that allows a bunch of talking and charismatic imps known as Darklings to do his bidding. How is this not a major movie already? The character has already appeared in two video games, for Pete's sake — there's a proven track record of his ability to find success in other mediums.
Created by Marc Silvestri, Garth Ennis, and David Wohl, the Darkness is one of Top Cow's premier comic book heroes, along with Witchblade. While Witchblade has enjoyed her own television series, starring Yancy Butler as Sara Pezzini, and regularly teams up with Jackie in the comics, a live-action adaptation of "The Darkness" has yet to materialize. This is seriously surprising, considering the character is pretty much a perfect combination of Spawn, John Constantine, and Venom, and would undoubtedly shine as the star of a supernatural comic book movie.
This state of affairs might change in the future, going by comments made by Silvestri to ComicBook.com in October 2022. "I cannot say anything," he said. "Look, it's like we're looking at here ... you always have things going on. And I can say this, that we have something. But I can't say anything more than that." Could the Darkness' debut be drawing near? Fans should keep their fingers crossed.
WildC.A.T.s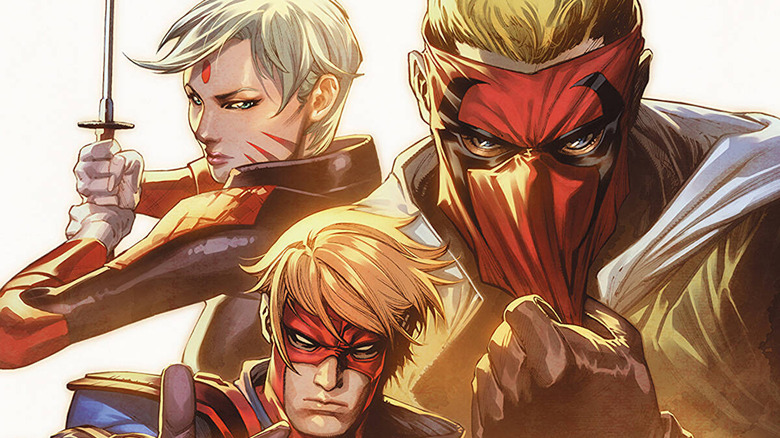 DC Comics
In the early '90s, some of the biggest creators in comic books left DC and Marvel to launch Image Comics. Disappointed by the work-for-hire model of established publishers and lackluster creator rights, they wanted to have the potential to craft new characters and stories and retain the rights to them. "WildC.A.T.s" was one of the publisher's very first projects, launched  in 1992. Created by Jim Lee and Brandon Choi under the WildStorm imprint, this high-octane title mixes superheroes with alien mythology. The result is a team-up book that boasts a fantastic cast of characters with eye-catching designs and action-packed stories.
Due to Lee's previous work on "X-Men," comparisons were made between the two teams. It also didn't take long for "WildC.A.T.s" to break into the mainstream, like Marvel's mutants, as the title received its own animated series, toyline, and video game. Eventually, DC acquired the rights to these characters, as well as other WildStorm creations, with Lee returning to the publisher as well. Since then, the WildC.A.T.s have been integrated into the wider DC Universe; however, they have yet to make a crossover into the live-action sphere. With James Gunn having already announced a film for another WildStorm alumnus, "The Authority," a "WildC.A.T.s" film or television show might not be too far off.
Gen 13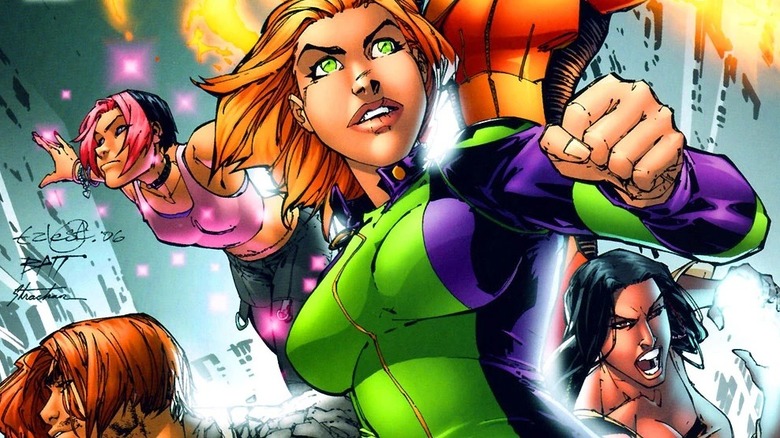 WildStorm
From "Teen Titans" to the first "X-Men" line-up, teenage superhero teams have always been in vogue. Jim Lee, Brandon Choi, and J. Scott Campbell appeared to have struck gold from this vein with the creation of "Gen 13" in 1993. Another glittering part of the WildStorm imprint, these youthful and fashion-loving superhuman characters caught the attention of comic book fans and crossed over with major characters like Spider-Man and the Fantastic Four. However, this team began to suffer from overexposure as time wore on, before they experienced a complete 180 when DC bought WildStorm and put them on the backburner.
An animated "Gen 13" movie was all but scrapped in the United States, with only certain countries receiving a limited release in 2000. The team continued to disappear into the periphery of the DC Universe, becoming something more of a footnote from the 1990s than a mainstay in the ongoing comics saga. However, this doesn't take away from the fact that "Gen 13" had some of the wildest adventures and most colorful characters around, back in their heyday. Sure, they might need to update their wardrobe for modern times, but Caitlin Fairchild, Grunge, and the rest of their pals would make for electric viewing.
Transmetropolitan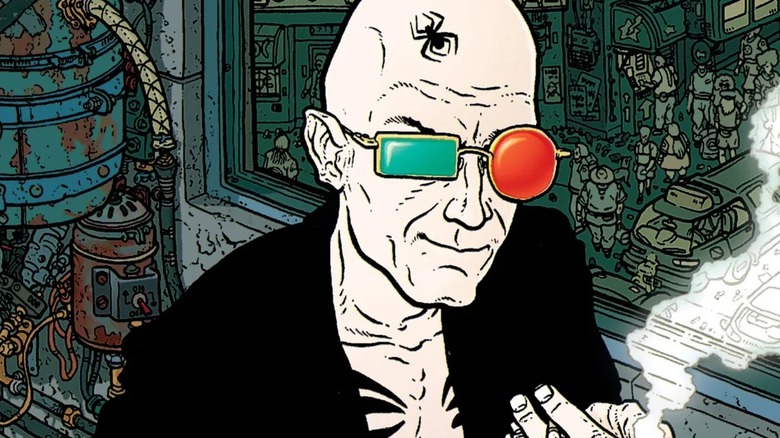 Vertigo Comics
"The Matrix" popularized the cyberpunk genre for a new generation in the late 1990s. However, two years before the Wachowskis' seminal film hit the big screen, Warren Ellis and Darick Robertson created "Transmetropolitan." A transhumanist dystopian story led by the Hunter S. Thompson-esque Spider Jerusalem, it follows this monumental character as he exposes the dirty and corrupt folks who try to hide the truth from the wider world.
Initially published under the short-lived DC imprint Helix, "Transmetropolitan" moved to Vertigo, where it released 60 issues and became a fan-favorite comic, especially among those who were tired of conventional superhero stories and wanted something boundary-pushing. Despite its widespread and enduring popularity, the series has failed to be adapted to either the big or small screen. One of its biggest fans is a certain Patrick Stewart, better known as Captain Jean-Luc Picard on "Star Trek" and Professor Charles Xavier in "X-Men." Reportedly, there were plans for Stewart to portray Jerusalem in an adaptation of "Transmetropolitan"; however, that never moved forward in a significant manner. Considering the current climate of world politics and the worrying spread of misinformation, "Transmetropolitan" is more relevant than ever, making it even more surprising it hasn't been adapted yet.
Saga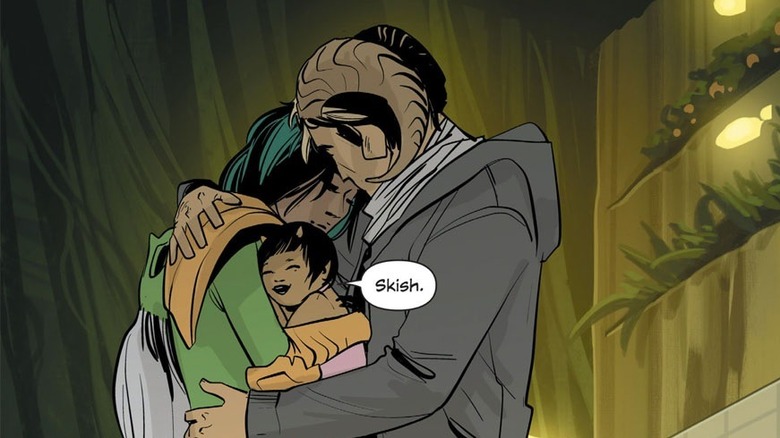 Image Comics
Love. Space. Fantasy. Family drama. Brian K. Vaughan and Fiona Staples' "Saga" has it all, and is widely regarded as one of the best comic book series of the 2010s. Not only has it been praised for its critically acclaimed storyline, it's also sold like hotcakes: This sprawling series competes on the sales charts with the unstoppable juggernaut known as "The Walking Dead." To further cement its importance in pop culture, "Saga" even made an appearance on "The Big Bang Theory."
With such fanfare and an envious sales record to its name, you'd expect Hollywood to be knocking down Vaughan and Staples' doors with offers for adaptations. However, the creators aren't exactly inviting them in for tea and biscuits. In an interview with Barnes & Noble, Vaughan explained how they would listen to ideas for adaptations, but that he believes the story of "Saga" is best told in the comic book medium. "I've never finished listening to a great album and said, 'I can't wait for them to make a novel out of this!'" he said. "I like a lot of adaptations just fine, and I've even worked on a few myself, but I still think of comics as the ultimate destination, not a stepping stone to something else."
Hack/Slash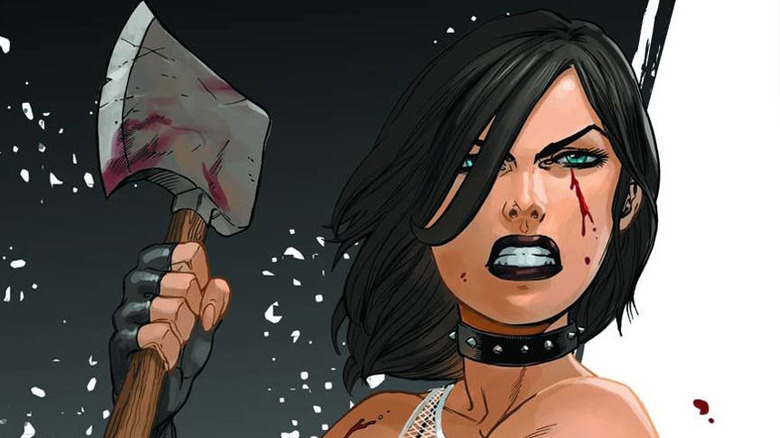 Image Comics
The horror genre is making a serious comeback in pop culture. Slasher movies and tongue-in-cheek horror comedies like "Evil Dead" are in high demand, as audiences crave more and more innovative scares. Tim Seeley's "Hack/Slash" hits the proverbial sweet spot here. Published by Devil's Due Publishing and Image Comics, this series follows the adventures of Cassie Hack — a classic final girl — and the hulking Vlad. Together, they hunt down typical horror movie villains known as Slashers. What's more, "Hack/Slash" has frequently crossed over with other properties such as "The Crow" and even "Evil Dead."
While this comic's tales are brimming with intense blood splatter and gory action, it never forgets its sense of humor and the parodical nature of slasher movies. Considering the success of slasher comedies such as "Freaky" and "Happy Death Day," a property like "Hack/Slash" could slot into the box office quite nicely. There's been talk of the comic book being adapted into a film or television series in the past, but the trail has gone cold. This is downright strange, as "Hack/Slash" has all the hallmarks of a successful Blumhouse production.
Savage Dragon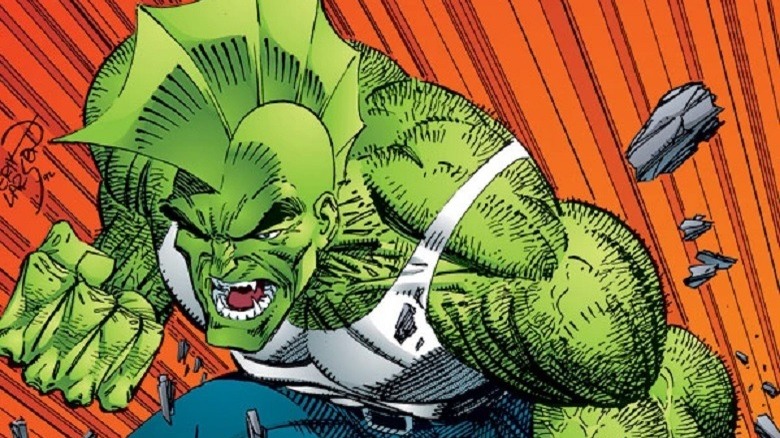 Image Comics
On a surface level, "Savage Dragon" looks like a comic about the Incredible Hulk and the Abomination's love child. However, the concept is much different than what's taking place in Marvel Comics. Created by Erik Larsen and published by Image Comics, Dragon is a superhero cop who has been appearing in comics for over three decades now. Over the course of this impressive run, he has featured in his own animated series and inspired a toyline. Yet Dragon hasn't crossed the great divide to the live-action realm, despite the technology now being available to make him look extremely believable as a CGI character.
The reason for this is simple: Larsen isn't interested in making it happen. In a now-deleted Twitter post, the creator explained that while he understands some people want to see a "Savage Dragon" movie, he prefers Dragon to stay put in the comics medium, and added that he has control over every facet of the character there. Larsen was adamant that the character will always exist in comics, and that's where fans should come to see Dragon if they like him with such an enduring passion.
The Wicked + The Divine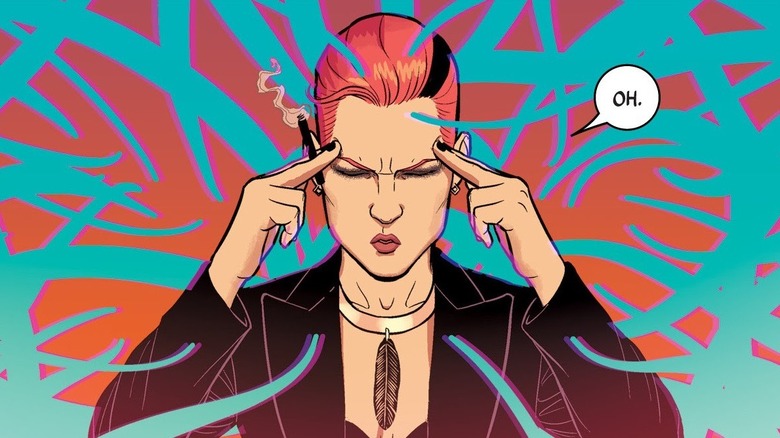 Image Comics
Before writer Kieron Gillen was picking up plaudits for his outstanding Image Comics saga "Die," he and artist Jamie McKelvie teamed up for a dark fantasy series entitled "The Wicked + The Divine." This Image Comics book ran from 2014 to 2019, and introduced a dazzling world where various gods are reincarnated as pop stars.
Speaking to ComicsAlliance about where this inventive concept came from, Gillen revealed the deeply personal nature of it. "'The Wicked + The Divine' was one of the ideas I had in the days following my dad being diagnosed with terminal cancer," he said. "It's a pop book, but it's basically about life and death."
"The Wicked + The Divine" picked up a litany of awards for its outstanding story, themes, and art, and was even dubbed a best series of 2014 by USA Today. In 2015, Deadline reported a television series had been optioned by Universal TV; however, news on this project disappeared into a black hole of nothingness. The richness and imagination of "The Wicked + The Divine" demands that it not be forgotten, though. Given the right attention and treatment, it could be a smash hit in the same vein as Netflix's "The Sandman."
Black Hammer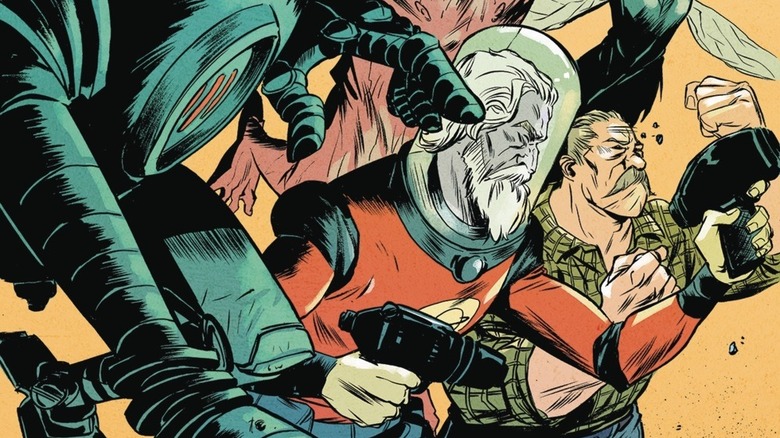 Dark Horse Comics
Jeff Lemire is no stranger to having his creator-owned stories adapted. From "Essex Country" to "Sweet Tooth," his work has found a lot of success on the small screen. However, one of his most popular comics, "Black Hammer" — which he created with artist Dean Ormston — has yet to find a home in film or television. This Dark Horse Comics series combines the sensibilities of superhero shenanigans with a "Twilight Zone" influence, and has racked up numerous awards and a rabid fan base since its debut in 2016. One would anticipate it to be high up on a network or studio's agenda, but alas, this doesn't seem to be the case.
There was a time, though, when Legendary Entertainment — the production company behind "Dune" and "Godzilla vs. Kong" — had its eyes set on "Black Hammer," and was working with Lemire to develop a story. However, that era came and went, as Lemire revealed to The Beat. "Legendary's option on the book has passed," he said. "I had a great time adapting it with them, but we are currently looking for a new home." Hopefully they find one.
Usagi Yojimbo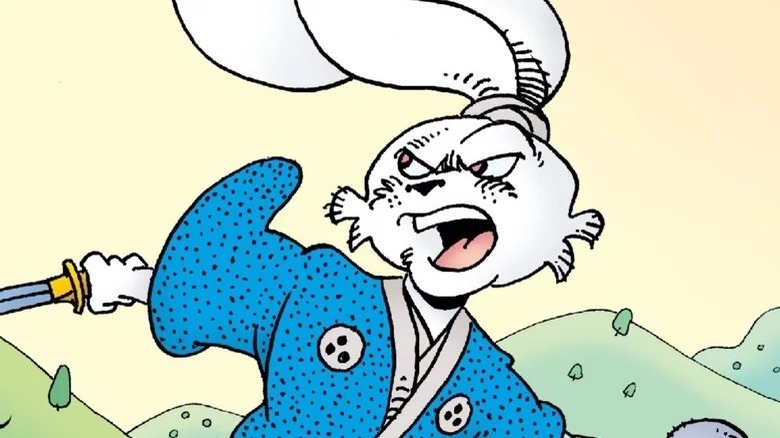 IDW Publishing
The fact that there hasn't been a live-action film about this samurai rabbit is borderline criminal. As the hero of Stan Sakai's classic comics series "Usagi Yojimbo," Miyamoto Usagi is one of the most popular independent creations of all time — even the late, great Stan Lee admitted he was a fan. The slicing and dicing bunny has crossed over and appeared in the "Teenage Mutant Ninja Turtles" animated series, toylines, and comic books, while the Ninja Turtles have returned the favor on occasion, too. More recently, Usagi has been the subject of the Netflix animated series "Samurai Rabbit: The Usagi Chronicles," which follows his descendant Yuichi Usagi, who has the advantage of a cute little pet dinosaur named Spot. 
Realistically, it might be tough to find a rabbit with the acting chops necessary to portray Usagi — or enough carrots to entice them to sign up for the role — but nothing is stopping a filmmaker from adopting a hybrid approach encompassing live-action and animation. Hey, if Howard the Duck was able to get his own movie, surely Usagi can too!
Nailbiter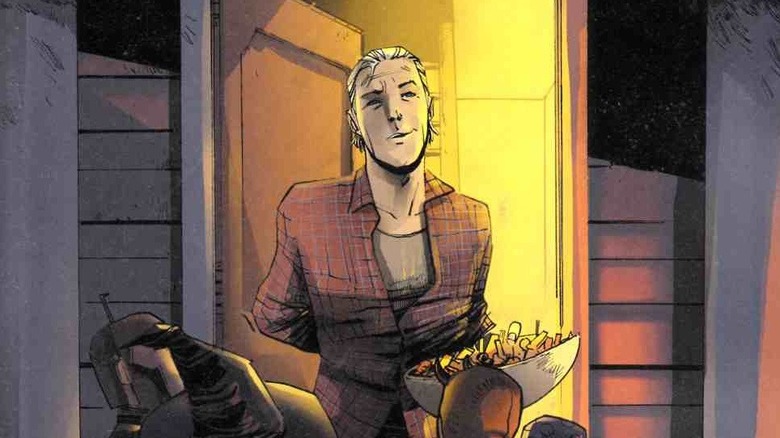 Image Comics
Joshua Williamson and Mike Henderson's "Nailbiter" is like "The Silence of the Lambs" on steroids. This Image Comics series introduces two terrifying notions: A town that's a breeding ground for serial killers, and one such murderer who wants to chew off people's nails. This book is a pure horror show that isn't afraid to get gory or graphic when it has to — even the covers are often enough to make readers lose their lunches. The series received high praise from outlets like IGN right from the get-go: As that publication put it, "'Nailbiter' #1 is an icky and eerie debut that's sure to turn your sweetest dreams into the stuff of nightmares."
Considering "Nailbiter" debuted in 2014, concluded its original run, and has already produced a sequel, it's remarkable that it hasn't had more attention from the powers-that-be at major studios, networks, and streaming services. Williamson is now a busy writer at DC, and this is the sort of property that Warner Bros. Discovery and New Line Cinema should be eating up — pardon the disgusting pun. Heck, they should be mapping out all the franchise and sequel possibilities by now. Seriously, just hand this story over to James Wan's Atomic Monster Productions and make horrifying magic already.