The Best Movie Adaptations Of William Shakespeare's Plays, Ranked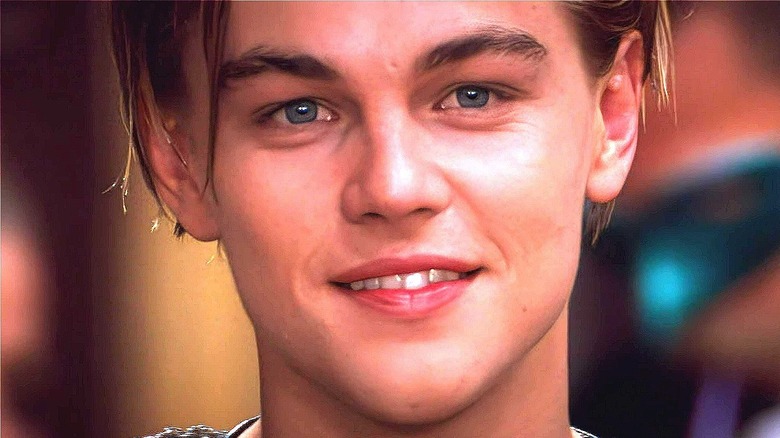 20th Century Fox
"Life's but a walking shadow, a poor player that struts and frets his hour upon the stage, and then is heard no more: it is a tale told by an idiot, full of sound and fury, signifying nothing." That's a quote by William Shakespeare from "Macbeth," but if you're reading this article, you probably already knew that.
What is it about Shakespeare's works that still holds our fascination after almost four centuries? Is it his acerbic wit, or his ability to sum up humanity's best and worst traits with the use of iambic pentameter? Whatever the reason (probably all of the above), the plays of the great bard have been told in many ways, but perhaps none so effectively as the medium of film.
Beloved movies like "10 Things I Hate About You," "West Side Story," and even "The Lion King" are all rooted in Shakespeare's works. Yet even as his classic tales have been modified and translated for a modern audience, there are still countless adaptations taken from the original text. But which ones are the best of the best? Here's our guide on the best Shakespeare plays adapted for film, ranked.
13. A Midsummer Night's Dream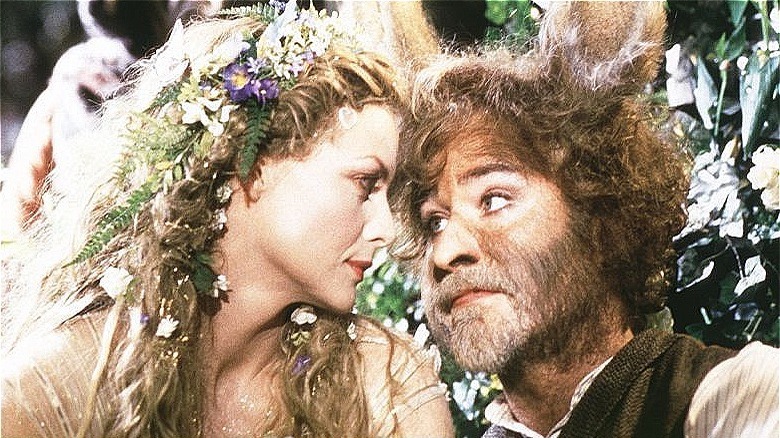 Fox Searchlight Pictures
In 1999, Fox Searchlight Pictures and director Michael Hoffman brought Shakespeare's fantasy, "A Midsummer Night's Dream," to life on the big screen. Michelle Pfeiffer, Stanley Tucci, Kevin Kline, Calista Flockhart, and Christian Bale are just a handful of recognizable faces in the film's powerhouse cast. 
In the world of mortals, four wayward lovers are caught in a web of romantic intrigue that would blow your favorite soap opera out of the water. As the characters find themselves in an enchanted forest ruled by the fairy king, Oberon (Rupert Everett), and Queen Titania (Pfeiffer), they are oblivious to the magical shenanigans that await them. As Oberon observes the drama from afar, he decides to intervene. He sends a fairy named Puck (Tucci) to cast a spell on Dimitri (Bale) to make him fall in love with Hermia (Flockhart). Puck sees Lysander (Dominic West) and mistakes him for Dimitri, and well — it all gets even more complicated from there.
The ethereal setting and romantic comedy hijinks of "A Midsummer Night's Dream" make it one of Shakespeare's most celebrated plays. This film adaptation was particularly ambitious, using elaborate costumes, makeup, and special effects to take us into the enchanted land of magic and fairies. Unfortunately, it received middling reviews from critics, but it still deserves credit for doing a fair job of tackling such a monumental and complex work. 
12. Othello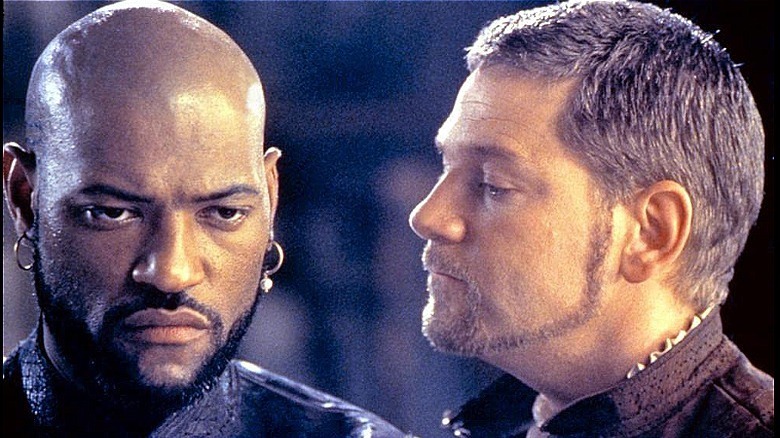 Sony Pictures Releasing
Let's be honest — Shakespeare's works were never kind to people of color, and Hollywood has only recently begun to take baby steps in the right direction. For years, both in film and on stage, the part of Othello in Shakespeare's tragedy of the same name was either white-washed or, even worse, performed in blackface. It wasn't until 1995 that a black actor, Laurence Fishburne, was cast by a major motion picture studio to play the lead role in a film version of "Othello."
The story of "Othello" is one of jealousy and revenge, in which Othello's right-hand man, Iago (Kenneth Branagh), resents Othello for his successes, and decides to take revenge on him and his lieutenant, Cassio (Nathanial Parker). Iago suggests to Othello that his wife Desdemona (Irene Jacob) is having an affair with Cassio, and he sets up a frame job to make it even more convincing. At first, Othello doesn't believe Iago's accusations, but once the seed of doubt is planted, it grows out of control. It all ends tragically, of course, with Othello killing his wife in a rage, and then himself.
Reviews for "Othello" were mixed, but most critics were impressed with Branagh's performance in particular. He received a Screen Actors Guild nomination for his Iago, and Roger Ebert claimed he was the best part of the film. Still, the movie deserves credit for giving Fishburne a historical role in Shakespearean cinema.
11. Titus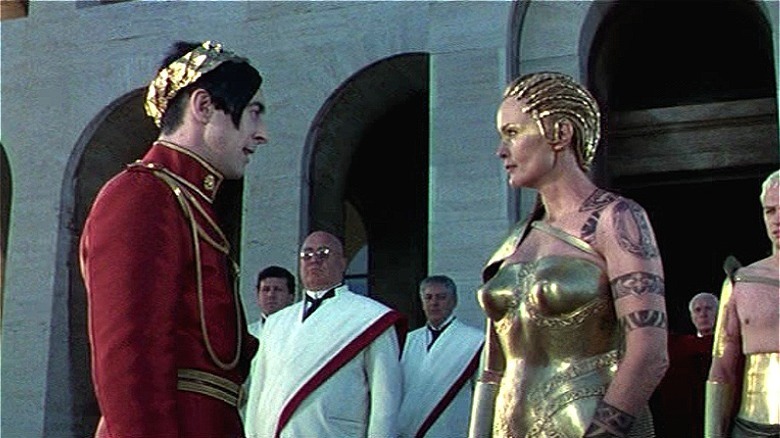 Fox Searchlight Pictures
"Titus Andronicus" is a gruesome affair, and is thought to be the first tragedy Shakespeare ever wrote. It was not well received when it was first performed (via Folger Shakespeare Library), and even today it is not nearly as celebrated as his other works. Nevertheless, visionary director Julie Taymor saw fit to bring Shakespeare's most brutal play to the screen with "Titus" in 1999.
Sir Anthony Hopkins stars as the Roman general, Titus Andronicus, who has just returned home after a victory over the Goths. He brings the queen of the Goths, Tamora (Jessica Lange), as his captor, along with her two sons. The Roman emperor, Saturnius (Alan Cumming), takes Tamora as his bride. Tamora will not go quietly, however, and she and her sons vow revenge against Titus.
Cannibalism, mutilation, and violent sexual assault are just a few of the horrors that make up this dark revenge play. To her credit, Taymor did a fair job of presenting these aspects as appropriately abhorred and disgusting acts. The actors in "Titus" all give phenomenal performances, and Taymor's surreal visuals give the movie a dream-like quality that is difficult to look away from — despite, you know, the really gross stuff.
10. Romeo + Juliet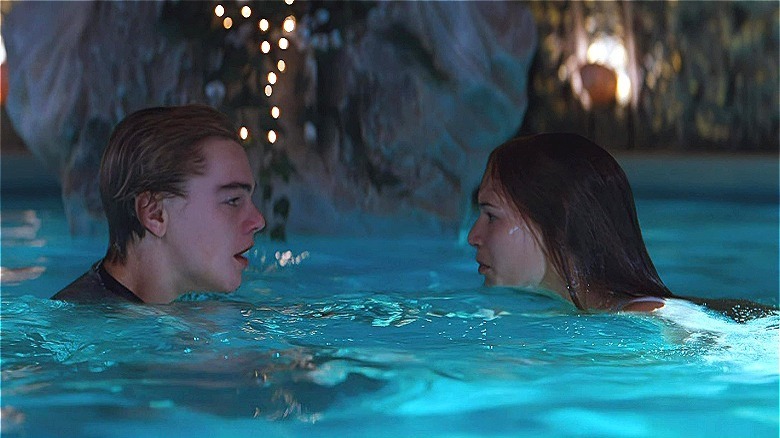 20th Century Fox
Before he helmed celebrated movie musicals like "Moulin Rouge" and "Elvis," director Baz Luhrmann tackled William Shakespeare's most popular work, "Romeo and Juliet" in 1996, giving it the more trendy title "Romeo + Juliet". Starring '90s icons Leonardo DiCaprio and Claire Danes, Luhrmann's take on the tragic love story is set in modern-day California, trading swords for guns and jerkins for trendy Hawaiian shirts.
For many millennials, this was the first movie to make Shakespeare seem cool. It had star power, a beachside urban setting, and two brooding, pretty teenagers in love. The best part was that the script managed to keep the bard's poetic language and still get the story across for younger audiences. It also had a great soundtrack with songs by popular artists of the day: Everclear, Garbage, Des'ree, Radiohead, and of course the chart-topper, "Lovefool," by the Cardigans. Good luck getting that one out of your head.
Though Luhrmann's edgy adaptation may not have been a big hit with Shakespeare purists, it still managed to win over the majority of critics. Beneath the flashy visuals and high-octane editing style, Luhrmann's interpretation succeeded in introducing a new generation to the timeless works of Shakespeare. At the very least, high school English students now have a movie that won't make them fall asleep in the classroom.
9. Twelfth Night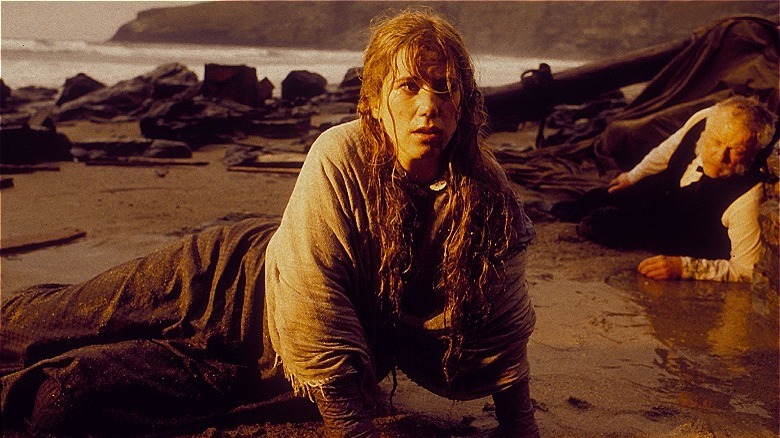 Fine Line Features
The 1996 movie "Twelfth Night" includes an array of acclaimed British stars, such as Ben Kingsley, Richard E. Grant, Imogen Stubbs, and "Harry Potter" veterans Helena Bonham Carter and Imelda Staunton. The romantic comedy is one of the bard's best and features one of Shakespeare's favorite tropes — a woman disguising herself as a man to win the man she loves.
A woman named Viola (Stubbs) is separated from her twin brother, Sebastian (Steven Mackintosh) after a shipwreck. Believing herself to be the lone survivor, Viola disguises herself as a man and offers her services to Duke Orsino (Toby Stephens). Although secretly in love with the duke, she agrees to help him woo the beautiful Olivia (Carter). However, things go awry when Olivia falls in love with Viola instead, not knowing that she is actually a woman. When it turns out that Viola's brother is actually alive, mayhem and confusion ensue in a hilarious case of mistaken identity that sets off a chain reaction of misunderstandings.
"Twelfth Night" mainly received positive reviews with high praise for the cast and its director, Trevor Nunn. It is a period piece set in the gorgeous Cornwall countryside, which gives it a pastoral atmosphere amidst all of the madcap events. Though often overlooked, true Shakespeare fans won't want to pass up on viewing this gem.
8. Richard III (1955)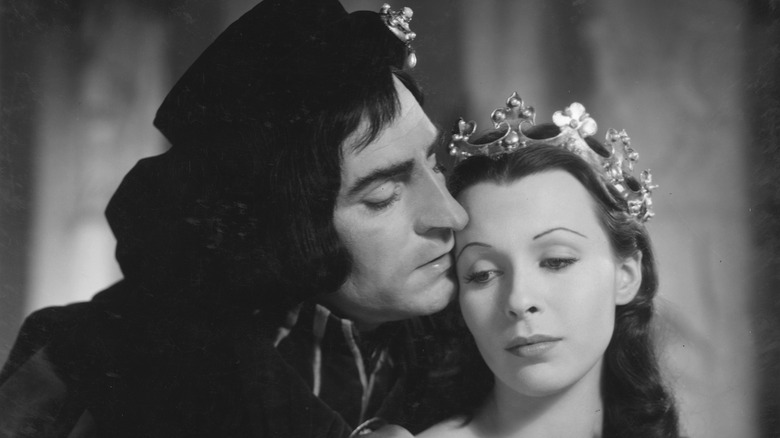 London Films
Shakespeare's "Richard III" may not be historically accurate, but its memorable protagonist has inspired some of the greatest fictional villains ever created. After portraying the role on stage in 1944, renowned British actor and director Laurence Olivier reprised his role in (and directed) the 1955 screen adaptation.
Overflowing with pageantry and pomp, Olivier's "Richard III" is one of the most celebrated films of its era. This is Olivier's third time directing and starring in a feature film based on William Shakespeare's works. Unlike his first two films, which were rife with moody and dark aesthetics, "Richard III" was shot in glorious Technicolor. The bright hues are a stark contrast to the wicked deeds of Richard himself, who plots and schemes to take the English throne from his brother, Edward IV.
Rare for the time, Olivier's Richard looks at the camera directly as he relays his devious plans to the audience. It's something like Kevin Spacey's performance in "House of Cards," complete with snarky aside comments. Olivier's take on Shakespeare's most famous villain is considered by many critics to be his best work, and its influence can be seen in several other works to follow. 
7. Much Ado About Nothing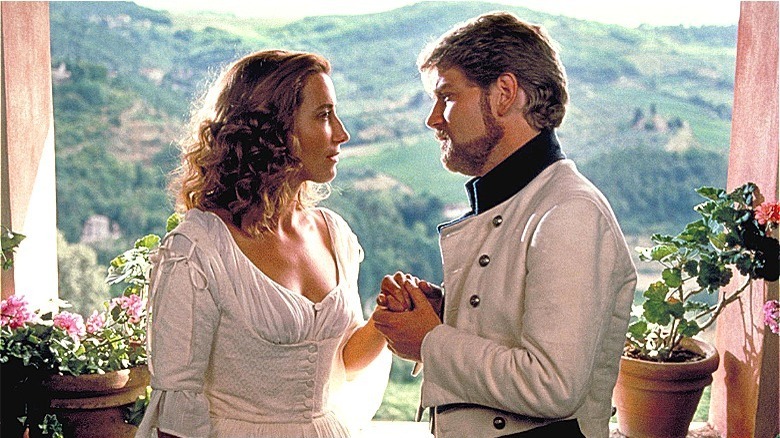 The Samuel Goldwyn Company
If you're going to watch a good Shakespeare movie, it's got to be one of Kenneth Branagh's. The guy is practically an expert on all things related to the Bard. Before he directed "Thor" for the MCU and was solving Agatha Christie murder mysteries, Branagh was treading the boards on the London stage. He started out as a member of the renowned Royal Shakespeare Company, but later broke off to create his own theater troupe, the Renaissance Theater Company (BBC). It was during this time that he met Emma Thompson, and the two were married for several years before divorcing in 1995.
The chemistry between Thompson and Branagh is never more evident than in the 1993 Shakespearean rom-com, "Much Ado About Nothing." Branagh both directed and starred in the production as Benedick, with Thompson as Beatrice. Michael Keaton, Denzel Washington, Kate Beckinsale, and Keanu Reeves also rounded out the movie's top-notch cast. 
Branagh and Thompson shine every moment they are on screen together. Their sharp-witted banter is laugh-out-loud funny, and the transition is seamless as they start to fall in love. Branagh's "Much Ado About Nothing" is a delightful romp with all the humor, drama, and romance that a Shakespeare fan could ask for. It was praised by critics 30 years ago, and it still holds up today.
6. The Tragedy of Macbeth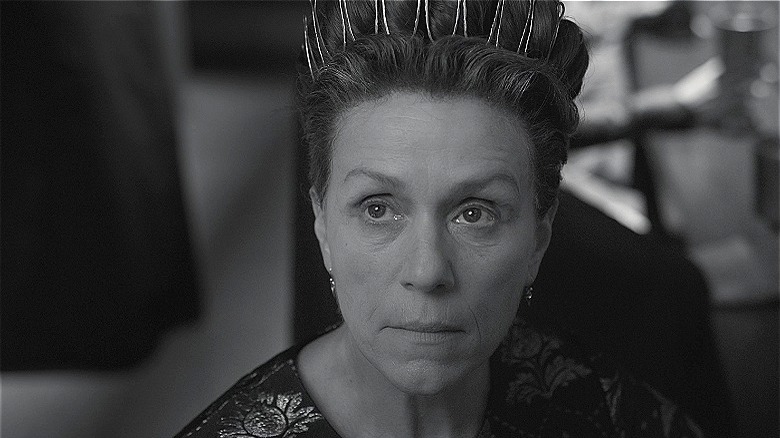 Apple TV+
There are many film versions of "Macbeth," with the titular role previously played by such actors as Patrick Stewart, Orson Welles, Ian McKellan, and Michael Fassbender. Yet no matter how many times "Macbeth" has made it to the screen, most versions don't quite connect with critics. The curse seems to have been broken in 2021, when filmmaker Joel Coen (of the famed Coen Brothers) made his solo directorial debut with "The Tragedy of Macbeth" for Apple TV+.
This "Macbeth" adaptation stars Denzel Washington as the doomed king and Frances McDormand as Lady Macbeth. Filmed in black and white and using a unique 1.37:1 aspect ratio, Coen's interpretation of the tale of madness and ambition is reminiscent of classic cinema. However, it still manages to break new ground with some provocative artistic license. For example, while traditionally the Weird Sisters have been portrayed as three individuals, Coen makes a brilliant choice by casting Kathryn Hunter as an eerie and unsettling three-in-one soothsayer.
Washington was nominated for both an Academy Award and a Golden Globe for his performance, but McDormand's portrayal of the mad queen deserves a lot more hype. Her descent from an ambitious political climber to a broken-down husk is played with the perfect combination of subtlety and guile. If you only watch one version of Shakespeare's greatest cautionary tale, it should be this one.
5. Romeo and Juliet (1968)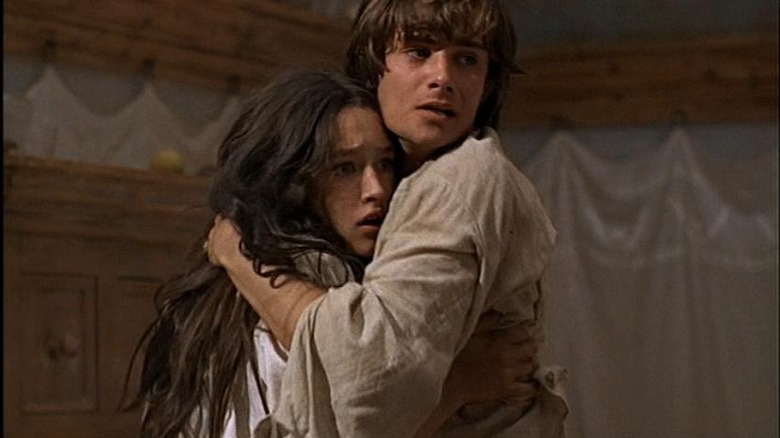 Paramount Pictures
Before Danes and DiCaprio, there were Olivia Hussey and Leonard Whiting, who took on the roles of the star-crossed lovers in the 1968 rendition of "Romeo and Juliet." Italian director Franco Zefirelli was the first to cast two actual teenagers in the roles of the young couple, more accurately depicting the ages of the leads in the play. Decades later, Zefirelli's "Romeo and Juliet" is still considered the best version of the romantic tragedy, if not the best Shakespearean film adaptation altogether.
The movie was shot in and around Rome, with the cast doing rehearsals at Zefirelli's own personal villa (The Romeo and Juliet 1968 Movie Database). Whiting and Hussey were 17 and 16 (respectively) at the time filming began. Thanks to the beautiful Italian backdrop and passionate performances from the leads, "Romeo and Juliet" moved away from the stilted performances of past Shakespearean adaptations, bringing realism that hadn't been seen before.
"Romeo and Juliet" was widely hailed by critics at the time of its release. It received four Oscar nominations, winning two for best cinematography and best costume design. Hussey and Whiting also both won Golden Globes for their performances. Unfortunately, the young actors' love scene has recently been cast in a disturbing light, with both Whiting and Hussey attesting that Zeffirelli lied about them having to appear naked on camera at the time of filming. The actors have recently filed a lawsuit against Paramount for distributing nude images of minors (via Rolling Stone).
4. Hamlet (1948)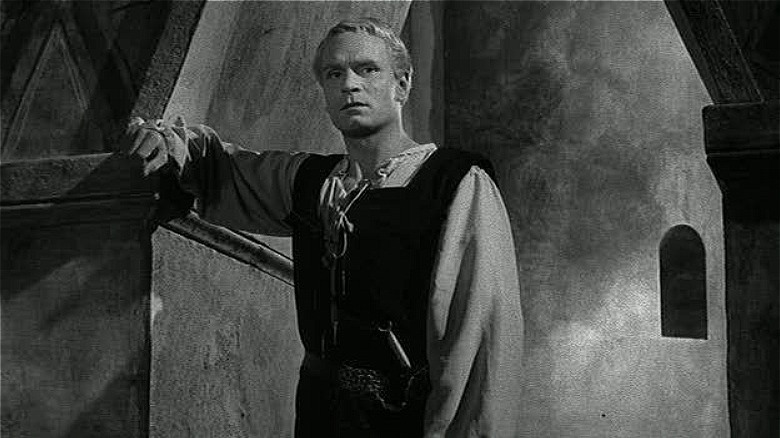 Rank Film Distributors Ltd.
The 1948 "Hamlet" was Laurence Olivier's second Shakespearean film where he played a triple threat as director, screenwriter, and star. It earned him an Academy Award for best picture and best actor — the only person to win for playing a Shakespearean role. The movie is widely regarded as one of the best versions of "Hamlet" on film.
Although there had been films made in color as early as 1939, Olivier opted for shooting "Hamlet" in black and white, which better fit the moody, psychological tale of the doomed Prince of Denmark. Besides the monochromatic look, the set itself adds to the dark and gloomy atmosphere. Visuals such as winding staircases, blankets of fog, and a lone castle atop a high cliff add to the moroseness and eerie feel of the tragedy.
Olivier's direction and acting performance are both outstanding in this film. Over the years, however, it has received its fair share of criticism. As noted by Cinematheque, some analysts have criticized Olivier's choice to implement Freud's Oedipal concepts in the relationship between Hamlet and his mother, Gertrude (played by Eileen Hurlie). Others reprimanded Olivier for cutting out many of the play's iconic scenes and characters, including the ones with Rosencrantz and Guildenstern. Nevertheless, this version of "Hamlet" perfectly portrays the existential angst and the haunting aura at the heart of the original text. 
3. Richard III (1995)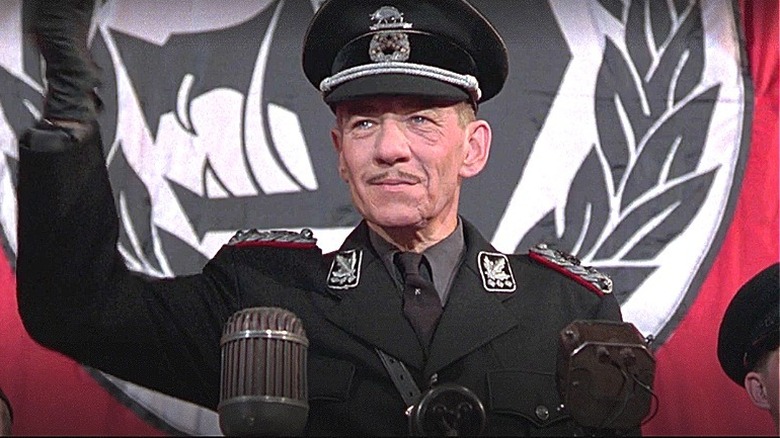 Guild Film Distribution
Before taking on his most famous role as the wise and kindly wizard, Gandalf, in the "Lord of the Rings" trilogy, Sir Ian McKellan played the nefarious Richard of Gloucester in the 1995 version of "Richard III." Directed by Richard Loncraine, the film was hailed by critics and spring-boarded McKellan's film career.
Though the basic story is the same, the 1955 and 1995 adaptations feel as different as night and day. Where Olivier's "Richard III" resembles a live theatrical stage, Loncraine's vision is more intimate, with secret conversations taking place in dark corners and behind closed doors. Like Olivier, McKellan tells his plans to the camera, but with a much more cheeky flair. In Olivier's adaptation, Richard waits until he is alone before addressing the audience. McKellan's Richard gives knowing glances at the viewer even as he conspires with other characters in the scene.
Another change is that this version is set during the 1930s rather than the 15th century. Richard's character resembles a fascist dictator, with haunting historical overtones. Richard's ascension scene is especially unsettling, as he stands at a podium in front of a chanting crowd, and red flags unfurl behind him with the black symbol of the Plantagenet boar — a purposeful allusion to Hitler's Nazi Germany.
2. Henry V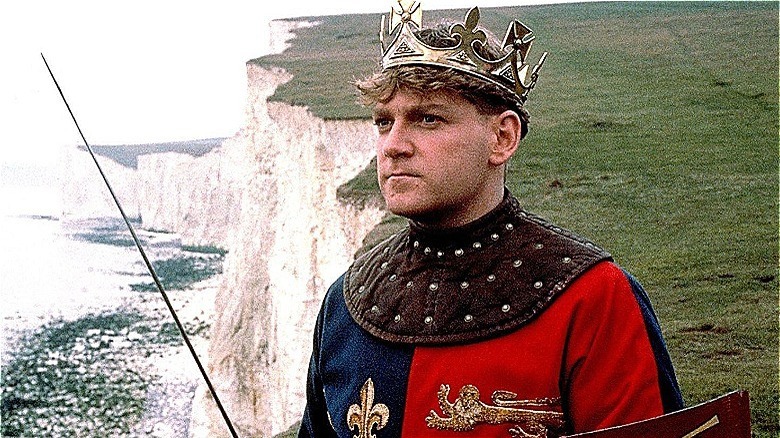 Curzon Film Distributors
"Henry V" is perhaps Shakespeare's best historical play. With epic battle scenes, moving speeches, and an inspiring hero, it grips you and holds on tight, leaving an effect long after its conclusion. In 1989, Kenneth Branagh brought this literary giant to life on the screen as only he could — with both gravitas and plenty of action.
Branagh stars as King Henry V, who, upon inheriting the throne after years of being a carefree playboy, steps into the role of a charismatic leader. The battle scenes in the movie are extraordinary, on a scale that had never been seen before in previous Shakespeare adaptations. Branagh's St. Crispin's Day speech is iconic, as he rallies his troops to a historic victory over the French in the Battle of Agincourt. The scene in which he woos Princess Katherine (once again opposite Emma Thompson) at the end of the film also reflects Henry's tender side, proving he is as proficient a romantic as he is a solider.
Branagh's "Henry V" is a gritty, realistic interpretation of the play that is regarded as one of the best cinematic adaptations ever made. It received high praise from critics, and Branagh won several awards for both his direction and acting. It is a must-see for any die-hard Shakespeare fan.
1. Hamlet (1996)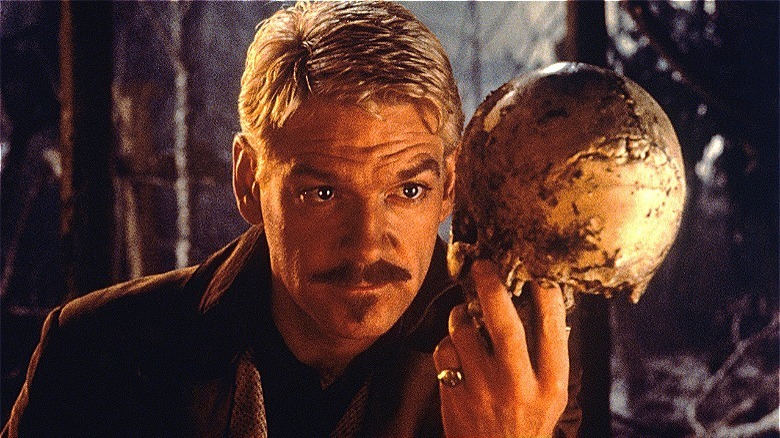 Sony Pictures Releasing
It really should be no surprise that Kenneth Branagh's "Hamlet" would be at the top of this list. This is hands down Branagh's most ambitious film adaptation of Shakespeare to date. He not only directed, wrote the screenplay, and starred in the movie, but also gathered an MVP list of talent for the cast. Brian Blessed, Billy Crystal, Judi Dench, Kate Winslet, John Gielgud, and Richard Attenborough are just some of the A-list names in the ensemble.
There are many things that set this "Hamlet" apart. The most noteworthy is that it is the only one to adapt a Shakespearean play word-for-word, exactly as it was written, without any abridgment. That said, watching its almost 4-hour runtime in one sitting can be a bit harrowing for the casual viewer. Branagh went above and beyond with this adaptation, reportedly using the first folio and second quarto of the play, which contained varying language and more content than later published editions (per Study.com).
The production value of 1996's "Hamlet" is spectacular. The interior sets are massive and gorgeous to behold, and the performances from the actors are unparalleled. For these reasons and more, this version is widely hailed as a top-tier Shakespeare film adaptation.