You Hurt My Feelings' Trailer Has Viewers Excited For A Refreshing Take On Love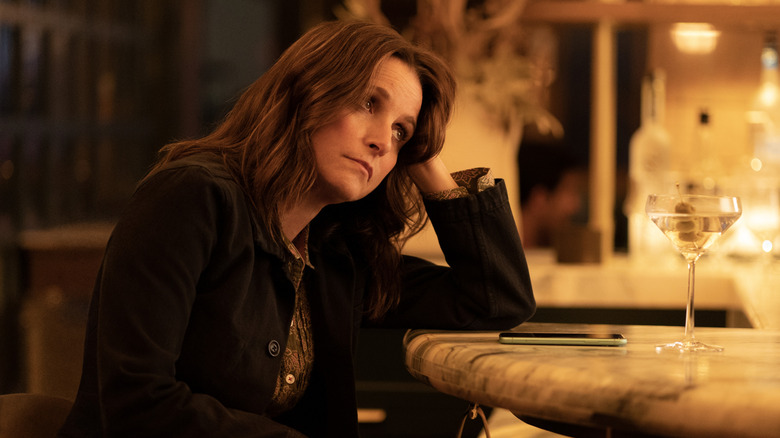 A24
It's no secret that romantic comedies have moved to the Hollywood backburner, with superhero films and action flicks dominating theaters. But, if the growing buzz for a new rom-com/dramedy is any indication, audiences crave the feel-good lightheartedness these films provide. "You Hurt My Feelings" is the newest film distributed by A24, the entertainment company behind films like "Everything Everywhere All At Once" and "Euphoria." The movie also marks writer and director Nicole Holofcener's second collaboration with comedy legend Julia Louis-Dreyfus, and fans have flooded the comments of the trailer expressing how excited they are for the film's grounded take on love.
"This is honestly so true to life. It's just so refreshing to see a movie without an overdramatized or cliche plot. Just a couple having the boring day to day issues, but showing the realistic love that keeps them together," wrote Ash. YouTube user Jonathan Masters agreed, writing, "This looks like an awesome in-depth, real look at long term relationships. I'm so excited." Here's what moviegoers have to look forward to when "You Hurt My Feelings" debuts later this spring.
The film is Louis-Dreyfus' second with director Holofcener
Director and writer Nicole Holofcener has never directed a rotten movie, and her upcoming film doesn't look to be an exception. Starring Julia Louis-Dreyfus as Beth, an insecure writer, and Tobias Menzies as her therapist husband, "You Hurt My Feelings" does exactly what Holofcener excels at: showcasing the intimate details of everyday life. With films like "Walking and Talking" and "Enough Said" — her last collaboration with Louis-Dreyfus as well as James Gandolfini's final film — she shows characters' mundane lives and their complicated relationship dynamics.
"You Hurt My Feelings" is about the little white lies we tell those we love to spare their feelings. In Beth and Don's case, Don has always 100% supported Beth's writing, but when she overhears him telling a friend that he doesn't like her new book, it hits her hard, causing her to spiral out of control. Ironically, Beth refuses to see how the white lies she tells her son (Owen Teague) are any different.
Fans were quick to praise the film as looking "real" and relatable, and were equally impressed with the casting. "Are you kidding? Tobias and Julia? The duo we never knew we NEEDED," wrote rebeccastor. "He is soooo underrated, I'm so so glad Tobias Menzies is going to be in a leading role!" wrote 14IV1 4X4IV4. "You Hurt My Feelings" will hit theaters on May 26, 2023.