D&D: Honor Among Thieves: Yes, Castle Never Is 100% Harry Potter's Hogwarts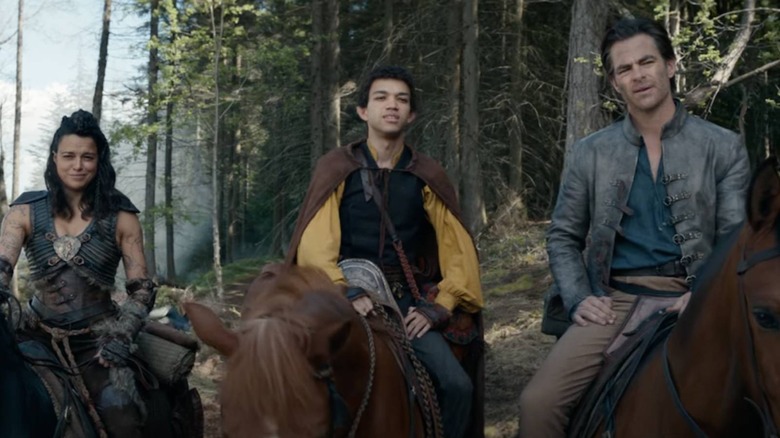 Paramount Pictures
"Dungeons & Dragons: Honor Among Thieves" is more than just another fantasy project. Based on the best-selling tabletop game, the movie has decades' worth of lore and fan adoration to live up to. Suffice it to say, there are more than a few Easter eggs for eagle-eyed players of the game. 
In the first shot of one of the trailers, fans bear witness to Neverwinter, one of the largest cities in the Forgotten Realms. And, of course, at the center of this bustling city is Castle Never, and when you watch the movie, you may get the sneaking suspicion it looks familiar. That's no mistake, as Justice Smith, who plays Simon Aumar in the film, excitedly informed the hosts of the "Raiders of the Lost Podcast." The team sees many locales throughout their journey, and Smith revealed that the Castle Never scenes were filmed in the same place where they shot the Hogwarts scenes in "Harry Potter."
Smith declared, "No one is talking about this yet, but we went to the Hogwarts castle." The hosts of the show admit they knew all along from the hallways and other specific markers that called to mind watching the "Harry Potter" franchise.
Alnwick Castle has a real pedigree in film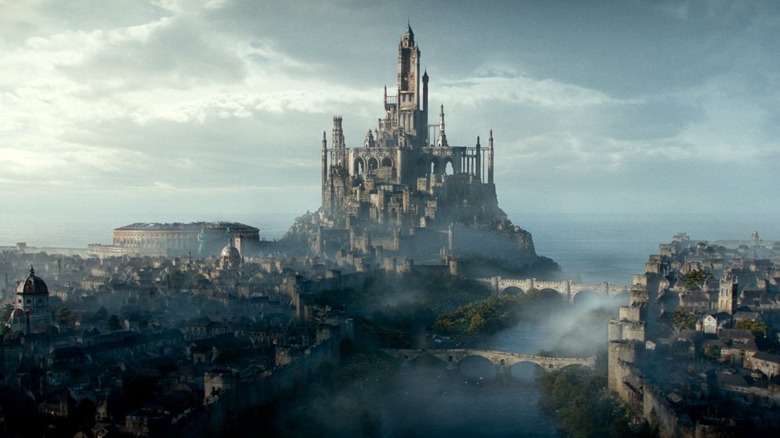 Paramount Pictures
If you're shooting a movie in a vaguely European setting and need access to a castle, Alnwick is going to be one of your best bets. The castle has seen its fair share of film crews over the years. In addition to "Harry Potter" as well as the upcoming "Dungeons & Dragons" movie, scenes for "Transformers: The Last Knight," "Downton Abbey," and "Robin Hood: Princes of Thieves" were shot there. It's worth noting the castle was only used for Hogwarts for the first two "Harry Potter" movies. 
With numerous rooms and exterior locations, the castle functions well as set dressing for any project that requires a regal touch. It definitely helped set the scene for Neverwinter, as co-director Jonathan Goldstein told IGN, "We wanted to create a city that felt real and vibrant, full of activity, but also a mix of grungy and beautiful."
It sounds as though Justice Smith is quite the "Harry Potter" fan as he couldn't contain his excitement to discuss all things related to the castle. He went on to say, "It was so cool. I got to see the Quidditch lawn. That was one of my favorite scenes." See where else the journey takes this band of rogues when "Dungeons & Dragons: Honor Among Thieves" arrives in theaters on March 31.