What Is The Song In You Hurt My Feelings' Official Trailer?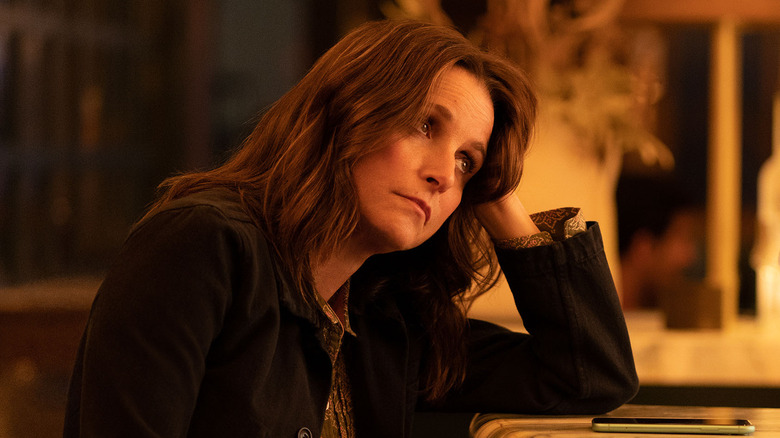 A24
Nicole Holofcener hasn't released a totally original film as a writer and director since 2013. Now, she's reuniting with her "Enough Said" leading lady Julia Louis-Dreyfus for her newest effort. A quick caveat: Holofcener wrote and directed "The Land of Steady Habits" in 2018, which was an adaptation of Ted Thompson's novel, and she also co-wrote and produced "Can You Ever Forgive Me?" and "The Last Duel." Holofcener is known for her quiet, introspective, and extremely clever character studies, and her latest effort, "You Hurt My Feelings," looks like another stellar entry in her oeuvre.
Starring Louis-Dreyfus as a writer who finds out that her husband — played by Tobias Menzies of "Game of Thrones," "The Crown," and "Outlander" — doesn't actually like her books, "You Hurt My Feelings" focuses on a marriage between two people worried that they're past their prime who maybe aren't great at communicating with one another. So what's the perfect song to underscore this entire ordeal? "Silver Lining" by Rilo Kiley, which plays throughout the second half of the trailer.
Silver Lining is about a breakup that really needed to happen
"Silver Lining," which opens Rilo Kiley's final album before the band split ("Under the Blacklight") chronicles a relationship that probably needed to end quite some time ago, with Jenny Lewis on vocals embracing the silver lining of the breakup. Though she was once the "silver lining" of her lover, she finds the upside, saying, "now I'm gold." Perhaps the most telling moment of the song is when the singer says that she "willed" the couple's love to die, and "never felt so wicked" before in her life.
Clearly, Louis-Dreyfus' Beth and Menzies' Don will have to grapple with quite a lot after she overhears him saying he's not actually a big fan of her work. It becomes clear to her that this part of their relationship was built on a lie — a white lie, but a lie nonetheless. Whether or not their marriage survives this well-meaning fib remains to be seen, but "Silver Lining" is definitely the perfect choice to soundtrack this story.
"You Hurt My Feelings" hits theaters on May 26, 2023.