How Julia Louis-Dreyfus Behaved On Set Of You People, According To Co-Star Lauren London
Arturo Holmes/Getty Images
In the new movie "You People," from "Black-ish" creator Kenya Barris, Julia Louis-Dreyfus plays Shelly, the mother of Ezra (Jonah Hill), a young Jewish man who starts dating a Black Muslim woman named Amira (Lauren London). This causes an awkward clash between the families when Shelly and Ezra's father Arnold (David Duchovny) try far too hard to try not to be racist and still end up saying the wrong things. In an interview with ComingSoon, Louis-Dreyfus explained that what drew her to the project was that it was a romantic comedy that wasn't derivative and actually dealt with important issues around race, religion, and culture.
In the movie, Louis-Dreyfus is reunited with her "Saturday Night Live" co-star Eddie Murphy, who plays Amira's father Akbar. In an interview with The Hollywood Reporter, Louis-Dreyfus compared working with Murphy again to a high school reunion. In a review from Variety, film critic Rene Rodriguez wrote that the two former "SNL" stars stole the movie. He added that "her comedic slow-burn anger is one of the things Louis-Dreyfus can play better than most actresses."
London, who is most well known for playing the role of Keira Whitaker on "The Game," had never worked with Louis-Dreyfus before "You People." And when it comes to what it was like working with the "Seinfeld" alum on the set of the new Netflix film, London had nothing but kind things to say about her co-star.
Lauren London described Julia Louis-Dreyfus as giving, caring, and welcoming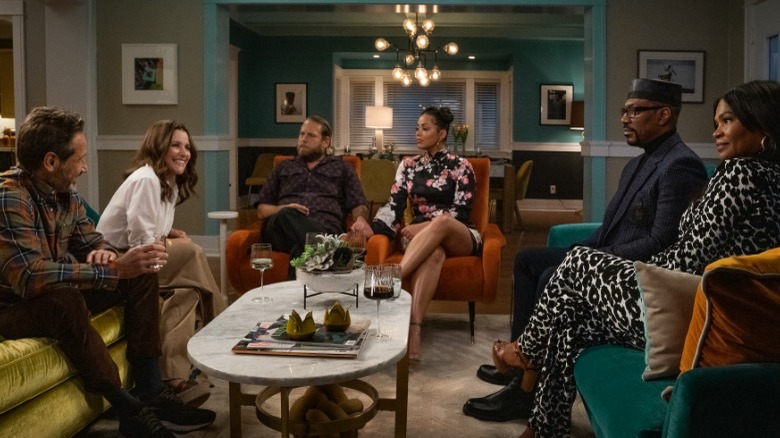 Parrish Lewis/Netflix
In a recent appearance on "The Tonight Show Starring Jimmy Fallon," Lauren London was asked about what it was like to work with Julia Louis-Dreyfus, and London sang the praises of the veteran comic actor. She admitted to being intimidated by working with such legends as Louis-Dreyfus and Murphy but said she found the "Seinfeld" star to be very kind to her. "She is one of the most giving and caring scene partners ever," London said. "She was just so welcoming to me."
London and Dreyfus have one of the most intense scenes in the whole film when Amira confronts Shelly about how problematic her behavior has been. In an interview with the Advocate Channel, Dreyfus talked a little bit about this scene, in which she referred to her co-star as "the wonderful Lauren London," showing that Louis-Dreyfus does seem to have some affection for London. Louis-Dreyfus described the scene and said that it's a real gut-punch moment for her character who thinks she's doing the right thing the whole time. She went on to say that it's not really a feeling she likes to imagine, but was willing to do so for the sake of the scene. A conversation like that can be awkward, but it certainly seems like Amira said something that really needed to be said.