Great Comedians Who Died Too Young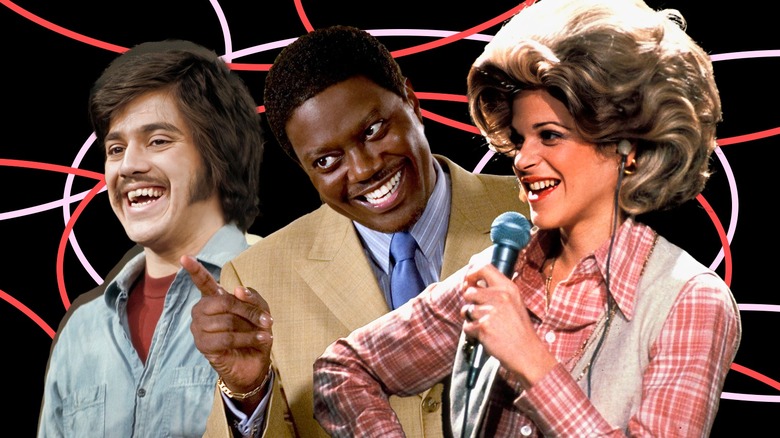 Static Media
As Mel Brooks' "History of the World, Part II" has shown, comedy does not have an age limit. Brooks remains as wickedly funny and observant as many comics half or even three-quarters his age. And he's not alone as the senior face of comedy: Steve Martin and Martin Short are drawing rave reviews and earning awards for "Only Murders in the Building," while Short's "SCTV" co-stars, Eugene Levy and Catherine O'Hara, as well as Chris Elliott, completed one of the most beloved comedies in recent years, "Schitt's Creek." The list of comics ages 55 and over who remain fresh, relevant, and hilarious is long and star-filled, from Chris Rock to John Cleese and Lily Tomlin.
Sadly, there are many top comics who passed away far too early, leaving behind incredible bodies of work but also the bittersweet pang of unrealized greatness. Illness, mental issues, and substance abuse are just some of the culprits for the tragic losses of these great talents. Following is a list of some of the best North American comics who died too young.
Lenny Bruce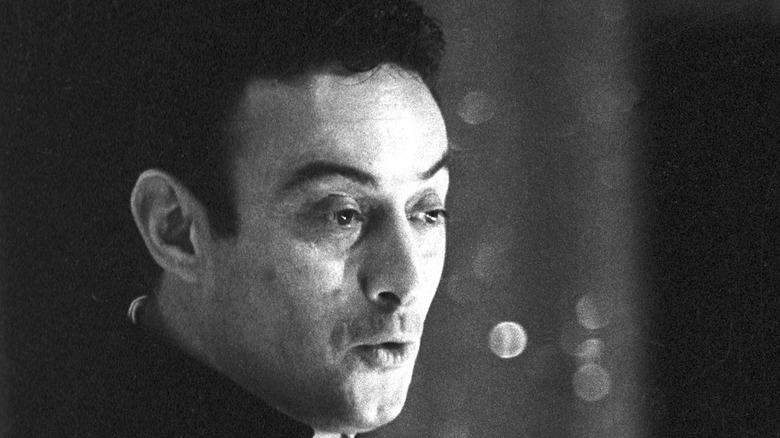 Kai Mort Shuman/Getty Images
A true trailblazer in the history of stand-up comedy, Lenny Bruce pushed the boundaries of acceptable humor and good taste with his material, paving the way for generations of comics to speak freely on all aspects of the human condition on stage. Bruce freely discussed sexuality, race, organized religion, and politics in language that, while largely tame, by modern standards, was considered vulgar, dark, and even sick in the 1950s and 1960s, when words and ideas could earn someone condemnation, bans, and even jail time for obscenity. Bruce's legal battles eventually overtook his smart wordplay as the primary focus of his act, and he capped his career with lengthy rants against and complaints about the various injustices he endured.
Bruce's use of illicit drugs eventually coalesced into a crippling addiction to heroin, methamphetamines, and other opioids. His struggles with substance abuse ere compounded by his personal and professional troubles. Bruce died in his home of a methamphetamine overdose at the age of 40 on August 3, 1966. New York governor George Pataki posthumously pardoned him of his 1964 conviction on obscenity charges in 2003.
If you or anyone you know needs help with addiction issues, help is available. Visit the Substance Abuse and Mental Health Services Administration website or contact SAMHSA's National Helpline at 1-800-662-HELP (4357).
John Belushi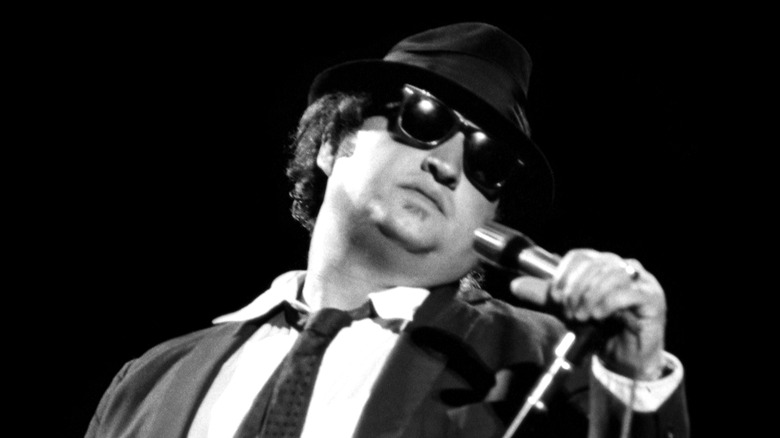 Icon And Image/Getty Images
An alumnus of the famed Second City improvisational troupe that spawned some of the most celebrated names in comedy of the last half-century, John Belushi burst into the public consciousness as a member of the original "Not Ready for Primetime Players" on "Saturday Night Live." Belushi's best-known characters — the slow-boiling Samurai Fubata, the preternaturally soulful (and graceful) Elwood Blues of the Blues Brothers, and a "Weekend Update" contributor who worked himself into fits of anger — bristled with a barely controlled energy and charisma that audiences found irresistible.
His popularity on the series briefly translated into movie stardom with "Animal House," which cast him as the most anarchic brother at a slob-filled fraternity house, and "The Blues Brothers," which provided him and musical partner Dan Aykroyd with an over-the-top screen adventure. But like many comics, he struggled to translate his success in one medium to another, and the majority of his feature efforts, including "Neighbors" and "Continental Divide," were failures. Belushi also struggled with a substance abuse problem that ultimately ended his life in 1982. The 33-year-old actor and comedian was found dead at the Chateau Marmont hotel in Los Angeles on March 5, 1982, from a combined overdose of cocaine and heroin.
Chris Farley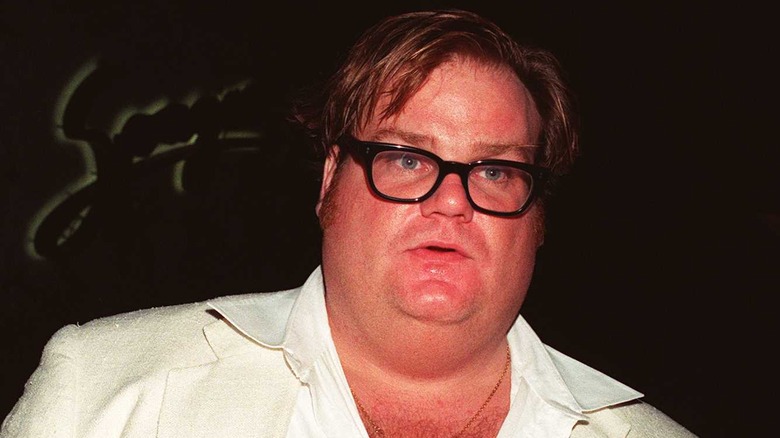 Denny Keeler/Getty Images
A member of the 1990 "Saturday Night Live" cast of newcomers that included Adam Sandler, Chris Rock, and David Spade, Chris Farley became an audience favorite for characters like motivational speaker Matt Foley, who made up for their glaring foibles with a mixture of boyish enthusiasm and sheer volume. Farley first performed many of his characters as a member of the Second City improvisational troupe in Chicago, Illinois, and brought them with him for his five years on "SNL." He soon branched out into feature films. He blossomed into proper stardom after his dismissal from the NBC sketch/variety series in 1995; he and Spade became unlikely box office draws with "Tommy Boy" and "Black Sheep," a pair of broad comedies anchored around Farley's childlike, accident-prone characters.
Farley struggled with alcohol and drug abuse throughout his Second City and "SNL" days, which took a toll on his volcanic comic energy and overall health. While recording the voice of the title character for "Shrek," the 33-year-old Farley was found dead in his apartment in Chicago on December 18, 1997. The cause of death was attributed to an overdose of cocaine and morphine, as well as advanced atherosclerosis (narrowing of the arteries).
Mitch Hedburg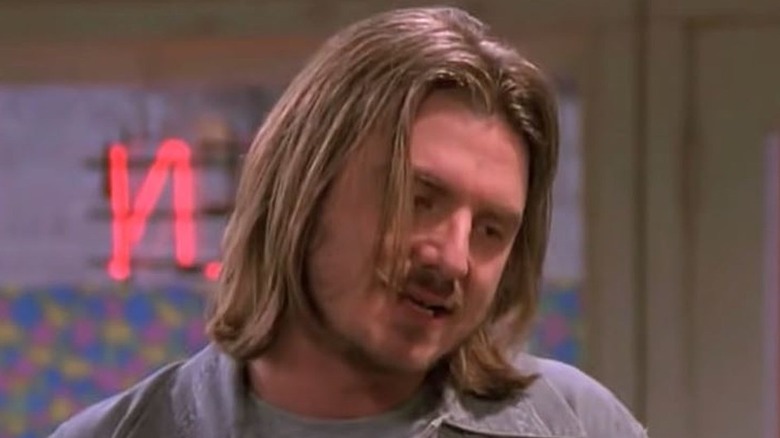 Fox
Mitch Hedburg's signature comic style — a free-ranging flow of off-kilter observations ("I got a fire alarm at home, but it's really more like a 9-volt battery slow drainer") delivered in a deadpan drawl — made him a favorite among alternative comedy fans for a brief period in the late 1990s and early 2000s. After years of playing comedy clubs across the country in the late 1980s, the Minnesota native earned his big break on "Late Night With David Letterman" in 1996. Appearances on Howard Stern's radio program and television specials followed, as did two comedy albums ("Strategic Grill Locations" and "Mitch All Together"), which led to a deal with Fox for a TV sitcom and appointment as "the next Seinfeld" by Time Magazine.
Hedburg was well known as a recreational drug user, which on occasion landed him in legal trouble, including a 2004 arrest for heroin possession. His substance abuse problems caught up with him the following year when he was found dead in a hotel room in Livingston, New Jersey, on March 30, 2005. Though heart attack was initially given as the cause of death, the state medical examiner attributed the 37-year-old comic's passing to the presence of several drugs in his system, including cocaine and heroin.
Bill Hicks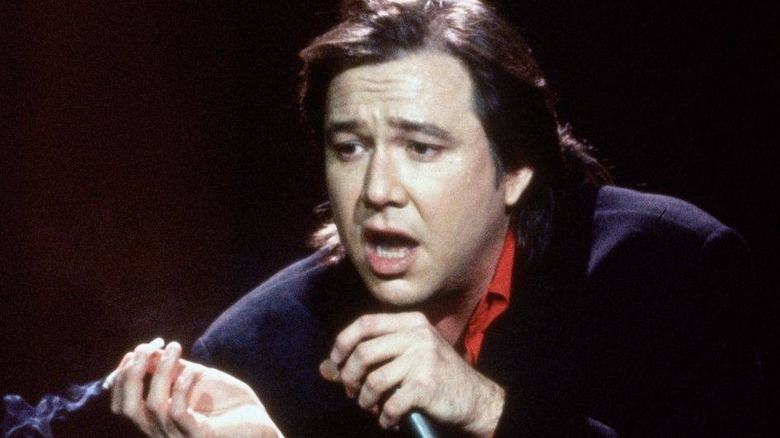 HBO
An acerbic and insightful comic who could speak on religion, social injustice, and the existence of UFOs with equal amounts of passion and dark humor, Bill Hicks enjoyed a dedicated following among fans and fellow comedians that has only grown in number since his untimely death in 1994. A member of the Texas Outlaw Comics, a cadre of stand-ups centered at the Comedy Workshop in Houston, Texas, Hicks established himself through an act that dissected injustices that had stealthily crept into American society — religious hypocrisy, one-sided media coverage — while also heartily endorsing alternative realities formed through philosophy, chemical exploration, and conspiracy theories.
Hicks released two comedy albums (1990's "Dangerous" and 1992's "Relentless") prior to being diagnosed with pancreatic cancer in 1993. He continued to tour and record while receiving treatment until retiring from the road in early 1994. Hicks returned to his parents' house in Little Rock, Arkansas, and died there at the age of 32 on February 26, 1994. His legacy continues to be celebrated by numerous posthumous album releases, print editions of his letters and routines, and the 2010 documentary, "American: The Bill Hicks Story."
Andy Kaufman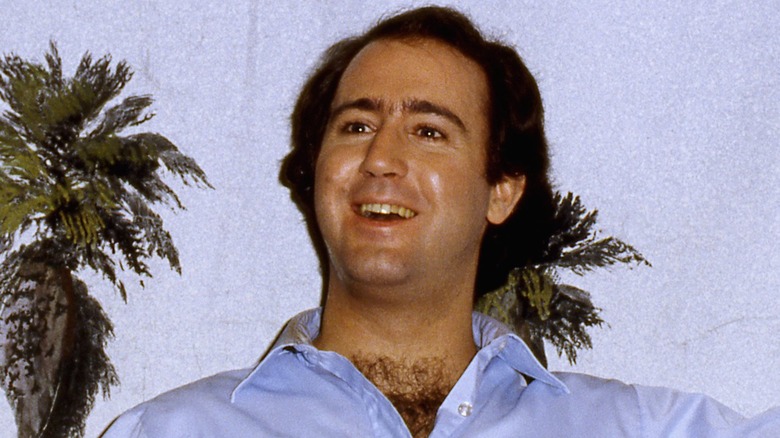 Joan Adlen Photography/Getty Images
Less of a traditional joke-telling comedian than a performer whose act embraced playfully absurdist behavior and barely controlled fits of emotion and physicality, Andy Kaufman was a unique figure in American comedy during the 1980s. His work has come to represent some of the furthest creative limits of comedy. Kaufman's club act in the 1970s, which featured deliberately bad jokes by his accented Foreign Man persona and a full-throttled imitation of Elvis Presley, helped earn him the role of Latka Gravas — a sweetly befuddled riff on his Foreign Man persona — on "Taxi" and attention-grabbing appearances on "Fridays" and "Saturday Night Live."
Kaufman's willingness to submerge completely into characters occasionally produced chaotic results: his unpleasant lounge singer character Tony Clifton sowed confusion by attempting to upend Kaufman's career, and a stint as a wrestler, often pitted against women, earned protests from professional wrestlers and audiences alike. In 1983, Kaufman was diagnosed with large-cell carcinoma of the lung, which he attempted to treat with both traditional and holistic means. He died from the disease at the age of 35 on May 16, 1984, which spawned decades-long (and still extant) rumors that Kaufman's death was yet another elaborately devised prank.
Kevin Barnett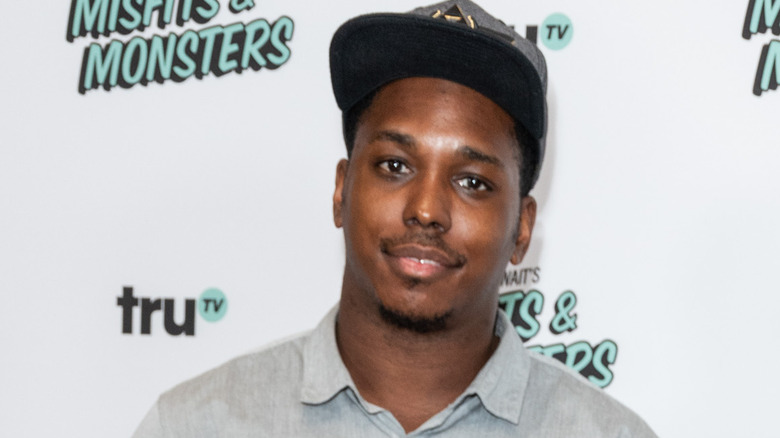 Presley Ann/Getty Images
A talent on the rise in front of and behind the camera, Kevin Barnett was a popular stand-up performer as well as an in-demand writer and producer on several television series. Barnett got his start in the New York comedy club scene, which led to appearances in "CollegeHumor Originals" shorts and his first feature film role in Mike Birbiglia's "Sleepwalk With Me." A breakout performance at the Montreal Just For Laughs Comedy Festival in 2011 was followed by more acting roles, most notably in Chris Rock's "Top Five" and MTV's "Guy Code," as well as writing and producing stints for "Broad City," "The Eric Andre Show," and "The Carmichael Show."
In 2018, he teamed with fellow comic Lil Rel Howery and Josh Rabinowitz to co-create and produce "Rel," a sitcom vehicle for Howery. One year later, the 32-year-old Barnett died suddenly while on vacation in Mexico. An autopsy revealed that the cause of death, which took place on January 22, 2019, was non-traumatic hemorrhage caused by pancreatitis.
Jak Knight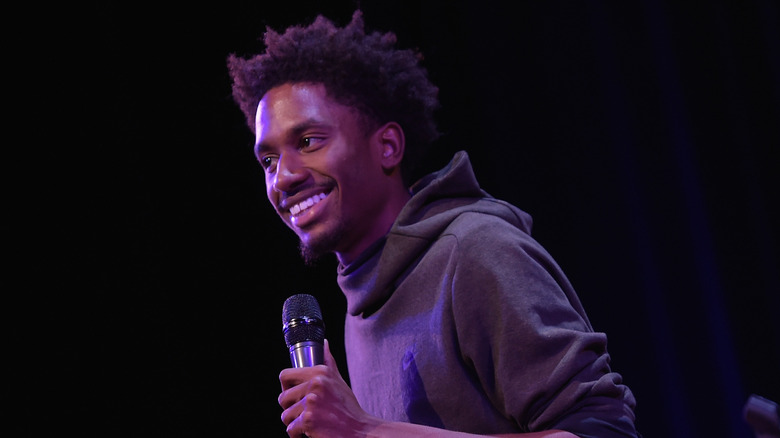 Jason Kempin/Getty Images
Named a comedian to watch by both Comedy Central and TimeOut Los Angeles, Jak Knight earned raves as an opening performer for top comics like Hannibal Burress and Dave Chappelle before moving into writing, producing, and acting for television and film. Knight was perhaps best known outside of stand-up circles for voicing DeVon on "Big Mouth," for which he also served as writer and producer; the Seattle native also wrote for "Black-ish" in 2019 and 2020 and earned a Writers Guild of America Award in 2022 for writing and co-producing the HBO talk series "Pause With Sam Jay."
That same year, Knight joined Jay and Chris Redd on the Peacock comedy "Bust Down," which he helped created. He was also expanding into feature work, most notably in "First Time Female Director," a comedy written and directed by fellow comic Chelsea Peretti. On July 14, 2022, the 28-year-old Knight was found with a fatal gunshot wound on an embankment in Los Angeles, California; the Los Angeles County coroner's office later ruled the death as a suicide.
If you or anyone you know is having suicidal thoughts, please call the National Suicide Prevention Lifeline​ by dialing 988 or by calling 1-800-273-TALK (8255)​.
Bernie Mac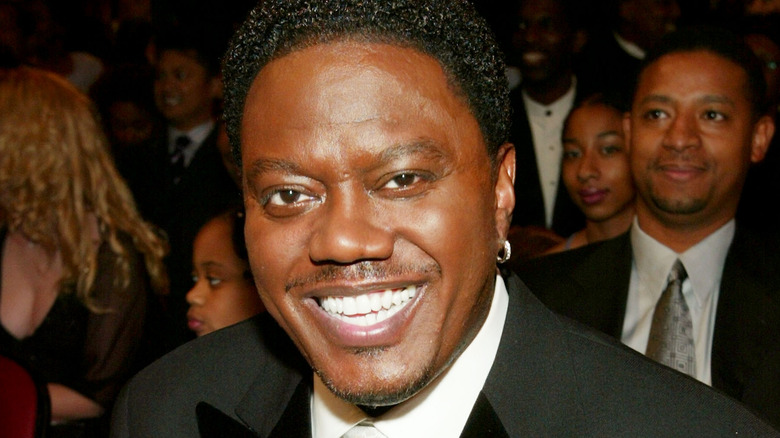 Frank Micelotta/Getty Images
A formidable figure with a talent for turning his own life into comedy gold, Bernie Mac honed his craft on the club scene in his hometown of Chicago, Illinois, before achieving national acclaim through a win at the Miller Lite Comedy Search in 1990. Mac furthered his reputation with a 1992 appearance on "Def Comedy Jam," where he tamed a vocal crowd with a fearless performance. Minor roles in features like "Friday" and "Life" preceded his stint as one of the Original Kings of Comedy with Steve Harvey, D.L. Hughley, and Cedric the Entertainer, which was captured on film by Spike Lee's eponymous concert film.
The success of the tour and film led to more substantial film and TV work for Mac, including the "Ocean's Eleven" trilogy, "Bad Santa," "Charlie's Angeles: Full Throttle," and his own series, "The Bernie Mac Show," which again mined his life for its biting humor. The series earned an Emmy, Peabody Award, and Humanitas Prize during its four-season run on Fox; Mac forged ahead with starring roles in "Mr. 3000," "Guess Who," and "Soul Men" with Samuel L. Jackson. But a long-standing health issue threatened to upend his life at the height of his fame; Mac had sarcoidosis, a disease that caused inflammation of the tissues in his lungs. In 2008, he was admitted to a hospital in Chicago and spent three weeks in the intensive care unit; on July 19 of that year, Mac died of complications from pneumonia at the age of 50.
Greg Giraldo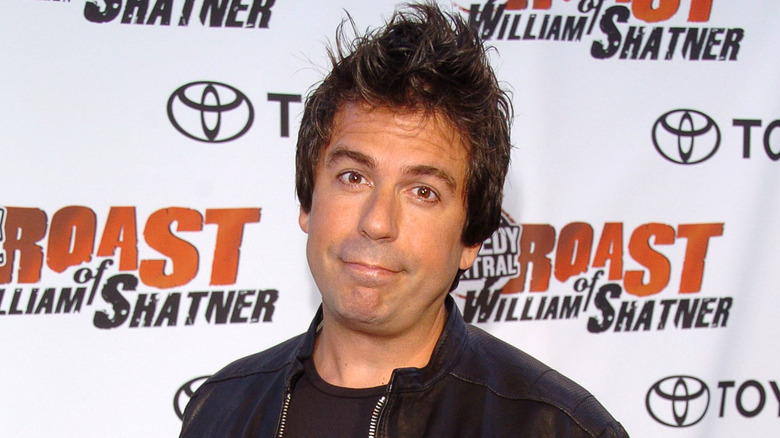 s_bukley/Shutterstock
Greg Giraldo left a burgeoning career as a lawyer to become a comedian whose unfiltered brand of humor made him a go-to for full-contact comedy shows like "Tough Crowd With Colin Quinn" and Comedy Central's ego-bruising celebrity roasts. A fixture on the national comedy club circuit, Giraldo's ranting delivery, which targeted himself as much as others, led to talk show appearances and briefly, his own sitcom, "Common Law," in 1996. He found more lasting on-screen work as a panelist on Quinn's show, the reality series "Last Comic Standing," and the Jerry Seinfeld-produced "Marriage Ref," as well as his own comedy specials for "Comedy Central Presents."
Giraldo, who joked occasionally but candidly about his struggles with drug and alcohol addiction, was found unconscious after an apparent drug overdose in a hotel room in New Brunswick, New Jersey, on September 25, 2010. He was placed on life support but was removed after four days at the behest of his family and died at the age of 44 on September 29, 2010.
Nick Nemeroff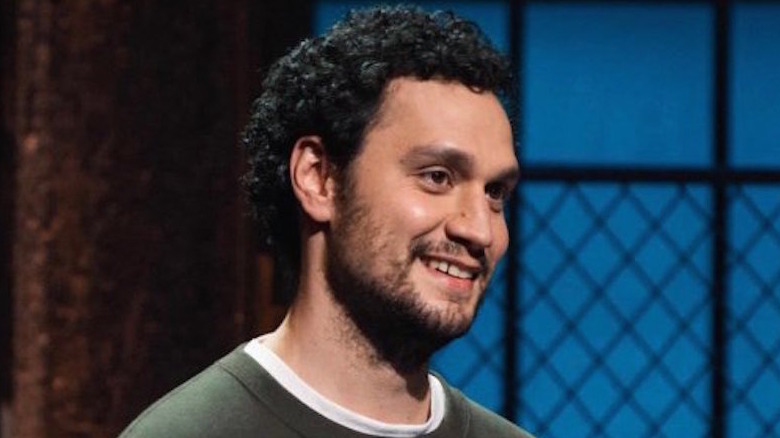 Grand Wave Entertainment
A fan favorite among stand-ups in both the United States and his native Canada, Nick Nemeroff was a staple of high-profile showcases like "Conan" and the Just for Laughs festival in Montreal, where his talent as a "master of misdirection" (as Vulture described him) made him a favorite of audiences and fellow comics alike. His 2020 debut album, "The Pursuit of Comedy Has Ruined My Life," brought Nemeroff a Juno Award nomination for comedy album of the year, and seemed to signal that Nemeroff was destined for even greater fame.
On June 27, 2022, Nemeroff's family announced his death on his Instagram account. No official cause was given in the post, though CBC News cited a text from Nemeroff's manager, Morgan Flood, who said that the 32-year-old comedian had "died in his sleep." His passing was mourned in posts by many of his comedy peers, including John Cullen, who described Nemeroff as "one of the absolute funniest guys and just a totally gentle and genuine human being too. This one hurts."
Freddie Prinze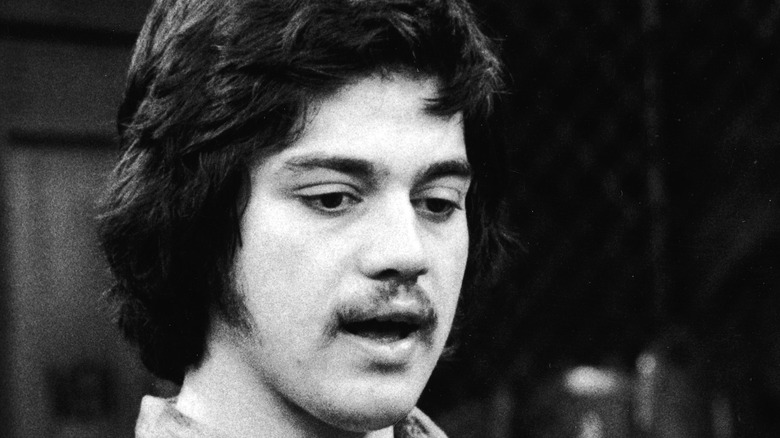 Nbc Television/Getty Images
The meteoric rise and fall of comedian Freddie Prinze encompassed just a few short years in the 1970s, during which he traversed from the New York comedy club circuit to national recognition as the star of a primetime sitcom, "Chico and the Man," which partnered him with veteran actor Jack Albertson. Prinze had earned the series after winning over Johnny Carson during a 1973 appearance on "The Tonight Show"; Carson invited the then-unknown Prinze to sit down after his set, which was virtually unheard of for first-time comics. The appearance led to Prinze's casting on "Chico," which enjoyed strong ratings in its debut season.
But Prinze's fame was undermined by a combination of substance abuse — primarily cocaine and Quaaludes — and depression, which worsened after his divorce from wife Katherine Cochran in 1976. The following year, Prinze, 22, died from a self-inflicted gunshot wound while visiting with his manager, Marvin Snyder, on January 28, 1977. His son, Freddie Prinze, Jr., who was only a year old at the time of his father's death, went on to enjoy his own career as an actor, writer, and producer.
David A. Arnold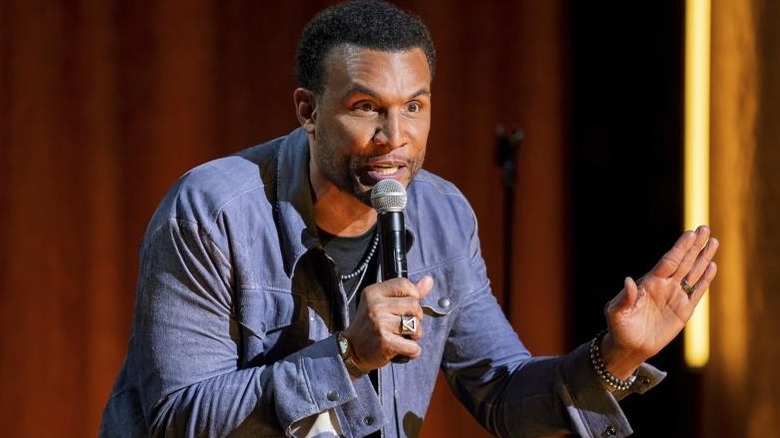 Zack Popik/Netflix via AP
Los Angeles-based comedian David A. Arnold honed his skills in that city's fabled comedy club scene before gaining high-profile television showcases on HBO's "Def Comedy Jam" and "Jamie Foxx's Laffapalooza." Acting assignments on "Entourage" and "Meet the Browns" soon followed, as did stints as a writer for the latter series, "BET's Comicview," and "Real Husbands of Hollywood." By 2020, Arnold was writing for and producing sitcoms like "Fuller House" while also serving as co-creator, producer, and showrunner of the popular Nickelodeon series "That Girl Lay Lay" and starring in his first Netflix stand-up special, "David A. Arnold: Fat Ballerina."
In 2022, the 54-year-old Arnold released his second Netflix comedy special, "David A. Arnold: It Ain't Easy," in July of that year. He later completed three stops on his four-month Pace Ya Self comedy tour when he died in his home on September 7, 2022. Arnold's family issued a statement (via Deadline) that attributed his death to natural causes.
Sam Kinison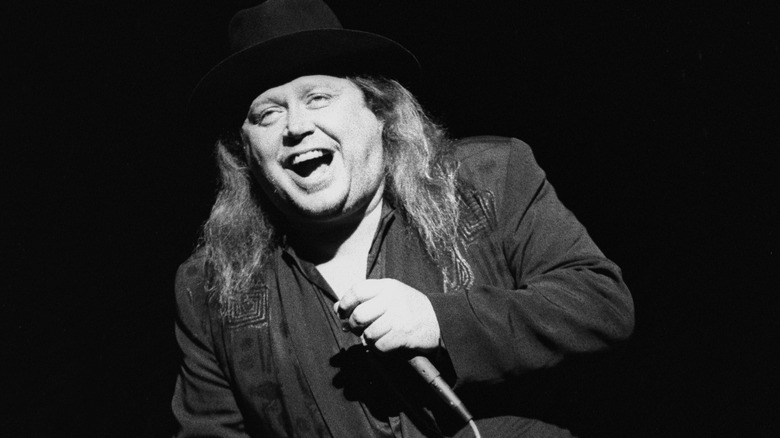 John Atashian/Getty Images
The son of a Pentecostal preacher, Sam Kinison began his career as a fire-and-brimstone preacher but found a more successful outlet for that high-decibel performing as a stand-up comic in the 1980s. He began his career as a member of the Texas Outlaw Comics, a Houston-based group that included Bill Hicks, before relocating to Los Angeles. There, his no-holds-barred act, which punctuated jokes on hot-button topics like sex and religion with ear-piercing screams, caught the attention of Rodney Dangerfield, who featured him on a comedy special in 1985. A slew of comedy albums, including 1988's "Have You Seen Me Lately?" anchored Kinison as an act popular with young audiences and rock and roll types, and even generated a Grammy-nominated single with a cover of "Wild Thing."
Kinison's fame was tempered by an addiction to drugs and alcohol, which upended business relationships with MTV, HBO, and his record label, Warner Bros, as well as movie deals and comedy dates. He professed to have cleaned up his personal and professional life in 1992 and was working on a handful of new projects when a pickup truck struck his car on a highway near Needles, California, on April 10 of that year. The 38-year-old Kinison, who was en route to a performance in Laughlin, Nevada, died of internal injuries moments after the crash.
Gilda Radner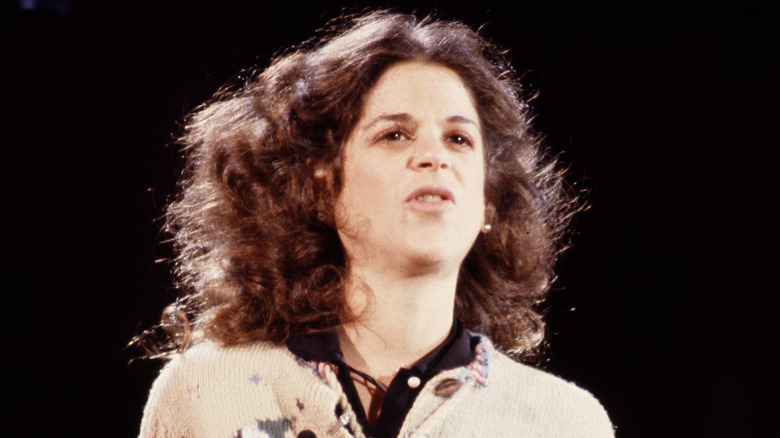 Michael Putland/Getty Images
A member of "Saturday Night Live's" Not Ready For Prime Time Players at the same time as John Belushi, Gilda Radner won over audiences with exuberantly eccentric characters like the deeply uninformed editorialist Emily Litella, advice expert Roseanne Roseannadanna, and razor-sharp parodies of Barbara Walters, Patti Smith, and Lucille Ball, among others. Radner garnered three Emmy Award nominations, including one win, before departing "SNL" in 1980. She began a solo career that included a successful run on Broadway with her one-woman show, "Gilda Radner: Live From New York," and more modest returns on-screen efforts like "Hanky Panky" and "The Woman in Red."
The latter two films paired Radner with Gene Wilder, who became her second husband in 1984. Two years later, she was diagnosed with stage IV ovarian cancer and underwent intensive treatment, which she detailed in her autobiography, "It's Always Something." Her cancer went into remission until 1988, and Radner died of the disease on May 20, 1989, at the age of 42. Her legacy was honored through Wilder's efforts to found the Gilda Radner Hereditary Cancer Program at Cedars-Sinai Medical Center in Los Angeles, and co-found the Gilda's Club support groups, among many other tributes.