How Sylvester Stallone Behaved On Tulsa King's Set, According To Max Casella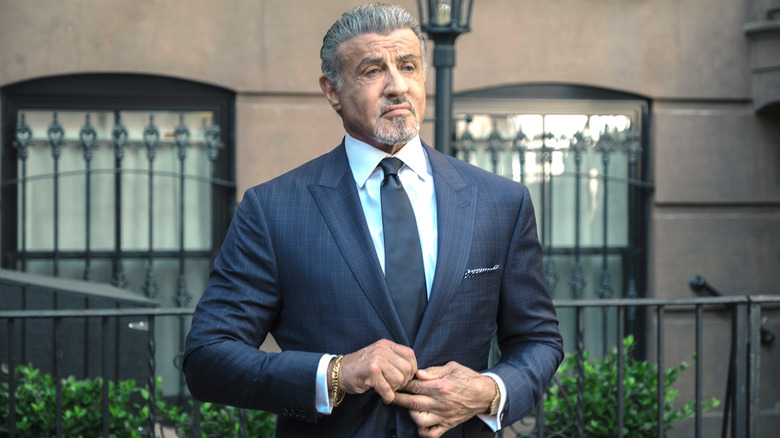 Walter Thomson/Paramount+
As current Hollywood heavyweight Taylor Sheridan continues to build out his "Yellowstone" empire, he's also been hard at work developing several other series that have no ties to the beloved Western saga. And that's just the case with Sheridan's hit gangster drama "Tulsa King." The series fronts screen icon Sylvester Stallone as Dwight Manfredi, a recently paroled mobster who, expecting a hero's welcome home by his mob boss employers, instead finds them ungratefully shipping him off to start anew in the titular metropolis.
There, Dwight builds a loyal crew of allies that will help him seize control of the city's criminal underground. Among them is one of Dwight's old New York underlings, Armand Truisi, who's played by journeyman supporting player Max Casella. The actor is at his scene-stealing best as the series' quippy mobster-turned-ranch-hand. As Casella told New York Live during a recent interview, landing the role was beyond special because he idolized Stallone in his youth, noting, "I had his poster on my wall when I was a kid."
Still, Casella copped to being a little nervous working with Stallone, in part because he claims a life in showbiz taught the hard way meeting your idols isn't always what it's cracked up to be. Thankfully, that was not the case with Stallone as Casella admitted working with the legend was great because, "Sly is like everything you want him to be," both on set and off.
Max Casella says Stallone was an absolute delight on the set of Tulsa King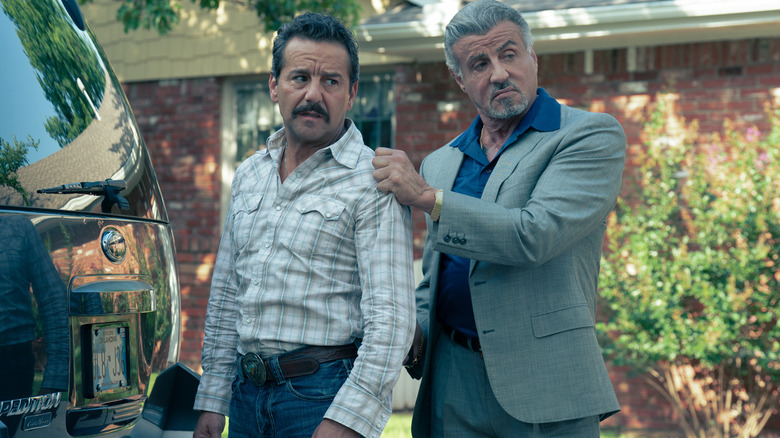 Brian Douglas/Paramount+
Max Casella continued to heap praise on his world-famous co-star throughout the interview, saying of Sylvester Stallone, "He's a warm, generous, loving, hard-working, blue-collar guy." More importantly, Casella said he developed a genuine rapport with Stallone on the set of "Tulsa King," telling New York Live, "He felt like an uncle of mine." If you've seen the pair trading barbs in the first season of "Tulsa King," the family-like chemistry Casella describes is more than evident. And it clearly carried over to several other cast members, with Garrett Hedlund recently claiming he felt Stallone had become like a big brother on the set of the series.
For his part, Stallone seems hardly able to contain his own joy at playing in the wild world Taylor Sheridan created with "Tulsa King." Aside from his obvious joy, Casella claims what made Stallone such a treasure to work with throughout the show's first season is not only that he works so hard at his craft, but that "He respects hard work." The screen legend clearly saw lots of it on the set of "Tulsa King." The hard work arguably resulted in some of Stallone's best work to date, with Casella also revealing in the New York Live interview, "the work he does on this show is the best stuff he's done in years." Casella even went as far as to say Stallone's work on "Tulsa King" might be on par with his work on the "Rocky" franchise. And if you've seen Stallone at work in "Tulsa King," it's hard to argue the point.