Ted Lasso Season 3 Episode 2 Perfectly Sums Up Every Hallmark Christmas Movie Ever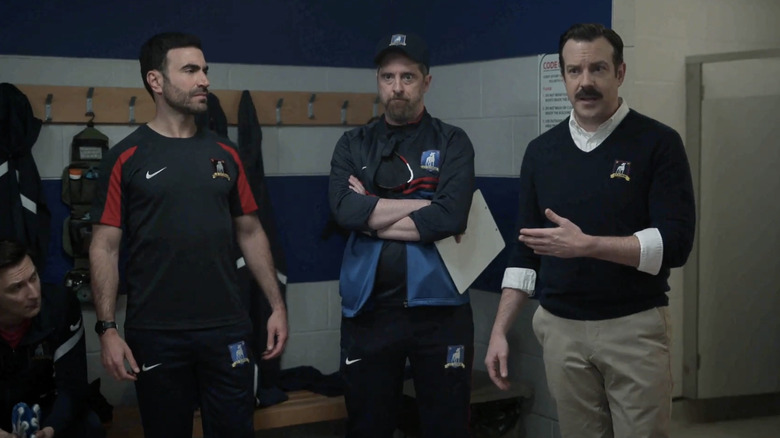 Apple TV+
Contains spoilers for "Ted Lasso" Season 3, Episode 2 — "(I Don't Want to Go to) Chelsea"
We're only on Episode 2 of "Ted Lasso" and this season already has a few developing storylines in the mix. Besides the issues left over from the end of Season 2, there are several new developments at Nelson Road. Roy (Brett Goldstein) and Keeley (Juno Temple) have broken up, and Trent Crimm (James Lance) is writing a book about the team. Meanwhile, Rebecca (Hannah Waddingham) has decided to acquire a star player named Zava (Maximilian Osinski). This calculated move has the double benefit of adding talent to her own team and undermining Rupert's (Anthony Head) bid to win the athlete for West Ham. It's all coming to a head as AFC Richmond approaches its first game against Chelsea.
The opposing team quickly gets the upper hand, forcing Ted (Jason Sudeikis) to talk some sense into the Richmond players during halftime. He compares the team's offensive strategy to a Hallmark Christmas movie, a comment that elicits a round of questioning looks from the players. In the following scene, Ted offers Roy a concise description of the genre: "Hallmark Christmas movies are films that feature women from the big city falling in love with their childhood crushes. It's usually some fella that owns a Christmas tree farm. Sometimes he's also Santa Clause or a prince. They suck, but they're great. But they also mostly suck. But they're also kinda great. They're good with the sound off."
Ted hits the nail on the head when it comes to Hallmark Christmas movies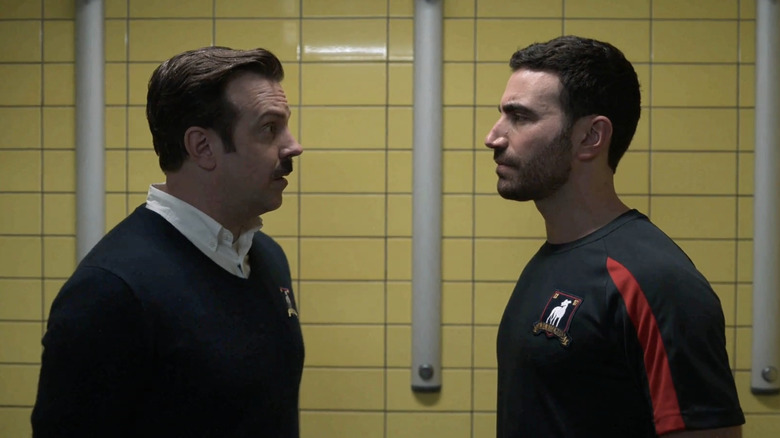 Apple TV+
Ted's description of Hallmark Christmas movies is pretty basic, but longtime fans of the show know that Ted has a way with words. Just when you think his long-winded explanation couldn't possibly have a point, he sticks the landing. His description perfectly sums up what a viewer can expect from one of Hallmark's holiday classics, even if he generalizes a bit. Hallmark movies are known for being overly saccharine and formulaic. You know what's going to happen every step of the way, but somehow the story still manages to be charming and delightful in its predictability. As cliché as they are, Hallmark movies are about hope, which happens to be a central theme of the episode. 
Rebecca is hoping that Zava will pick Richmond over West Ham, Ted is hoping to win the game, and Trent Crimm is hoping to build rapport with the players, who are shunning him on Roy's orders. Just like in a Hallmark movie when the leading lady gets a stern talking-to about following her heart, Ted tells Roy that he's going to have to bury the hatchet with Trent. Thankfully, a little bit of Hallmark-brand hope goes a long way. Trent and Roy put the past behind them, Richmond manages to secure a draw against Chelsea, and Rebecca convinces Zava to join the team. Things are looking up moving into Episode 3, though more drama is sure to come.