Fast X's Second Trailer Highlights Jason Momoa's Villainous Dante Reyes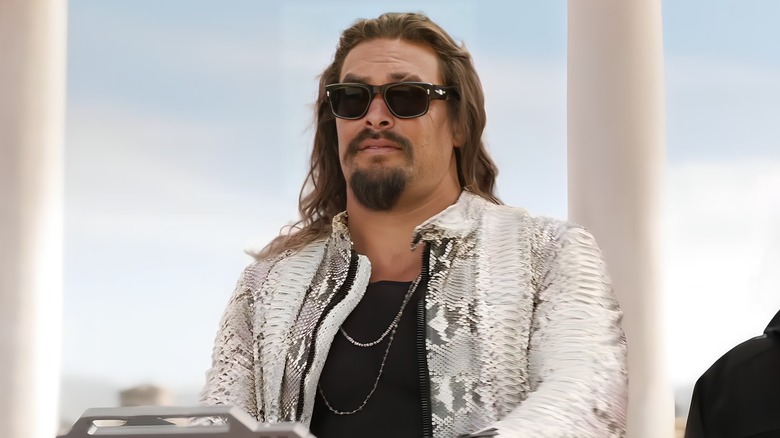 Universal Pictures
"The Fast Saga" dates back to the early 2000s, when director Rob Cohen debuted "The Fast and the Furious." Overall, it was a pretty low-stakes heist movie brought to life by a crew of relative unknowns — certainly not the kind of movie to build a franchise around. Nevertheless, that's exactly what happened, with sequel after sequel racing its way to the movies throughout the 2000s into the 2010s and eventually to the 2020s. In doing so, the franchise has grossed billions and launched its stars into the Hollywood stratosphere, but every road has an end.
Shortly before the release of 2021's "F9," it came to light that there would be a two-part finale to close out the "Fast and Furious" series. The first portion, titled "Fast X," is on its way to theaters, and it's shaping up to be quite a wild ride. The likes of Dom Toretto (Vin Diesel) and Letty Ortiz (Michelle Rodriguez), who have been around since the franchise's beginnings, will appear, in addition to newcomers like Dante Reyes (Jason Momoa) and Abuelita Toretto (Rita Moreno). The first trailer premiered during Super Bowl LVII, promising fans all kinds of action and suspense while reminding everyone of the importance of family.
A second "Fast X" trailer has arrived, and it's every bit as intense as the first.
Fast X looks to put the pedal to the metal like never before
The latest trailer for "Fast X" reminds fans that Universal, director Louis Leterrier, and the entire cast and crew have no intention of slowing down as the "Fast and Furious" series draws to a close. It gives viewers samplings of the action, the drama, and the reverence for all the films that came before that the feature will pack in. Of course, as any good trailer should, this one provides a bit more context when it comes to the story, building a bit on what the teaser that came before it offered up.
Dom Toretto and his crew have faced threats big and small over the years, taking down all kinds of enemies in missions that range from street-level to world-threatening. However, this time around, their past actions have come around to bite them. Dante Reyes — the son of "Fast Five" villain Hernan Reyes (Joaquim de Almeida) — seeks revenge on Dom and his allies for the death of his father. With Cipher (Charlize Theron) at his side, it seems that the heroes have an intimidating uphill battle to fight.
"Fast X" will fire up its engine in theaters everywhere on May 19.