The Justified Star Who Played A Small (But Key) Role In The Office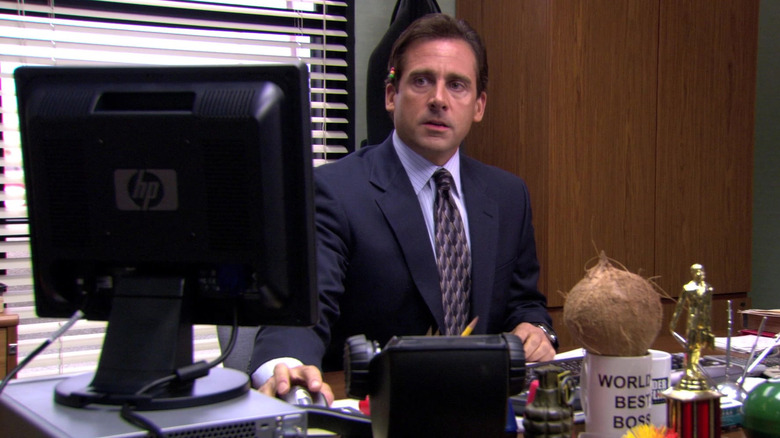 NBC
Over the years, "The Office" racked up quite the list of guest stars. The legendary comedy series pulled in many big names, including Idris Elba, Amy Adams, and even Jim Carrey. At one point, a former Deputy U.S. Marshal made his way to Dunder Mifflin's Scranton branch, as Raylan Givens himself, Timothy Olyphant, appeared in multiple episodes of "The Office."
Olyphant played Danny Cordray, a handsome, charming, and talented paper salesman who becomes a traveling salesman for Dunder Mifflin. First appearing in Season 7, Episode 5, "The Sting," Danny starts as a rival with a romantic history with Pam (Jenna Fischer). The two only went on two dates four years ago, but that doesn't stop the rest of the employees from exaggerating how it affects Jim (John Krasinski) and Pam's marriage. Eventually, Pam needs to know why Danny never called her back, and he admits he found her too dorky, prompting Jim to wear his Halloween costume to please Pam.
Although Olyphant's appearance in "The Office" was short-lived, he managed to captivate the screen, bringing his typical Olyphant charm to the role of Danny. After growing accustomed to seeing the actor take on criminals in "Justified," it's a bit of a shock to see him in a more comedic role in "The Office." Still, Olyphant proves he's a man of many talents with both performances.
Timothy Olyphant loved his time on The Office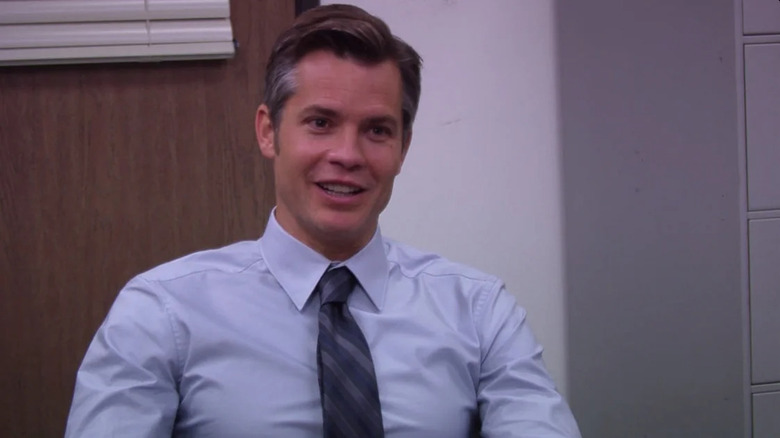 NBC
Although he didn't have a holstered pistol by his side, Timothy Olyphant felt right at home on the set of "The Office." In an interview, the actor said he'd been a fan of the series for a long time, so it was a no-brainer when he got the call to appear on a few episodes.
He had nothing but praise for "The Office" crew, saying, "It's so funny and so seemingly effortless. Everyone embodies their character, and they all do such a wonderful job of being hysterical and at the same time feeling so grounded and real and people that you feel like you can relate to and that you would meet in the office place." He couldn't stop showering everyone involved in "The Office" with compliments, from the writers to the actors, calling the entire experience a "thrill."
On the "Inside of You" podcast, "The Office" star Kate Flannery, who plays Meredith, admitted having to reign it in when Olyphant had a recurring role on the series. In the "Deadwood" star's first episode, the two shared a scene where Meredith attempts to seduce Danny, which Flannery was incredibly nervous about filming. Much like her "Office" counterpart, the actress admits that Olyphant is "a really good-looking guy," and the series capitalized on that, with Meredith quickly forgetting the plan of "The Sting" and seducing Danny.