The Guest Character That Has The Office Fans Scratching Their Heads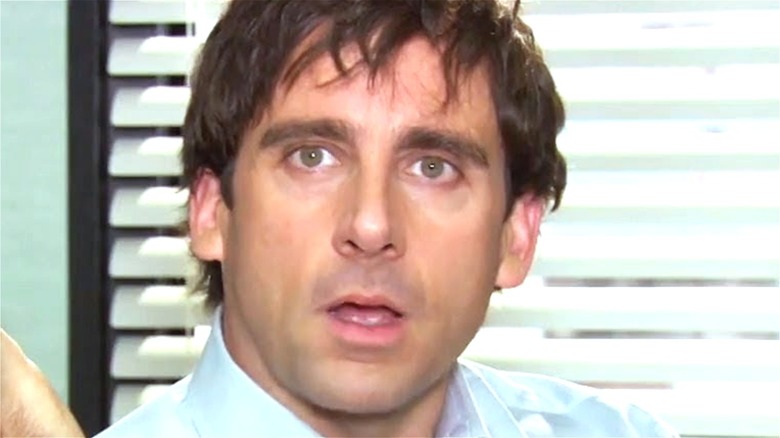 NBC
"The Office" is easily one of the most iconic shows of the 21st century. At this point, it's hard to imagine there's anyone who hasn't seen at least one episode of the hilarious workplace sitcom. The show's cultural influence extends past the screen too, as it has emerged as the inspiration behind some iconic internet memes, and hardly a day seems to go by where "The Office" isn't referenced or quoted somewhere online. Indeed, while it has been eight years since "The Office" came to an end, the sitcom's popularity endures.
During its nine-season run, many noteworthy guest stars showed up at the series' fictional Dunder Mifflin offices as well, including Evan Peters and Amy Adams, along with comedic legends like Tim Meadows and Will Ferrell. Several famous names appear specifically in the "Office" Season 7 finale, which focuses on the Dunder Mifflin Scranton team's efforts to find a replacement for Michael Scott (Steve Carell). The episode's celebrity cameos include Will Arnett, Ray Romano, Ricky Gervais, and hilariously, billionaire businessman Warren Buffett as himself. Notably, Jim Carrey also shows up in the episode, but some "Office" fans have noticed a strange inconsistency created by his cameo appearance.
Here's why Jim Carrey's cameo on The Office confuses fans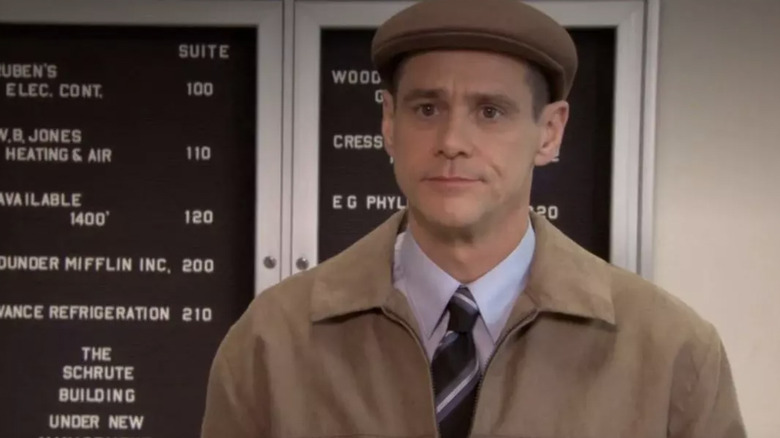 NBC
On the r/DunderMifflin subreddit, u/girly__nerd123 points out that Jim Carrey was mentioned in "The Office" before he made his cameo in its Season 7 finale. In one of the show's earlier seasons, Phyllis Vance (Phyllis Smith) says, "Dwight, Jim Carrey just walked in! Get his autograph for Michael, quickly!" At the time, the actor wasn't actually present in the scene, and the whole thing was just a ruse on Phyllis' part to try to get rid of Dwight (Rainn Wilson). Nonetheless, the moment ultimately makes it both confusing and amusing when Carrey shows up in Season 7 not as himself, but as a potential regional manager candidate known only as the "Finger Lakes Guy." It's an inconsistency that forces "Office" fans to wonder: If Jim Carrey exists in the show's universe, then why didn't any of the characters recognize him when he showed up in "The Office" Season 7?
Of course, this isn't the only time in which a real-life actor is alluded to on "The Office" only to later appear as a different character. In the show's fourth season, Michael mentions he's been watching "The Wire," but Idris Elba, known for playing Stringer Bell on the acclaimed HBO drama, shows up as a character named Charles Miner in "The Office" Season 5. Meanwhile, Amy Ryan, who plays Holly Flax in "The Office," similarly starred in Season 2 of "The Wire" as a character named Beadie Russell.
To be fair to "The Office," inconsistencies like this are common on television shows, which means fans shouldn't pay this too much mind. After all, there's no reason to let a few minor discrepancies stop talented actors from guest-starring on popular shows — especially ones as beloved as "The Office."