The Impractical Jokers Originally Wanted Patrick Stewart To Angrily Narrate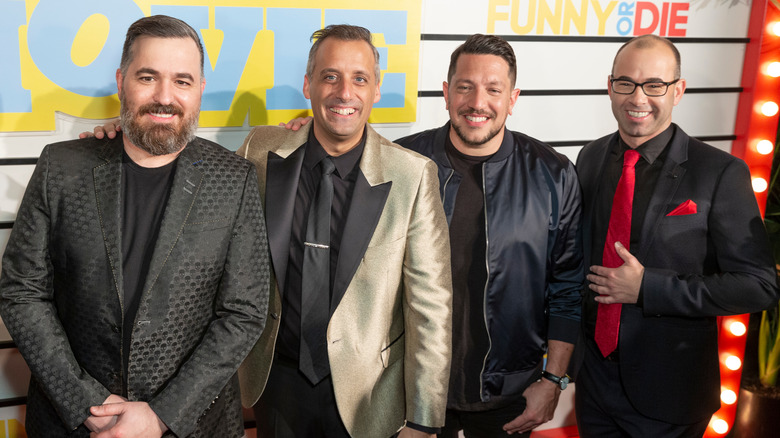 lev radin/Shutterstock
"Impractical Jokers" has had its fair share of celebrity guest stars over the years. Everyone from Emmy Award winner Jeff Daniels to Academy Award nominee and all-around-madman Gary Busey have popped up on the show. Not bad for a series set around four Staten Island buddies working to embarrass each other with the unsuspecting public as their witnesses. Sometimes celebrities will join in on the challenges, or they'll make quick, fun appearances, as when Daniels accuses the Jokers and unsuspecting strangers of farting repeatedly in "Impractical Jokers" Season 8, Episode 25 ("Rock Bottom").
Before Brian Quinn, James Murray, Joe Gatto, and Sal Vulcano turned their comedy troupe The Tenderloins into a successful TruTV franchise, the foursome actually had the idea of incorporating a celebrity into their show from the jump. In a behind-the-scenes fan Q&A featurette for TruTV, Murray revealed they had their sights set high with their original pick for a potential celebrity narrator for the prank series.
"When we first created the show, we wanted the narrator to be Patrick Stewart, and we wanted him to hate us," Murray said. "Like, he'd introduce every challenge and say, 'These d**** are at it again.' He really hates the show, hates narrating it. We thought it'd be a funny character who's like, 'Here they go again. Let's see if they screw up another time.'"
One of the Jokers already collaborated with Patrick Stewart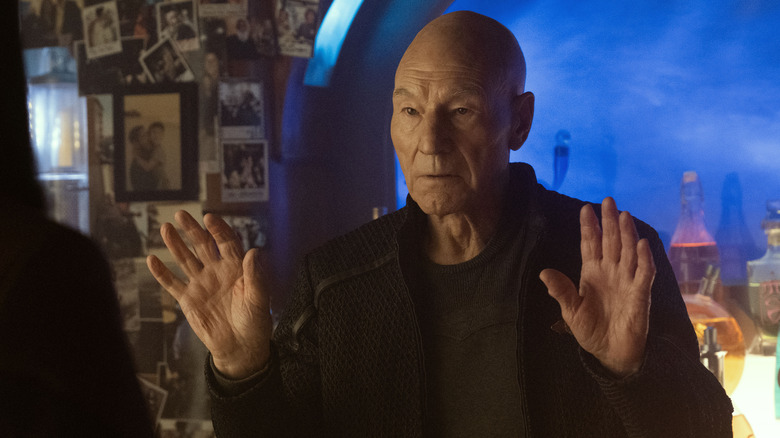 Trae Patton/ Paramount+
Patrick Stewart narrating "Impractical Jokers" actually makes more sense than a classically trained actor narrating a TruTV prank series should. The British thespian previously served as the narrator for Seth MacFarlane's "Ted" and "Ted 2," and each film was laced with plenty of vulgar irony. Stewart also voices the wonderful degenerate Avery Bullock on MacFarlane's "American Dad," so if there is one acclaimed British actor who has played both Hamlet and a Starfleet commander to narrate "Impractical Jokers," Stewart is the guy.
Some of the Jokers have actually been in Stewart's orbit in the past. Brian Quinn makes a cameo appearance on the "Star Trek" spin-off "Picard." Stewart reprises his role as Jean-Luc Picard from "Star Trek: The Next Generation" for the series. Quinn appears in "Picard" Season 2, Episode 4 ("Watcher"). In a May 2022 Instagram post about the cameo, Quinn had nothing but positive things to say about his experience with Stewart. "He was one of the purely nicest people I have met in a long time," Quinn wrote.
The character Quinn played, Dale, was not invented for "Picard." Quinn actually cameos as Dale in episodes of "MacGyver" and "12 Monkeys."