Emma D'Arcy Pushed Back At Criticism Over House Of The Dragon's Birthing Scenes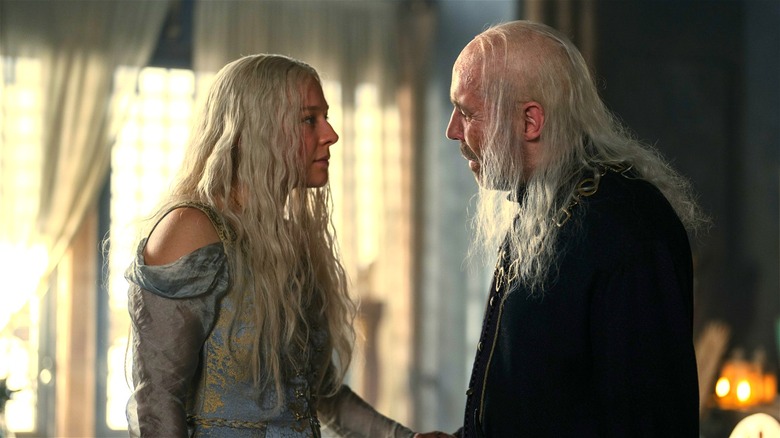 Ollie Upton / HBO
"House of the Dragon" has all the hallmarks that "Game of Thrones" fans are accustomed to — political machinations, bloody battles, and, of course, dragons. But the HBO spin-off also adds something that was sorely lacking from the previous series: the female perspective. While "Game of Thrones" certainly has female characters in the forefront, many endure inhumane conditions and assault that borders on torture. "House of the Dragon" doesn't necessarily take it easier on their women, but the female point of view in the series is far more specific. Realistic childbirth scenes are threaded throughout Season 1, whether you like it or not. Many fans were upset by the multiple birthing scenes as too graphic and unsettling. But with the long history of graphic visuals in the "Game of Thrones" universe, "House of the Dragon" star Emma D'Arcy rejects that sentiment.
"I take real issue with the idea that we shouldn't see women in labour depicted with gritty realism, and blood, and placentas. Especially on a show where part of its USP is big, gory battle sequences," D'Arcy told GQ. The final birth scene, which results in Rhaenyra (D'Arcy) pulling her terrifying baby from her body, is not typical. But it still adds to the question if these reactions are due to hypocrisy in the viewership.
D'Arcy gets to the central issue of the backlash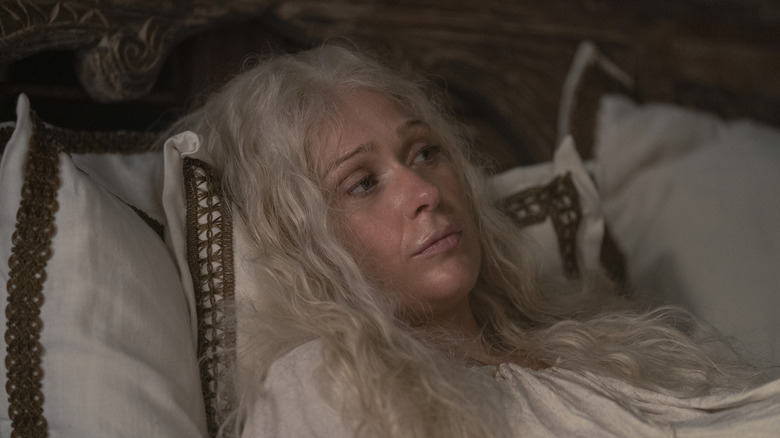 Ollie Upton / HBO
Fans seem prepared to see Daemon Targaryen (Matt Smith) chopping off heads all day long but shy away from the idea that women, too, can experience a bloodbath. Emma D'Arcy noted this dichotomy and pointed out how this seemed to have to do with gender inequality.
"What it feels like is that we want women to conform to a certain image," D'Arcy continued. "Which is interesting, insofar as acting is concerned, because there's also a lot of fun to be had getting to do the big physical, physically demanding sequences. And it's interesting that maybe sometimes that is not afforded to female characters." It was also integral to creatives that the series depicts an honest reality. The first birthing scene of the series shows Queen Aemma (Sian Brooke) receiving a medieval cesarean against her will. This demonstrates a shared female experience and sets up a resonant theme of the series. Former showrunner Miguel Sapochnik defended the choice vehemently to PopSugar.
"We did make a point of showing it to as many women as possible and asked the very question, 'Was this too violent for you?'" Sapochnik said. "And unanimously, the response was no. Often the response was, 'No, if anything, it needs to be more.'" Viewers criticizing these decisions are missing the point of the series. Women have been treated this way for generations, and watching it shouldn't be easy.