Keanu Reeves Would Return To The Speed Franchise Under One Condition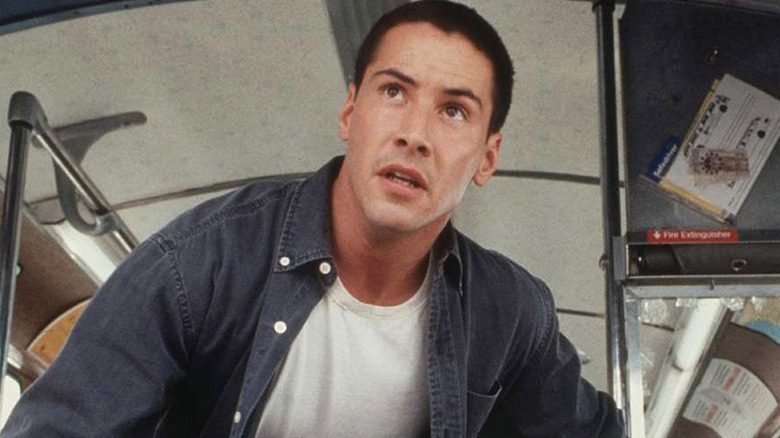 20th Century Fox
Keanu Reeves embodies the role of the action hero arguably better than any of his colleagues on the silver screen. Today, merely mentioning the actor's name conjures up imagery of the puppy-loving hitman John Wick, but Reeves has been playing the part of the Hollywood hero for over 30 years. Sure, fans will undoubtedly point to Reeves' portrayal as Neo in "The Matrix" franchise as a prime example. But don't forget that the A-lister also brought a uniquely unforgettable physicality and heart to his one-hit wonder Jack Traven in 1994's smash hit "Speed."
Reeves co-starred with another up-and-coming talent, Sandra Bullock, in the first "Speed," but he rightfully bowed out of returning for the critically inferior "Speed 2: Cruise Control" in 1997. While walking the red carpet at the "John Wick: Chapter 4" premiere, Reeves was asked by reporter Scott Evans what would have to happen for him to reunite with his "Speed" co-star, Bullock, in another installment. "A great story," Reeves said during his interview with Access Hollywood. 
"And a great script," Reeves continued. It seems simple enough, but if the fans want to see Jack and Annie (Bullock) ever share a ride on some form of public transit in the future, Reeves is putting a premium on the storytelling and not the action sequences that come with the possibility of a "Speed 3."
Speed 3 must tell a 'great story'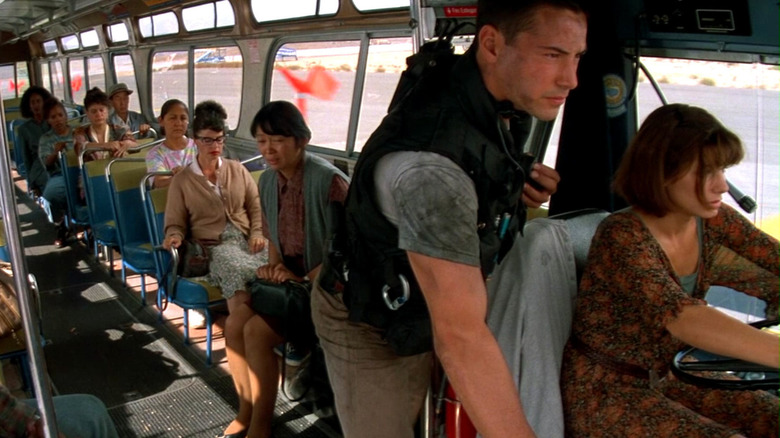 20th Century Fox
Keanu Reeves returns in "John Wick: Chapter 4." But during a stroll down the movie premiere's red carpet, Reeves reminisced about his time making "Speed" with Sandra Bullock. Access Hollywood's Scott Evans presented the actor with a photograph of the duo on the set of the 1994 production. "Hi, Sandy!" Reeves exclaimed as he held out the picture for the camera to see (per Access Hollywood). The actor then reiterated that he'd definitely star in another installment of the "Speed" franchise" as long as the script was properly crafted.
"Of course [I'd return]," Reeves said in the same interview. Reeves and Bullock's teaming in the original "Speed" dazzled critics to the tune of a 94% Tomatometer rating. However, when the screenplay for "Speed 2: Cruise Control" was presented to Reeves, he couldn't stand the script. "I decided not to be in that," Reeves said during a 2015 interview (via Den of the Geek). "I loved working with [director] Jan de Bont and Sandra, of course. It was just a situation in life where I got the script and I read the script, and I was like, 'Ugh.'"
While promoting "Matrix Resurrections" in 2021, Reeves also addressed suiting up as Jack Traven again in a new "Speed" movie. "I can't say never, because I'm standing here on 'Matrix: Resurrections' and at the end of the trilogy, I did die," Reeves said in an interview with Matthew Hoffman (per Extra TV). "So, you can't say never."