The Good Doctor's S6 Episode 18 Promo Has Fans Worried About Glassman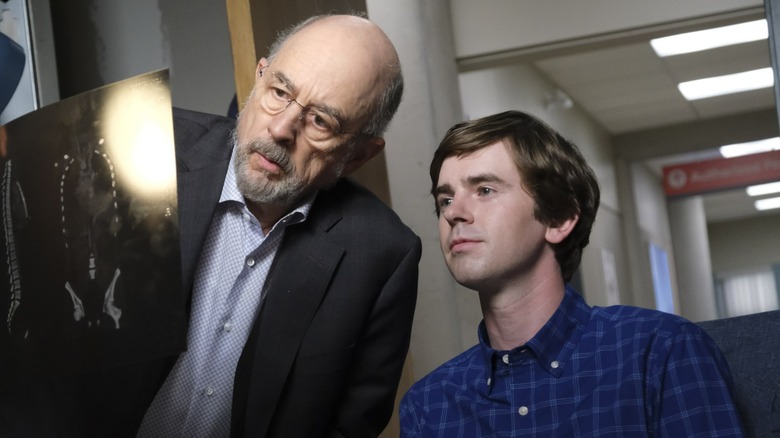 Jeff Weddell/ABC
The developing romance between Dr. Shaun Murphy (Freddie Highmore) and Lea Dilallo (Paige Spara) has been a big storyline on "The Good Doctor," especially now as they prepare for parenthood. However, Dr. Aaron Glassman (Richard Schiff) has arguably had the biggest influence on Shaun's life. Shaun and Glassman have had their ups and downs, but the series continues to highlight the importance of their bond to the audience. Glassman has had a huge impact on the course of Shaun's career, though his influence goes beyond that of a dedicated mentor. He's effectively Shaun's father and over the course of the series, viewers watch as Shaun, Lea, and Glassman form a makeshift family. However, the Episode 18 promo has viewers worried that their family unit is about to change forever. 
"Oh no, Glassman is in trouble," wrote Twitter user @CunananIlah in response to the clip, which heavily implies that Glassman's brain cancer has possibly returned. If there's one thing we know about Glassman, it's that he's a survivor. He's faced and overcome unimaginable hardships, but fans are still worried that this could be the end of the road for Glassman. With his fate up in the air, viewers are already speculating about what's next for the character. 
The Good Doctor fans wonder if Glassman's story is coming to a close
The promo for Episode 18, an installment titled "The Blip," makes it seem like Glassman's final days are fast approaching. It's possible that this is a big red herring to get fans to tune in, though this could also be a carefully calculated maneuver to prepare viewers for Schiff's exit. At this stage, Glassman's death would be devastating, especially since Shaun recently assured his mentor that he wants his child to see Glassman as a grandfather. This is a character who has definitely earned some peace, so fans like YouTube user @Rymar101 couldn't help but wonder, "Hasn't Glassman been through enough?" 
Viewers are already dreading the long wait until the next episode airs. "Next new episode is April 3, and that promo! Teary-eyed Shaun telling Glassman, 'It would be very difficult to lose my father just as I'm about to become one.' I hope Glassman's brain cancer isn't back," wrote Twitter user @FebWriter.
Shaun already has a lot of change coming his way. Glassman's death could send him over the edge and fans aren't too keen to lose this beloved character, either. "PROMO YOU ARE NOT ACTUALLY TELLING ME YOU BURNT MY MAN GLASSMAN'S HOUSE DOWN ONLY TO BRING BACK HIS CANCER AND TAKE RICHARD SCHIFF AWAY FROM ME AFTER 6 YEARS," wrote Twitter user @miss_tweedledee.
For now, viewers will just have to wait and see what happens when "The Good Doctor" returns next month.