Cameron Diaz May Be Leaving The Acting World (Again)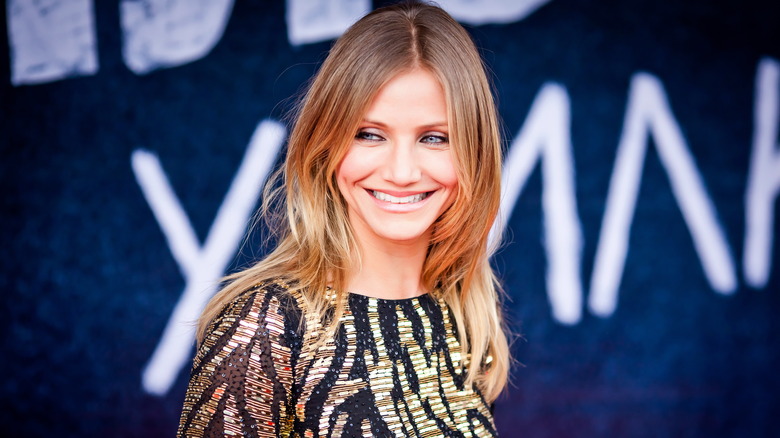 Andrey Bayda/Shutterstock
Though some may consider actors as having an easy job, the profession is probably anything but. Sure, fame and money might be nice, but the former comes with the caveat of never having a moment of peace out in public, and the long hours away from families has to grate on even the most robust of individuals. One such famous actor, Cameron Diaz, has recently come out of retirement to appear in Netflix's upcoming "Back in Action" alongside her friend Jamie Foxx, but it looks the experience has only caused her to realize why she retired in the first place.
As reported by the Daily Mail, it seems as if an anonymous source has claimed that Diaz struggled through the production of "Back in Action," and that she missed her young child named Raddix. They explained, "These back-to-back 10-hour workdays have been a lot on her and she hates being away from Raddix. Cameron loves being a mom more than anything in the world." They added, "She hates drama and confrontation. This is why she retired from the business in the first place. She has already proven herself in the industry and has nothing left to prove to anyone."
Diaz prefers to focus on her personal life over continuing a professional acting career
These comments definitely show that even though Cameron Diaz returned to acting for her friend Jamie Foxx, it sounds like she will step away once again, though it makes perfect sense considering the statements of the unnamed source. Raddix is still a toddler, which is an exceptionally important time for development, and if Diaz is as committed to her child as she sounds, she certainly wouldn't want to spend her waking moments away from them.
Originally, Diaz announced her retirement in 2018, noting that she wasn't really doing anything at that specific point in time when it came to the entertainment industry, with her last effort being's 2014's "Annie." Speaking with CBS News in 2022, Diaz explained her reasons for quitting Hollywood by saying, "When you're doing something that you know and you've done well and you know how it works and it's consumed your whole life for so long, it's kind of a nice thing to kind of go, 'You know what? Let me just step back for a second, take a look at what the whole picture looks like for me and what are the things that I could do better and be more engaged with that would make me feel more whole.' And I did that." At this point, one can only wait to see if Diaz officially re-retires, and since it sounds like she isn't exactly having a good time these days, that announcement might be a foregone conclusion.