Here's When You Can Watch Shazam! Fury Of The Gods At Home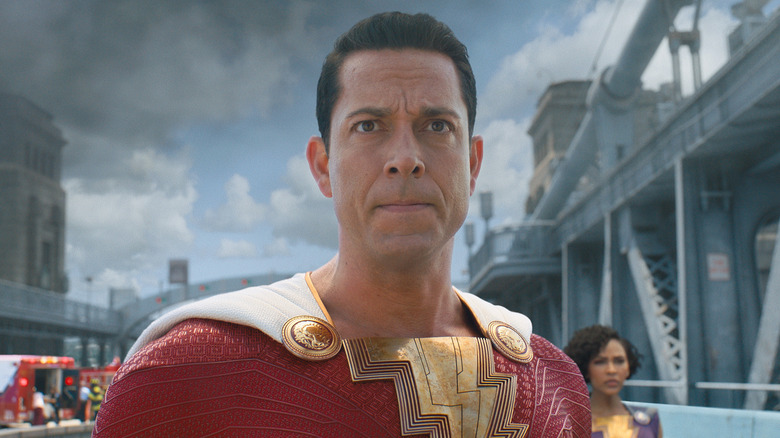 Warner Bros./DC Studios
We may receive a commission on purchases made from links.
"Shazam! Fury of the Gods" is flying from multiplexes to digital storefronts sooner than expected.
Zachary Levi and David F. Sandberg's latest superhero romp will be available to purchase on April 18 2023, just a month after its theatrical debut. The Prime Video page for the "Shazam!" sequel lists the mid-April date, along with a purchase price of $24.99 USD. "Black Adam," the previous DCEU film prior to "Fury of the Gods," also received a one-month exclusive theatrical run before heading to VOD in late 2022.
"Fury of the Gods" is the direct sequel to 2019's "Shazam!" the franchise's only release that year. The film, which starred Levi in the titular role, was widely praised at the time of its release. In a highly positive review, /Film critic Hoai-Tran Bui described Sandberg's mid-budget superhero exercise as a "a throwback both to '80s comedies and to the superhero movies of the early 2000s," calling it a "heartfelt story about the power of found families." In a sea of same-ish superhero flicks, "Shazam!" stood out as an endearing and heartfelt take on the genre. While the film wasn't a commercial juggernaut like 2018's billion dollar grossing "Aquaman," audiences showed up to support DC's light-hearted fare. The Numbers reports a final, impressive gross of $363 million.
Four years, and several other superhero films later, "Fury of the Gods" isn't doing too well at the box office, which is likely why the sequel is receiving an accelerated home video release.
Shazam! Fury of the Gods' early VOD release isn't surprising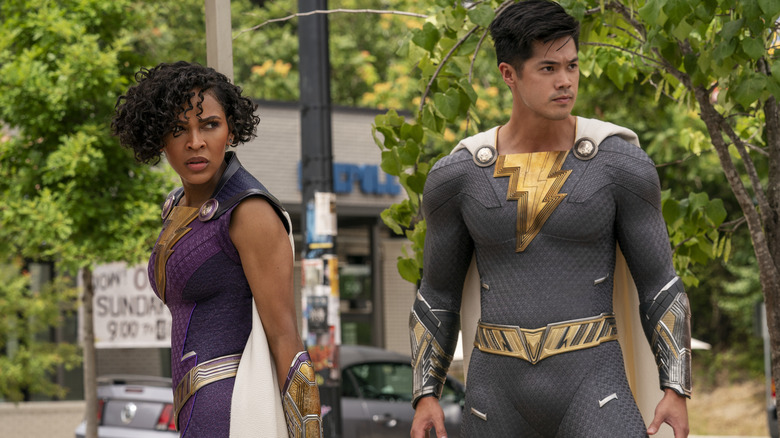 Warner Bros./DC Studios
"Shazam! Fury of the Gods" opened to a disappointing $30 million domestically, nearly $23 million less than its 2019 predecessor, per The Numbers. The sequel follows Shazam! (Zachary Levi) as he and his super-powered family deal with the Daughters of Atlas (Helen Mirren, Lucy Liu, Rachel Zegler), who are hell-bent on finding an ancient relic, which could destroy the world. The bigger and more expansive sequel didn't necessarily lead to solid critical results. The film received generally mixed reviews from critics, with audiences giving the superhero sequel a B+ CinemaScore rating.
Following the film's mixed reviews and poor showing at the box office, director David F. Sandberg called out the negativity and toxic discourse that plagued his film. The director also confirmed in a tweet that he would be stepping away from the world of superheroes, hoping to return to his horror roots. While "Fury of the Gods" certainly wasn't the success that DC was hoping for, the film exiting theaters sooner than expected does have a silver lining. With the film soon available to stream at home, audiences will be able to enjoy Sandberg's latest in comfort, away from distractions for one low-price. 
Recent years have seen theatrical windows continue to shrink. Recent hits like "M3GAN" and "Cocaine Bear," both of which grossed over $55 million domestically, were available for purchase on VOD weeks after their release. Hopefully, with its home video release, "Fury of the Gods" finds its fair share of fans. Looper critic Alistair Ryder was a fan of the film, calling it "an unexpected breath of fresh air" in a 7/10 review.