Who Did Ned Eisenberg Play On Law & Order: SVU?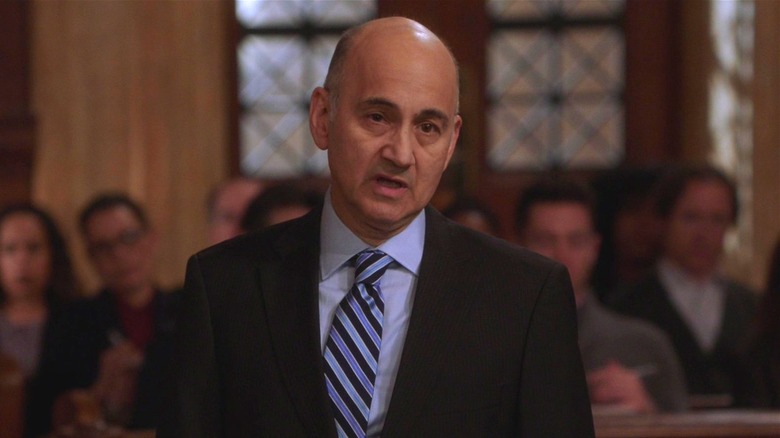 NBC
The "Law & Order" franchise has seen several performers return to play different characters. One of the more well-known performers in this category is Ned Eisenberg, who died of cancer in 2022. Eisenberg was a familiar face to viewers of "Law & Order: Special Victims Unit," having played three characters over the years.
His first appearance was in "Payback," the pilot episode of the series. In this episode, Eisenberg plays Jerry Kleinert, a defense attorney who crosses paths with Detective Elliot Stabler (Christopher Meloni) in court. Stabler is the one responsible for arresting Kleinert's client, a flasher, and Kleinert asks Stabler why he joined the sex crimes unit. Stabler uses his answer to goad Kleinert's client into flashing the courtroom.
Eisenberg returned in Season 2 for "Closure: Part 2." This episode is a continuation from the first season's tenth episode, with Harper Anderson (Tracy Pollan), Kenneth Cleary (Neil Maffin), and Meredith Cleary (Evy O'Rourke) reprising their roles. Eisenberg plays defense attorney Klein Rothberg, who defends Kenneth Cleary in a rape trial. When Meredith Cleary infringes on spousal privilege while on the stand, Rothberg manages to get a mistrial declared as a result.
Eisenberg returned in the third season as a new defense attorney named Roger Kressler, and this character became a key recurring figure in "Law & Order: Special Victims Unit." Kressler is an expensive attorney who crosses paths with the SVU team on numerous occasions. His last appearance came in the Season 20 episode "Dear Ben," where he appears as the attorney for Edgar Noone (Jude Ciccolella), who is accused of being a serial rapist.

If you or anyone you know has been a victim of sexual assault, help is available. Visit the Rape, Abuse & Incest National Network website or contact RAINN's National Helpline at 1-800-656-HOPE (4673).
Ned Eisenberg appeared in other Law & Order shows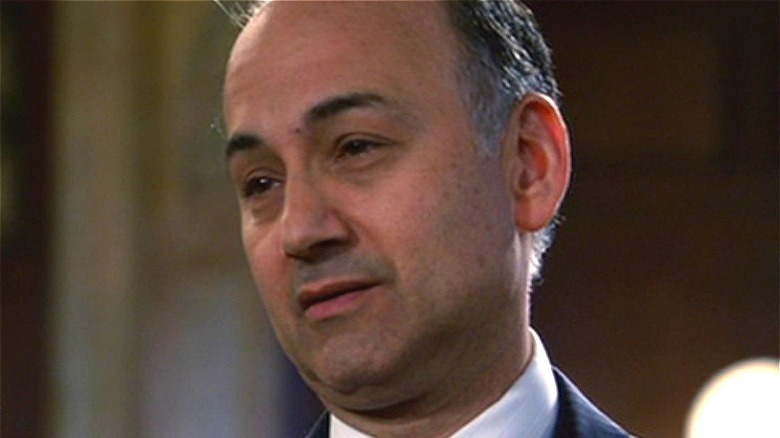 NBC
Ned Eisenberg was best known to "Law & Order" fans for his work on "Special Victims Unit," but he also plied his trade on other shows in the franchise, beginning with an appearance on the original show. His first "Law & Order" appearance came in 1997 when he made his debut as defense attorney James Granick in the Season 7 episode "Mad Dog," another episode about a serial rapist. Granick faced the team in court in a further six episodes over the coming seasons, with his last appearance as Granick coming in "Memo from the Dark Side," the opening episode of Season 20.
Eisenberg also made two appearances on "Law & Order: Criminal Intent," playing guest characters in Season 2 and Season 6. In Season 2's "Shandeh," he appears as passive husband Danny Sussman, a member of a wealthy Jewish family whose wife is murdered. Fans enjoyed his turn as the pitiful character. Sussman is "excellently portrayed by Ned Eisenberg," user @patcat said on a "Criminal Intent" message board. "He's a weak man, fighting the ghost of his father and the monster of his mother, but I can't help but feel sorry for him." Eisenberg returned to play a character called Artie Ableson in Season 6's "30." in which the team investigates the poisoning of a journalist.