John Wick: Chapter 4 Cast Pays Tribute To Lance Reddick At Movie's Premiere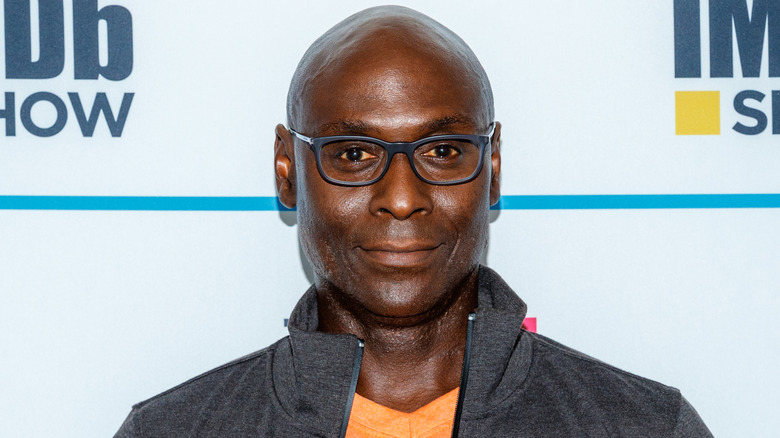 Rich Polk/Getty Images
The Los Angeles premiere for "John Wick: Chapter 4" was made all the more special thanks to a beautiful gesture that saw the film's cast and crew honouring the late Lance Reddick. The actor, who played the Continental Hotel's slick and savvy concierge Charon, died on March 17 2023, aged 60. Reddick appeared in all four "John Wick" films and is slated to appear in the upcoming Ana de Armas-led franchise spin-off "Ballerina."
Variety reports that attendees were asked to wear a blue ribbon pin upon entering the TCL Chinese Theatre. Blue was Reddick's favorite color. All of the event's attendees, including lead star Keanu Reeves and director Chad Stahelski had their snaps taken with the simple but beautiful tribute. While speaking with Bowery King star Laurence Fishburne, Entertainment Tonight noted that Reddick's character poster was the first one to greet attendees at the "Chapter 4" premiere. In general, the atmosphere at the premiere was celebratory but solemn. "We lost our brother ... He's the goodness in this movie," Fishburne told ET at the premiere, holding back tears.
Reeves also praised the late actor during the red carpet portion of the event, describing Reddick as a "people person" and "special artist" while speaking with Variety. "It's just really something special, every time he stepped on set, to watch the passion he had for his work. It's really easy to work with him," Reeves continued.
The love and respect for Reddick and his "John Wick" character continued while the film screened as well. 
John Wick: Chapter 4 is dedicated in Lance Reddick's memory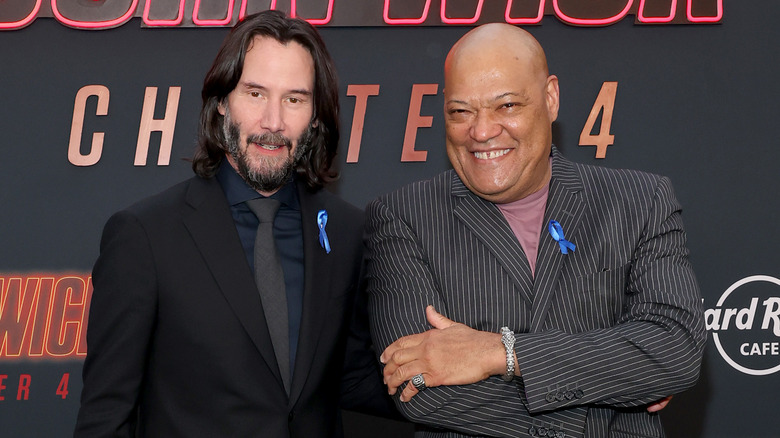 Monica Schipper/Getty Images
Before Keanu Reeves and director Chad Stahelski took to the stage to introduce the film, The Hollywood Reporter noted that President of the Lionsgate Motion Picture Group Joe Drake paid tribute to Lance Reddick. "It would be impossible to not acknowledge how profoundly sad we are by the loss of Lance Reddick," Drake said to applause. The executive then acknowledged how impactful the loss of Reddick was. In honor of the late actor, Drake implored those in the auditorium to celebrate the actor with applause. "Tonight, what I would like to do, however, is to ask you to make loud, honouring, grateful applause for a man who was an absolutely extraordinary human being, extraordinary actor, and a big part of this franchise," Drake asked the audience. Reddick received a standing ovation from those in the cinema hall. 
"John Wick: Chapter 4" screened after an introduction by both Keanu Reeves and Chad Stahelski. Variety, in attendance at the premiere, noted that Lance Reddick's first appearance in the film received considerable applause from viewers. Shortly after the film's premiere, Deadline confirmed that "John Wick: Chapter 4" was dedicated in Reddick's memory.
"I just got to be happy and be proud of the fact that I got to spend so much time with him," Stahelski told Variety. Stahelski directed Reddick in all four "John Wick" movies. "We're going to miss him," he continued. 
Lance Reddick continues to be remembered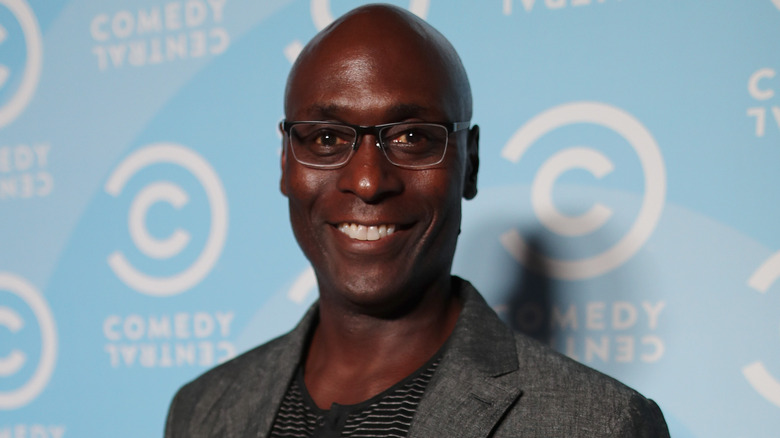 Christopher Polk/Getty Images
While Reddick was widely celebrated for his decade-long stint as Charon, the actor is also remembered for his starring role in "The Wire." After his death was confirmed, "The Wire" creator David Simon took to social media to praise the actor. "Consummate professional, devoted collaborator, lovely and gentle man, loyal friend," the creative tweeted, describing Reddick.
In addition to his roles on the big and small screen, Reddick was an integral part of Bungie's "Destiny" video game, where he played Commander Zavala. The hours following his passing, thousands of "Destiny" players took to Zavala's in-game location to pay tribute to the actor. The act of kindness and support was later commended in an official statement by Lance Reddick's wife, Stephanie.
The latest "John Wick" film is Reddick's first posthumous role. The actor will next be seen in Hulu's remake of "White Men Can't Jump." He will headline Disney+'s adaptation of "Percy Jackson and the Olympians" as Zeus. 
"John Wick: Chapter 4" will be released on March 24 2023.