Keanu Reeves Discusses The Character From His Past He'd Like To Revisit - Exclusive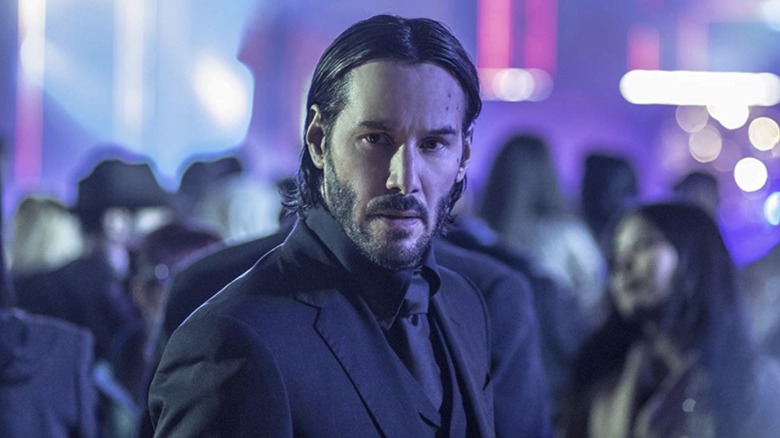 Lionsgate
Keanu Reeves has had quite a remarkable career since he first came on the scene in the mid-1980s. He started getting attention with supporting and lead roles as teenage characters in both comedies and dramas such as "Dangerous Liaisons," "Bill and Ted's Excellent Adventure," "Parenthood," and "I Love You to Death," before easing into adult roles in films such as "My Own Private Idaho," "Bram Stoker's Dracula," and "Point Break."
His first outright blockbuster came in 1994 with "Speed," and since then, he's gone onto even greater commercial success with "The Matrix" in 1999 and his latest franchise role as the title assassin in the "John Wick" movies. While Reeves has also shown up in a number of lesser-known projects, including indie and animated movies, the Canadian actor has also not shied away from revisiting some of his best-known roles after taking extended breaks from them.
He starred as stoner Ted Logan in 2020's "Bill and Ted Face the Music" some 29 years after appearing in the first sequel, "Bill and Ted's Bogus Journey," and also returned to the role of Neo in 2021's "The Matrix Resurrections," picking up that storyline almost two decades since the original trilogy concluded with "The Matrix Revolutions."
While Reeves is justifiably famous for those roles, as well as that of John Wick — which he's now reprising in "John Wick: Chapter 4" — there is one part that he might finally be interested in playing again after years away. "To have the opportunity to reprise roles, especially roles that you love, is a special thing," Reeves told Looper in our exclusive interview. And it seems that his previous role in "Speed" is ripe for a revisit.
Keanu Reeves may have a need for speed again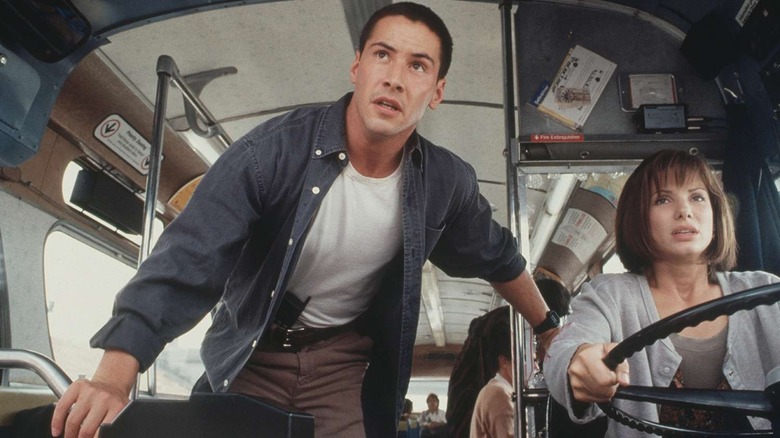 20th Century Fox
Keanu Reeves says he's grateful for the opportunities he's had to play several now-iconic characters in multiple franchises, including "Bill and Ted," "The Matrix," and of course, the "John Wick" saga.
"It's cool," Reeves said about revisiting past roles. "I never expected that starting out, so to have the opportunity to reprise roles, especially roles that you love, is a special thing. I acknowledge that. To be in 'John Wick: Chapter 4' is like, 'What?'" As for a character he hasn't yet had a chance to portray again, Reeves replied: "In terms of reprising a role, I don't know — let's throw Jack Traven from 'Speed' in the Wayback Machine."
As mentioned, "Speed" was Reeves's first full-on box office hit. It earned $350 million worldwide, giving Reeves his first taste of action-hero status and making a star out of Sandra Bullock. But while the latter returned to star in "Speed 2: Cruise Control," Reeves did not, and "Speed 2" ended up becoming one of the most notorious bombs of all time.
That hasn't stopped talk of making "Speed 3," however, although reports about the movie being in development remain mostly rumors. Director Jan de Bont told Collider in 2020 that he'd be open to the idea if both Reeves and Bullock came back, and while promoting "The Matrix Resurrections" in 2021, Reeves revealed to Extra that he wouldn't dismiss it either: "I can't say never, because I'm standing here for 'Matrix Resurrections' and at the end of the trilogy, I did die, so you can't say never."
Neo, Ted Logan, John Wick ... could Jack Traven be next on Reeves' encore list?
"John Wick: Chapter 4" is out in theaters Friday, March 24.