DC's Peacemaker Is Teaming Up With A Brand New Character, Peacewrecker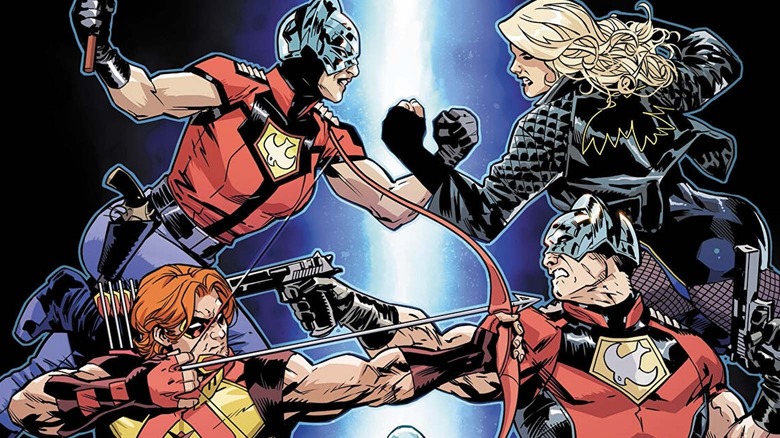 DC Comics
This post contains spoilers for the upcoming "Green Arrow" #3 by DC Comics.
Peacemaker is about to team up with a new, alternate version of himself, as Peacewrecker has officially been introduced in a new DC Comics preview. In the first look at the upcoming "Green Arrow" #3 by Joshua Williamson ("Dark Crisis on Infinite Earths") and Sean Izaakse ("Fantastic Four: Life Story"), Peacewrecker, a female version of Peacemaker, joins him in a battle against Black Canary and Speedy. Peacewrecker sports an identical costume to the deadly DC character, including Peacemaker's unique helmet, a dove logo on her chest, and of course, a gun ready to be fired at those who test her might.
With Oliver Queen gone missing in his upcoming series following his supposed death in the recent "Dark Crisis" event and team Arrow trying to figure out his whereabouts, Peacemaker and Peacewrecker will be going after Black Canary and more heroes in the DC Universe under the orders of Amanda Waller. Their goal? Take out every metahuman who stands in their way.
Peacewrecker is part of Amanda Waller's superteam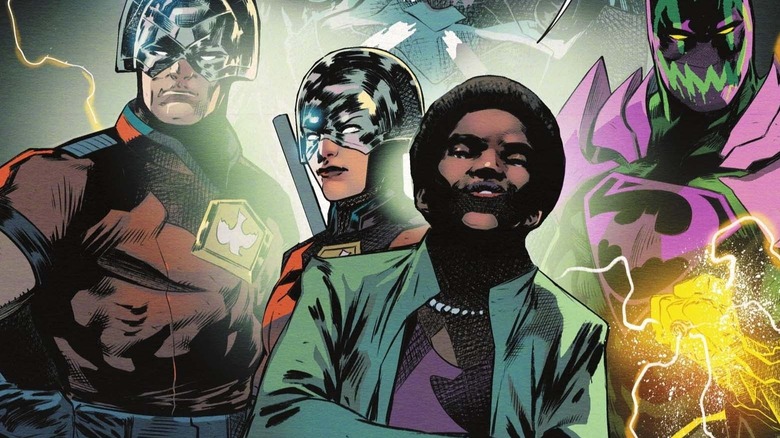 DC Comics
Amanda Waller is making her play for control of the DC Universe, as the ending of "Dark Crisis on Infinite Earths" played a significant part in her assembling a team of Multiversal "heroes" to take down its greatest heroes. Seeing how the Justice League essentially defeated death in the event, Waller formed a new group to ensure humanity's survival. In the final issue of the "Dark Crisis," she sought the help of the mysterious Council of Light, who gave the former Task Force X head permission to fully eradicate metahumans across the world. To do so, Waller assembled a noteworthy new squad.
Peacemaker, who was part of Waller's most recent iteration of the Suicide Squad, is joined by new faces to the DC Universe. "Dark Crisis" revealed a Justice League-powered Batman/Superman combination hero as part of the team, as well as a giant Cyborg character who looks like a robotic version of Bloodsport. Readers were also introduced to a variant of Peacemaker, as an unnamed female version of the antihero was seen in the epilogue of DC's latest event. Now, DC Comics is revealing the new character's name, as Peacewrecker can be seen in a new cover from Sean Izaakse for "Green Arrow" #3.
Peacemaker and Peacewrecker fight together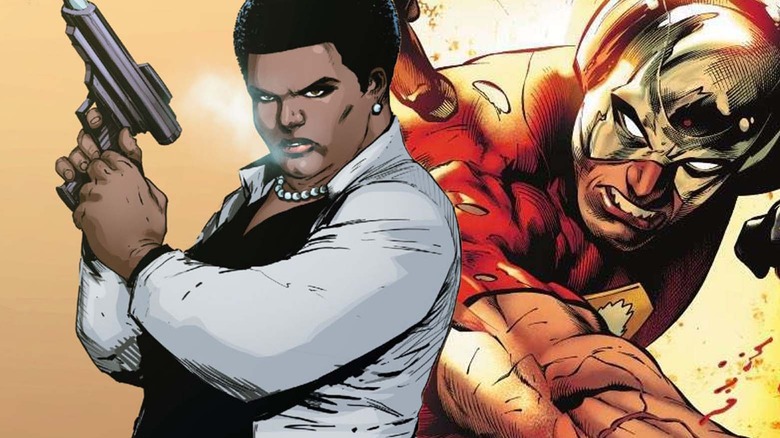 DC Comics
In the text solicit for "Green Arrow" #3 by DC Comics, a fight is teased between Black Canary and Arsenal, and Peacemaker and Peacewrecker. The issue hints at the danger ahead for the heroes as Green Arrow will encounter two unnamed of his family as he remains lost through space and time. With Oliver Queen out of the mix, Peacemaker and Peacewrecker are likely coming after Black Canary, as her metahuman powers make her one of the threats Amanda Waller talked about when revealing her plans to try to kill all the superpowered characters in the DC Universe.
If Peacewrecker has Peacemaker's fighting prowess and joy to get blood on her hands like her Prime Earth counterpart, she will be a formidable member of Waller's new anti-metahuman task force. With Peacemaker's star rising thanks to the character's appearance in James Gunn's "The Suicide Squad" and his self-titled series on HBO Max, plus a new upcoming Peacemaker comic series from Kyle Starks, Steve Pugh, and Jordie Bellaire, it makes sense to expand the character's lore and introduce another version of them from the multiverse.
The question remains, will Peacemaker and Peacewrecker get along, or will they come into conflict trying to lead the new team of deadly Multiversal heroes?
Peacewrecker and Peacemaker take on team Arrow in "Green Arrow" #3 by DC Comics, which arrives in comic book stores on June 27, 2023.