Creed III Was Great, But The Rocky Cinematic Universe Needs To Step Out Of The Ring While It's Ahead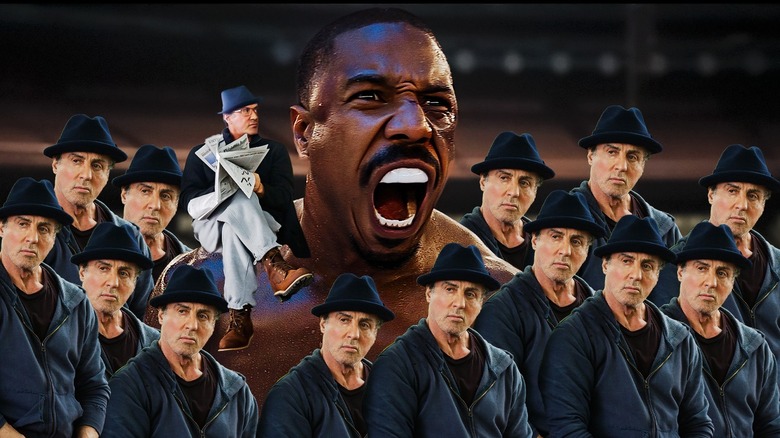 Static Media
1976 was a big year for movies, with the releases of such enduring classics as "Carrie," "Taxi Driver," the first "King Kong" remake, and the original iteration of "A Star is Born." But the undisputed heavyweight champion of the year was "Rocky," which won the Oscar for best picture and also topped the year's box office charts, earning more than $117 million and selling more than 50 million tickets. The film dominated the following Oscars ceremony, winning three statuettes including best picture and best director. Added to that haul were nominations for Burt Young, Talia Shire, and Burgess Meredith in supporting roles, and Sylvester Stallone for lead actor for his role as the titular underdog, who takes world heavyweight boxing champ Apollo Creed (Carl Weathers) the distance in a hastily arranged title fight. 
Stallone, who at the time was best known to most for writing and appearing in "The Lords of Flatbush" alongside Henry Winkler two years earlier, went on to write and star in four numbered "Rocky" sequels, as well as the comparatively disappointing 2006 comeback story, "Rocky Balboa." In 2015 Stallone spun the franchise off with the first of three "Creed" movies, which all feature Michael B. Jordan as Apollo's son Adonis and Tessa Thompson as Adonis' wife Bianca. And while the "Creed" series has been a massive success — and one we're all happy to celebrate — we're getting to the point now where this series has to step out of the ring, and fast, before it gets beaten up by trying to become a cinematic universe. 
Creed III has been a particularly rousing critical and commercial success... but how much longer can this go on?
Sylvester Stallone appeared in the first two "Creed" films, but did not want to be included in the third, telling The Hollywood Reporter that "Creed III" was too grim for his tastes. 'It's a different philosophy — Irwin Winkler's and Michael B. Jordan's" (Winkler produced "Creed III" and Jordan directed.)
"I wish them well, but I'm much more of a sentimentalist," Stallone said. "I like my heroes getting beat up, but I just don't want them going into that dark space. I just feel people have enough darkness." Stallone's absence hasn't hurt the box office performance of "Creed III," with the film earning more than $200 million in its first few weeks, making it the most lucrative installment in the franchise behind "Creed II."  The latest movie was also a knockout with fans, earning a 96% audience score at Rotten Tomatoes. Critics scored it a winner as well, with Felix Vasques of Cinema Crazed calling it, in his words, "One of the best films of the year." 
But all good things must come to an end, and it is probably time to hang up the gloves for good and move on from the franchise that has delighted audiences and padded Stallone's pockets for almost half a century. While the films continue to be well-made and compelling, the "Rocky" sequels and "Creed" films all stick pretty close to the original formula, and it's gotten as old and tired as a fighter who holds on too long.
The Rocky franchise is already making too many spin-off plans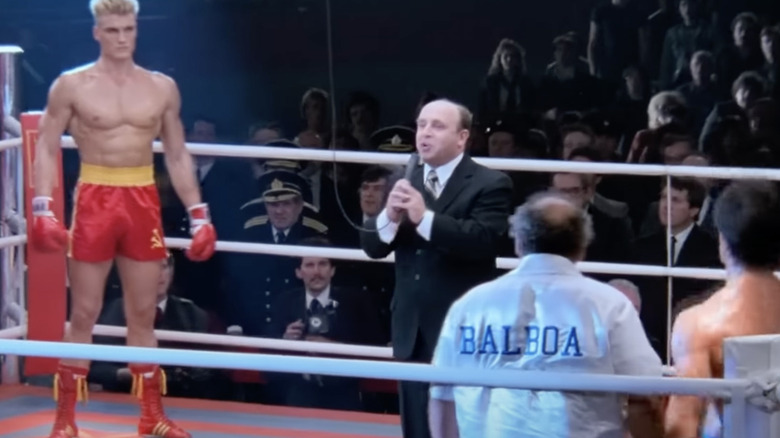 MGM
Stallone also wrote and starred in the highly successful "Rambo" and "Expendables" franchises, with his 17 screenplays earning more than a billion dollars in total at the box office. Even if Jordan and Winkler could soften the tone of a potential fourth "Creed" film, bringing the now-76-year-old Stallone back as a fighter (or even a trainer) would stretch the bounds of credibility further than the ring ropes in the Balboa vs. Ivan Drago (Dolph Lundgren) fight from Rocky IV.
There is still plenty of storytelling space left in the franchise, however, as well as the chance to bring back Ivan's son Viktor (Florian Munteanu) as a continued in-the-ring foil for Adonis Creed. In fact, there are already plans brewing for an anime series set in this same boxing world — a logical next step for Michael B. Jordan, at least, who is very publicly a fan of the genre.  A "Rocky" franchise live-action television series is in also in the works, as well as another movie or TV series that puts Adonis' daughter Amara (Mila Davis-Kent) at its center. Deadline quoted Jordan at the "Creed III" premiere as saying, "Building the 'Creed' universe is something that I'm really excited about." 
While ordinarily Jordan's talent, accomplishments, and enthusiasm would be plenty of justification for continuing the franchise until audiences start to rebel, there is a valuable lesson to be learned from "Jurassic Park" — that is, another franchise that outlived its novelty — that is, as paraphrased from the words of Dr. Ian Malcolm, just because you can do something doesn't mean you should. 
Hollywood is already overstuffed with recycled stories, even without a Rocky universe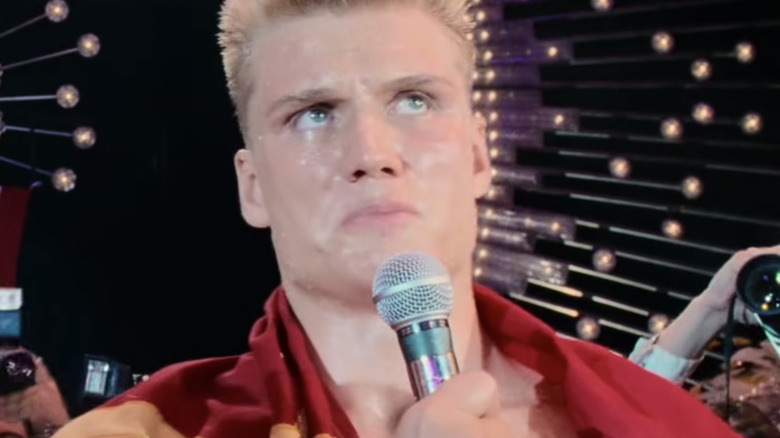 MGM
Theaters and streaming outlets are already overloaded with stories we've heard before being retold via different faces and voices. Hollywood, lately, seems nearly bereft of new ideas — a phenomenon that made the domination of this year's Oscars by the highly original "Everything Everywhere All at Once" such a delightful surprise. But it's hard to convince studios that continuing a known money-making pattern is a bad thing, and the continual procession of reboots, sequels, remakes, and cookie-cutter superhero stories that have dominated cinema marquees in recent years makes their argument clear. 
It has already been announced that we are getting a "Drago" spinoff, with Dolph Lundgren and Florian Munteanu reprising their franchise roles as Ivan and Viktor. After painting the Russian father-son duo as bad guys since 1985, it will be a huge stretch to somehow get audiences to root for the menacing pair, especially considering that Ivan killed Apollo Creed in the ring in "Rocky IV." But making sympathetic characters out of a notorious villain and his son might not be the toughest obstacle for "Drago." 
Sylvester Stallone is not at all happy with the plans for Drago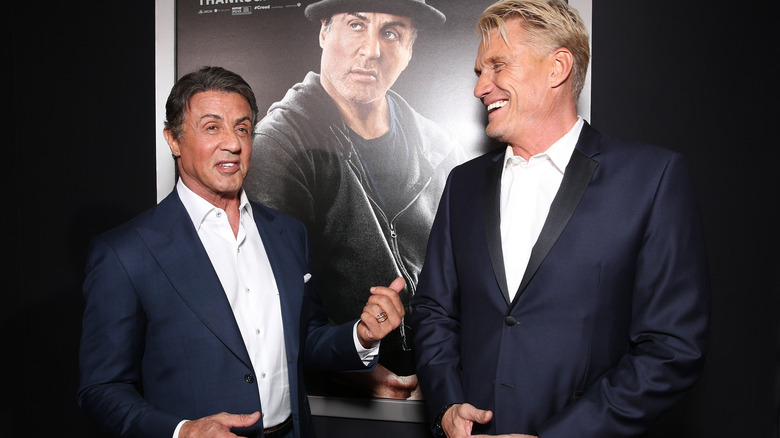 Todd Williamson/Getty Images
Rocky himself is furious at the prospect of a "Drago"-centric film. Sylvester Stallone, who ceded the rights to the "Rocky" characters and franchise to producer Irwin Winkler in 1976, recently made his feelings known about Winkler and his sons in a pair of since-deleted Instagram posts. 
Stallone posted a four-photo series in 2021 including one image of Winkler as a vampire with blood dripping from his mouth as he bites Rocky's neck. Although Stallone did make millions from his 10 percent share of box office earnings, he was initially only paid $25,000 for the "Rocky" screenplay and WGA scale of $360 a week for his Oscar-nominated performance. 
His bitterness has lingered for decades, leading him to comment on the graphic instagram post, "After IRWIN controlling ROCKY for over 47 years, and now CREED, I really would like [to] have at least a little [of] WHAT's LEFT of my RIGHTS back, before passing it on to ONLY YOUR CHILDREN – I believe That would be a FAIR gesture from this 93 year old gentleman." In another post from July of last year, Stallone bashed the producer and his children for leaving no stone unturned in their efforts to make a new movie out of every "Rocky" character they can. Meanwhile, of Lundgren, Stallone was a bit nicer — but still expressed betrayal. Lundgren, for his part, responded publicly by expressing surprise that Stallone was not involved with the film, and casting doubt over whether it would actually happen. 
Jordan remains open to weloming Stallone back to the franchise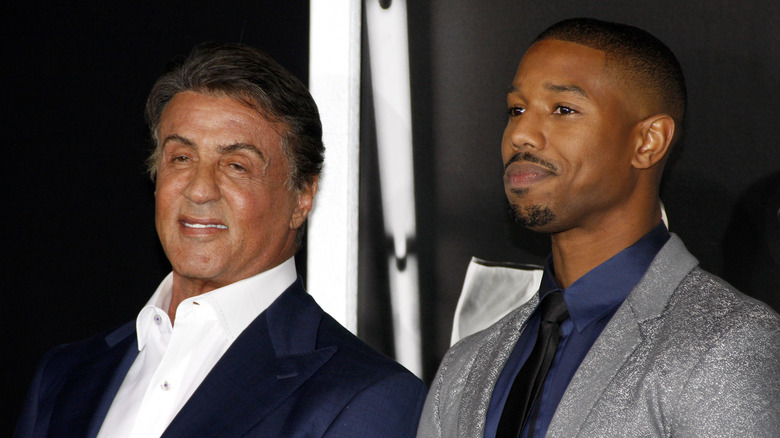 Tinseltown/Shutterstock
With Michael B. Jordan now at he helm and steering the franchise to deeper and more lucrative waters, don't expect a reversal of course anytime soon. Instead, Jordan has made it clear that he intends to keep control of the franchise despite Stallone's anger and resentment towards the Winklers. Jordan told The Los Angeles Times that he credits Stallone for establishing the underdog theme that lives on at the core of "Creed" but pointed out that he and many of his fans had not even been born when "Rocky" hit theaters. "We're in a different age," Jordan said. "I've got a following that love Creed for who he is. Some of these people don't even know who Rocky is. They've never seen the 'Rocky' movies. But they've seen 'Creed.'" 
While Jordan's comments strut precariously atop the wall between respect and defiance, he owes the undeniable success of his half of the franchise to the man who created Rocky Balboa, and he acknowledged that Stallone will always have a place in their shared universe, saying "If and when Stallone wants to be a part of this, publicly or privately, I'll always be here with open arms and a warm smile, like it's always been." 
But while Jordan and Irwin Winkler have no obligation to hand the rights to the franchise back to Stallone, perhaps they could earn some karmic points by letting it die a natural death instead of squeezing every last dollar, breath, and drop of sweat out of it.