Tommy Flanagan's Sons Of Anarchy Stunts Left Him With Tons Of Aches And Pains
The price of art is high, especially in Charming, California. The fictional town is the setting for the titular motorcycle club in "Sons of Anarchy." But while much of the motorcycle culture is not the most accurate, the same cannot be said for the onset stunts. The actors did their best to look as realistic as possible for seven years, even when it wasn't exactly comfortable. In addition to motorcycle riding, Tommy Flanagan also did some dangerous stunts in the final season. Though he had a stunt double, he insisted that clinging to the outside of a truck in Season 7 episode, "Till and Toil," was genuine.
"That was me," Flanagan promised Entertainment Weekly. "I swear to God that was me. I managed to pull myself into that truck several times after being dragged along the road, stood up, and fired my gun and said, 'Let's get these whatever I said.'" In his late forties at the time of filming, Flanagan admitted to feeling the stunt more than series lead Charlie Hunnam. The younger actor seemed to take it in stride, while Flanagan stated he would feel the repercussions of the stunt the next day. "You're like, "Ouch, ouch, ouch, and ouch. I didn't know I had muscles here. And that one's straining here. And that bone's aching. And this toe's hurtin'. And this finger's hurtin'. And my head's hurtin'. And my neck." Flanagan's pain would echo throughout the show when it came to other actors as well.
Charlie Hunnam also had Sons of Anarchy fatigue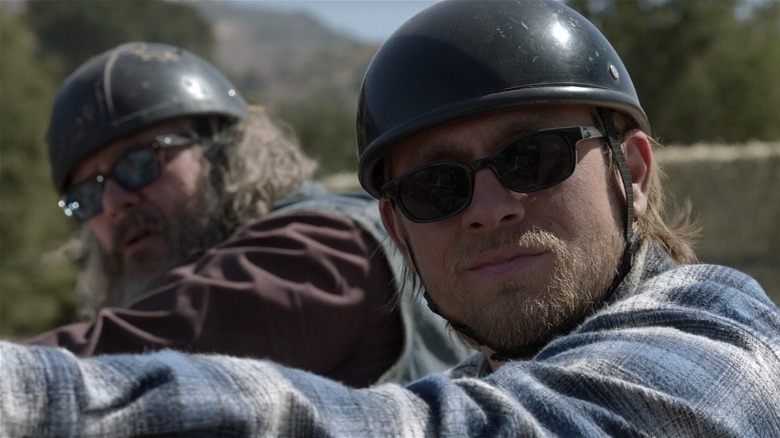 FX
Age isn't the only indicator of weariness towards the FX biker drama. Seven seasons is a long time to devote to anything, and after years of hanging off of trucks and motorcycle shootouts, some aspects of "Sons of Anarchy" have lost their sheen. Even Jax Teller himself, Charlie Hunnam, reported something changed after the show concluded. Hunnam was one of the best bikers on set, but in the aftermath of the "Sons of Anarchy" series finale, Hunnam realized that the biker lifestyle had lost some of its magic.
"I rode like I was a Hells Angels," Hunnam confessed to ET Canada while promoting his new Apple TV+ series — "Shantaram." "I took a lot of risks and got away with a lot. As soon as we finished the show, it was like the spell was broken. All of a sudden, I started to worry about being on a bike. You need to ride with confidence, you know? You think about what could go wrong, there is likelihood that something might go wrong. I haven't been on a bike in maybe three years." 
With such a bloody ending to the cult series, some wear and tear can be expected from the actors. Tommy Flanagan has elected to retire his character from appearing on the spin-off series, "Mayans, M.C." Instead, he is devoting his time to his future projects, like appearances in "Power."