The Best Biker On Sons Of Anarchy Should Come As No Surprise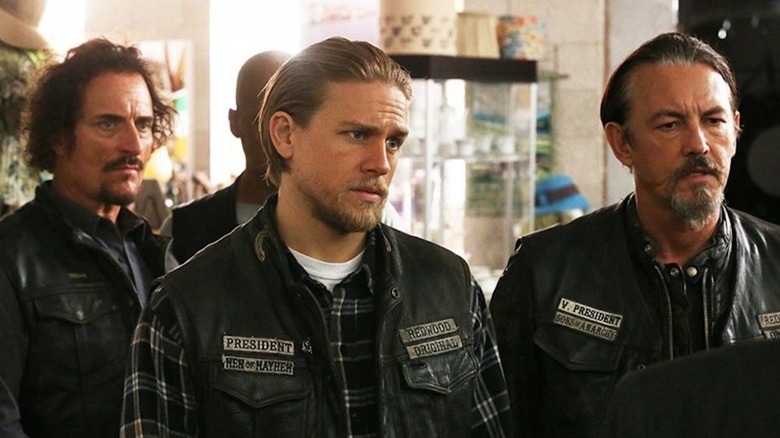 FX
FX's drama "Sons of Anarchy" follows the interconnected lives of the men and women associated with the Sons of Anarchy Motorcycle Club, Redwood Original (SAMCRO), whose dealings are quite often in illegal activities. A tragedy partly inspired by Shakespeare's "Hamlet," "Sons of Anarchy" was a critical and audience hit (via Rotten Tomatoes), with a spin-off about a rival biker gang, "Mayans M.C.," also airing on FX and recently renewed for a fifth season (via Variety).
For seven seasons, viewers were drawn to the show not only because of character complexity and the twisty and violent plotlines, but because of the authenticity of the world that creator Kurt Sutter had built. Sutter, a motorcycle enthusiast himself, rode for many years of his life before he settled down with wife, actor Katey Sagal, and their children (via Motorbike Writer). In researching the show, he even spent time with real motorcycle clubs to observe their lifestyles. Throughout the show's duration, he even tried to stay in communication with some of the people he met in that community (via Complex).
A part of that authenticity was also in the casting, and the actors committed to learning how to look natural on the motorcycles and become comfortable with them. Based on this, the eventual best biker of the cast should be fairly easy to guess.
Charlie Hunnam was the best biker in the Sons of Anarchy cast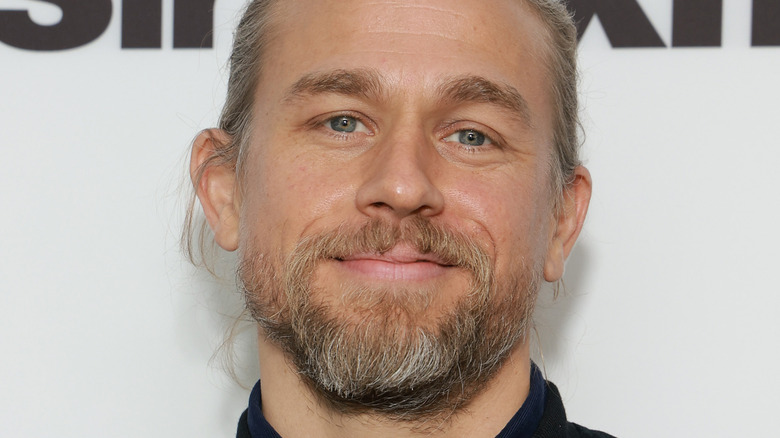 Jason Mendez/Getty Images
In an interview with Michael Rosenbaum for the Inside of You podcast, "Sons of Anarchy" actor Kim Coates — who plays SAMCRO member Tig Trager — revealed that Charlie Hunnam was the best rider on the show. Hunnam played protagonist Jax Teller, the eventual (and often reluctant) president of SAMCRO. "There was only three of us who could ride [at first]. There was Mark Boone Junior, David Labrava, and myself, of the leads, who knew how to ride," Coates told Rosenbaum. According to Coates, several of the actors lied about their riding skills, which was revealed early on.
And though Hunnam may have been a novice at the start, by the end of the show he had it mastered. "They all had to go to bike school, everybody, and I would say by the end of the seventh season, Charlie Hunnam probably became the best rider, because he was never off his bike. He rode to work every day — we all did, but he really did. He became a really good rider," Coates said.
Given how much Jax Teller is seen on his bike, it makes sense that Hunnam would immerse himself in motorcycle riding. For Kurt Sutter, it is an immense part of the characters and the world-building of the show. As Sutter remarked to Motorbike Writer, he admires "the lifestyle and the nomadic quality these guys have and the open road and riding. I have a lot of respect for the people that lead that life."