Deadpool 2's Zazie Beetz Wants A Domino Origin Story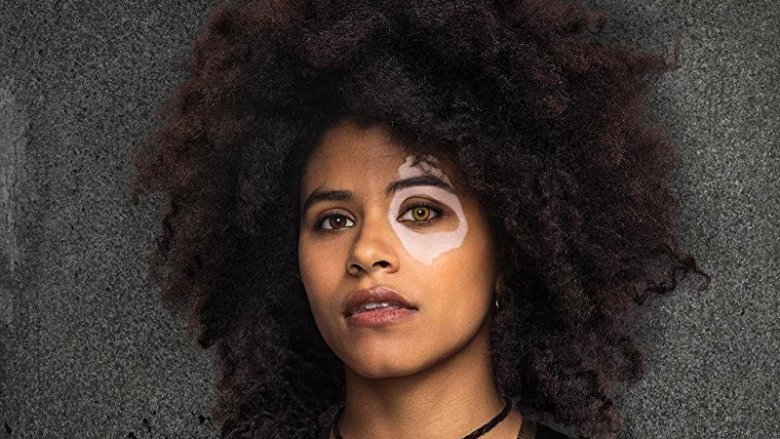 Warning: This article contains spoilers for Deadpool 2.
If you were dying for more Domino in Deadpool 2, Zazie Beetz is on your side. The actress, who brought the lucky mutant to the big screen for the irreverent sequel, said in a recent interview with Comic Book Resources that she would love to learn more about the character's origin story, potentially in her own film.
"I would love to see an origin story," Beetz said when asked about what she'd like to see for the future of her character in the films. "I would like to see where Domino came from, because it is kind of a dark and interesting background." Beetz certainly has that right — although her character was fairly happy-go-lucky in the films, she did reveal that she was raised in the same mutant-torturing facility as the troublesome young mutant Russell (Julian Dennison). 
"Her past is really dark, and I think she sort of has to let go of a bunch of stuff," Beetz said of the character's journey. "With her luck, she doesn't really have to worry if things are going to go her way or not, because they just do. Which I think lends itself to a lightheartedness and a light-footedness in everything. I think it can sort of lend itself to, [she] kind of doesn't really care about anything at all, because she doesn't have to... That was sort of an interesting place to explore."
Deadpool 2 stars Ryan Reynolds as the title character, with Josh Brolin, Morena Baccarin, T.J. Miller, Brianna Hildebrand, Jack Kesy, Stefan Kapicic, Leslie Uggams, Karan Soni, Shioli Kutsuna, Eddie Marsan, Terry Crews, Lewis Tan, Bill Skarsgard, and Rob Delaney filling out the cast. The movie, which was directed by David Leitch based on a script from Reynolds, Rhett Reese, and Paul Wernick, holds an 83 percent critics rating on Rotten Tomatoes. The film is in theaters now.