The Walking Dead's Steven Yeun Was Sometimes Frustrated With Glenn's Development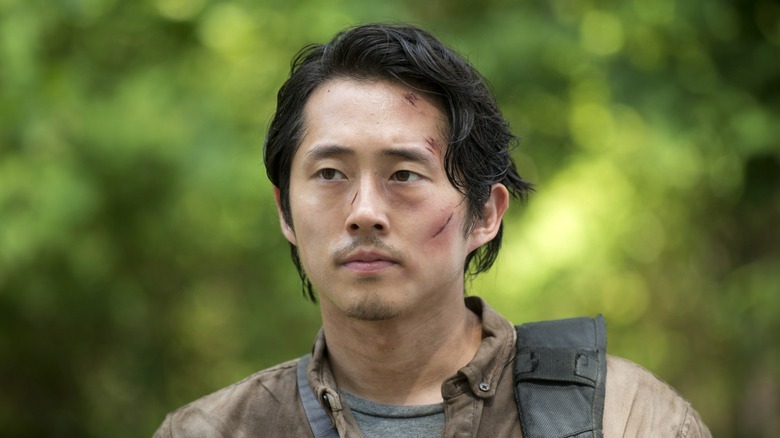 Gene Page/AMC
In its 11 seasons of content, "The Walking Dead" has had no shortage of discourse. AMC's breakout hit entranced viewers with the plight of Rick Grimes (Andrew Lincoln) and Co., but behind the scenes contained many controversies. Starting with AMC's sudden firing of Frank Darabont, other departures, such as Laurie Holden and Jeffrey DeMunn, left a bitter aftertaste.
But it isn't Glenn's disturbingly sad death that actor Steven Yeun has spoken out against. Though his character was beloved by the fandom, and his death was almost too brutal to watch, the "Minari" actor had some other criticisms of the character. On several occasions, Yeun has noted how he was not always creatively fulfilled on the series. In many ways, Glenn's inherent goodness almost seemed like a trap.
"I felt like I was servicing a concept of goodness," Yeun stated in a 2021 GQ interview, "as opposed to engaging with Glenn's humanity." Glenn's status as probably the only person that doesn't have to make moral sacrifices means that he never progresses as a character. Instead, he is always the one thrown into walker-infested wells, used as an errand jockey, and generally emotionally abused by the events of the show. He was supposed to be the shining example of retaining humanity, but instead, he just became an archetype.
Glenn was always under appreciated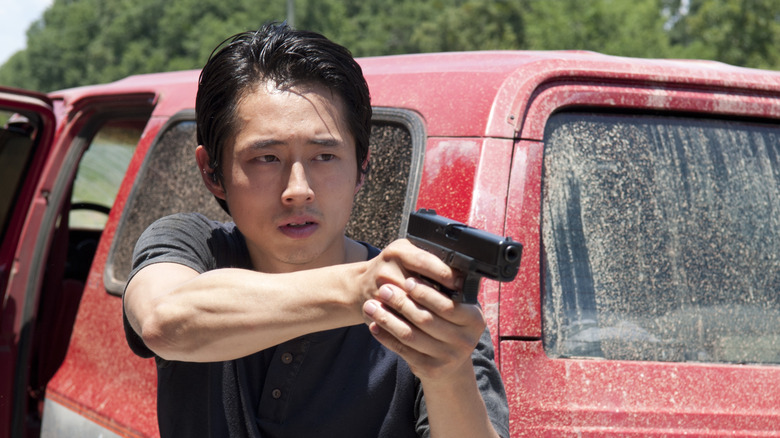 Gene Page/AMC
In the intervening years since Glenn's demise, Steven Yeun has refused to be pigeon-holed. Director Bong Joon-ho created his "Okja" role specifically for Yeun, and he has since appeared in the Oscar-nominated film, "Minari." Now he will be starring alongside Ali Wong in "Beef," the Netflix series about road rage. Each of these roles is as different as the last, which is refreshing to see after so many seasons of Glenn disrespect in "The Walking Dead." His death hurt a lot of fans, but as Yeun tells Vulture's E. Alex Jung, the appreciation for the character always seemed lacking.
"I might not be objective, but I truly feel like people didn't know what to do with Glenn," Yeun reflected. "They liked him, they had no problems with him, and people enjoyed him. But they didn't acknowledge the connection people had with the character until he was gone." Glenn was undoubtedly a fan-favorite character, but real life never reflected that. Yeun also told Vulture that he didn't get the merchandizing fanfare that Andrew Lincoln or Norman Reedus may have. And the only Entertainment Weekly cover devoted to Glenn was the issue during the season of the character's death. Just like in "The Walking Dead," Glenn never got the respect he deserved on the outside either.
"I never felt like he got his fair due. I never felt like he got it from an outward perception," Yeun admitted.