The Image Of Dwight Schrute As Wolverine We Never Knew We Needed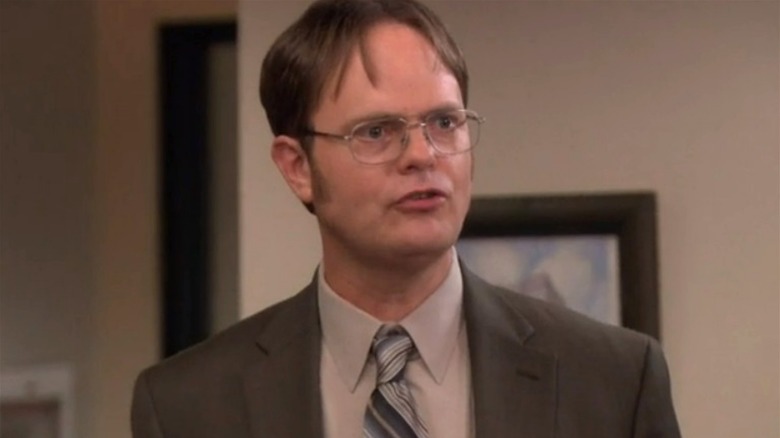 NBC
The breakout star of the gifted children known as the X-Men, Wolverine, has only been played on the big screen by a single actor: Hugh Jackman. Jackman's portrayal of the man also known as Logan is pretty much definitive in the eyes of fans. He's set to return to his signature role in "Deadpool 3," but even with a portrayal as quintessential as Jackman's Wolverine, some fans still can't help but wonder what the character might be like in the adamantium claws of another actor. Or, as in this case, another assistant (to the) regional manager.
That's right, a piece of fan art posted on Instagram by bosslogic depicts Rainn Wilson, or more accurately his own signature character, Dwight Schrute from "The Office," as the pride of Canada's secret Weapon X program. And even though it's unclear how such a casting decision would ever come to be made, it's still worth noting that Schrute's ruthlessness in the Dunder Mifflin offices in some ways mirrors Wolverine's berzerker rages on the battlefield.
He is shown complete with a 90s-style X-Men fanny pack
The fan art, in question, shows the head of Rainn Wilson seemingly in character as Dwight Schrute pasted onto the body of Hugh Jackman's Wolverine. That's pretty much the extent of the situation here, although there are a couple of added details that serve as visual grace notes for the concept. These include Dwight's beet-farm-ready neckbeard and his fanny pack bearing the X-Men logo from the beloved 1990s animated "X-Men" series (which it stands to reason that Dwight could be a fan of).
The art was posted in the midst of the D23 Expo 2022, with the humorous caption "Perfection doesn't exis......." Whether or not Dwight Schrute as Wolverine qualifies as "perfection" is up to the individual viewer to decide, but it's hard to argue with the fan art's entertainment value. And once you see it, it might be a little difficult to get the imagined sound of Dwight calling someone "bub" out of your mind.