Willem Dafoe Says His Iconic Green Goblin Laugh Comes Naturally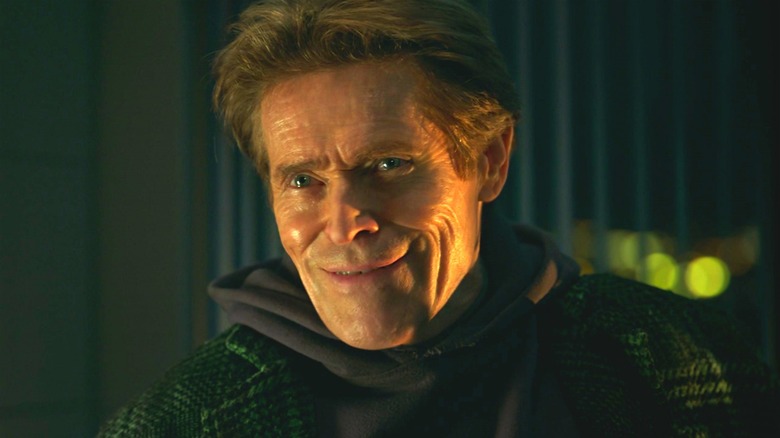 Sony Pictures Entertainment/Columbia Pictures
Willem Dafoe delivers a master class in uber-villainy when he again fastens on his emerald-green armor and reprises his portrayal of Green Goblin in 2021's "Spider-Man: No Way Home." True MCU fans will of course recall that Dafoe's Norman Osborn aka Green Goblin first swept into the Spider-verse with his original outing as the central, gleaming-green baddy in 2002's smash hit, "Spider-Man," with Tobey Maguire suiting up as the film's webslinger. Dafoe then returns as Osborn and the Goblin in the subsequent Spidey-verse films "Spider-Man 2" and "Spider-Man 3" before his latest appearance.
While it may primarily be Dafoe's wildly choreographed, building-demolishing combat scenes as he battles Spider-Man that fans recall best, they're also sure to remember his unforgettable vocal characterization of the maniacal, Spidey-hating Goblin. And as with any superhero-franchise villain worth his or her salt, a suitably heinous and mocking laugh is generally part of the villain's arsenal. In this respect, Dafoe delivers everything any fan of the franchise could hope for. The truth, revealed in a recent online Q&A session with the actor behind the mask, is that his sonically perfect, utterly insidious cackle for Green Goblin just comes naturally.
Willem Dafoe says no acting was needed for his Green Goblin laugh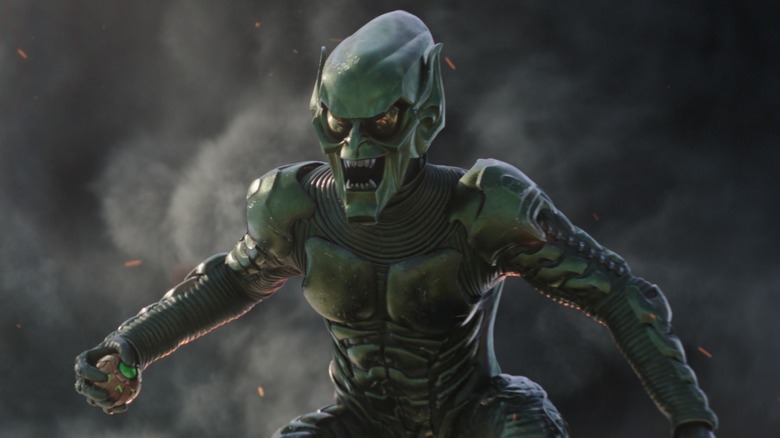 Sony Pictures Entertainment/Columbia Pictures
While some film, TV, and stage performers are famous for engaging in drawn-out, deeply personal explorations of their most intimate past experiences and memories to create their on-screen characters, others are known for adopting a more spontaneous, go-with-the-flow approach to their portrayals. At least when it comes to producing Green Goblin's trademark laugh, Willem Dafoe seems to be in the later, more instinctive camp.
As seen in Vanity Fair's "Willem Dafoe Rewatches Spider-Man, The Lighthouse, Platoon & More," the actor discussed a range of topics relating to his work on some of his better-known films. Focusing specifically on how he came to personify Green Goblin's inherently evil nature through something as simple as his villainous chortle, Dafoe said, "The laugh, you don't even think about it." He went on to add, "It's like music, you know? It's like making a noise, that's all." As for fine-tuning his vocal chops for Green Goblin's laugh in "Spider-Man: No Way Home," Dafoe said, "I don't think about the quality of it. Something like that is just natural!"