Swarm Co-Creator On How Malia Obama Wrote One Of The Show's 'Wildest' Episodes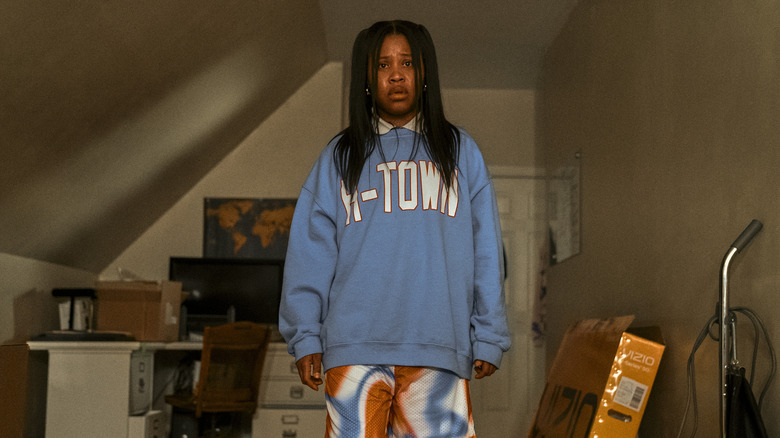 Quantrell D. Colbert/Prime Video
"Swarm" has only just hit Amazon Prime Video, but it's already well on its way to becoming one of the TV events of the year. Created by Janine Nabers and Donald Glover, the wry, pop culture-savvy horror-thriller series has earned strong reviews from both viewers and critics. In following the story of Dre (Dominique Fishback, in what's poised to be her long-overdue mainstream breakout role), a troubled young woman dangerously obsessed with pop idol Ni'Jah (Nirine S. Brown), the series acts as a mirror held up to the way an entire generation moves and forges identities in online spaces.
That cultural impact is due both to the talented cast and the bold, incisive quality of the show's writing. Although the story of "Swarm" as a whole was developed by Nabers and Glover, the first season's seven episodes were penned by a number of different writers. That list includes Malia Ann Obama, the former First Daughter of the United States, who has officially embarked on an entertainment industry career with this, her first TV writing gig. Nabers has been vocal about how much Obama brought to the writers' room, particularly in the wild episode "Girl, Bye," which the two wrote together with Ibra Ake.
Malia Obama's work ethic and writing skills impressed Janine Nabers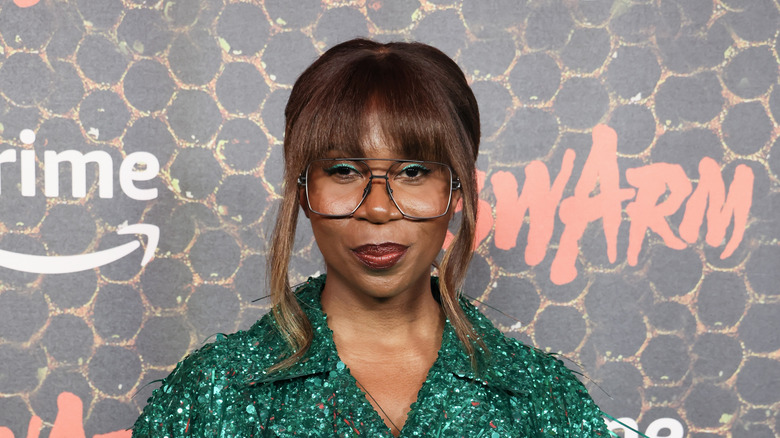 Rodin Eckenroth/Getty Images
In an interview with Entertainment Tonight published just prior to the premiere of "Swarm," the series' cast and crew discussed their excitement at working with Malia Obama — credited on the show as just "Malia Ann." In addition to taking part in the collaborative brainstorming and spitballing process that every TV writers' room goes through, Obama is also credited with co-penning the teleplay for "Swarm" Episode 5, "Girl, Bye," with Janine Nabers herself. Speaking to ET, Nabers called "Girl, Bye" "probably one of the wildest episodes." Discussing it, she said, "I think it's going to surprise a lot of people. It's pretty dope. I'm really proud of it."
Nabers' praise for Obama was incredibly high. "Some of her pitches were wild as hell, and they were just so good and so funny," she said. "She's an incredible writer. She brought a lot to the table... She's really, really dedicated to her craft." Her comments echo those of Donald Glover, who called Obama "an amazingly talented person" in a 2022 interview with Vanity Fair. "I feel like she's just somebody who's gonna have really good things coming soon," Glover said, in addition to praising Obama's work ethic and writing style.
Malia Obama blended into the writers' room like a family member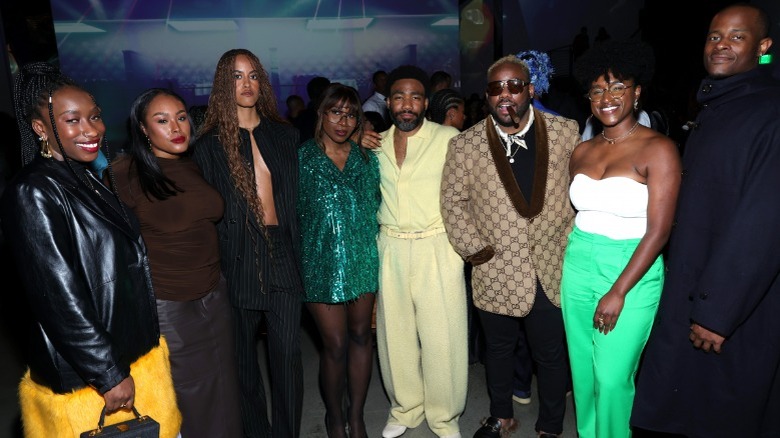 Arnold Turner/Getty
Some might think that Malia Obama's surname would inevitably make her stick out on a writing staff comprised of, shall we say, less presidential sorts. But, according to Janine Nabers, the first-time TV scribe had no trouble at all fitting into the "Swarm" writers' room. "It was like a family," Nabers told Entertainment Tonight, noting that Malia "just folded into [the group]."
It's a feeling similar to the one expressed by "Swarm" star Chloe Bailey in the same interview. The musician and actress already had a relationship with Malia and Sasha Obama going back years, telling ET that "they always felt like my family in my head." According to Bailey, "getting to see Malia now, us both growing into who we are as young women and making our own mark, her as an incredible writer and me making my mark as an entertainer and an actress, it was really fun."
It figures that Bailey would be proud, as it's been quite a journey for Obama up to this point. Prior to joining the "Swarm" writing staff, she worked as an intern on the set of HBO's "Girls," and as a production assistant on the CBS sci-fi Halle Berry vehicle "Extant." Now, by the looks of it, "Swarm" is just the beginning of her career as a writer.