Twitter Had A Lot To Say About Chloe Bailey In Swarm Episode 1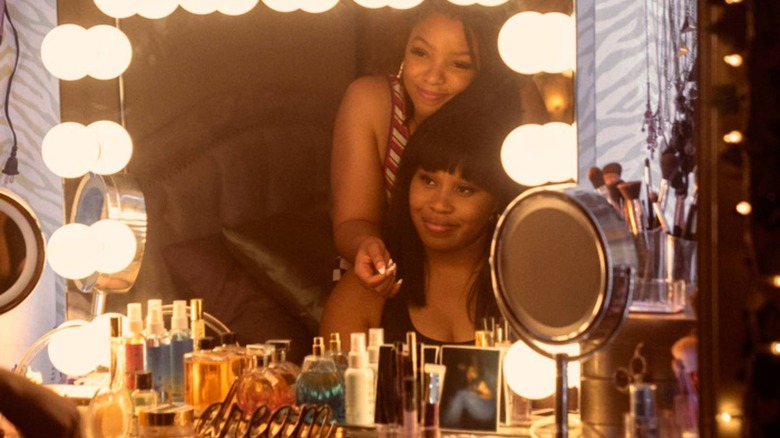 Warrick Page/Prime Video
For those of you who are not chronically online, there's been a lot of discourse on Twitter about whether sex scenes in film and television have a place in the modern media landscape, with some arguing that they serve no narrative purpose. Others believe they can be done well and function within the plot, so it was only a matter of time until people caught on with Amazon's latest hit, "Swarm." 
The new series follows an obsessed fan, Dre (Dominique Fishback), who goes state to state tracking down anyone who dares to insult her favorite artist, Ni'jah (Nirine S. Brown). In the first episode, after the viewer is introduced to Dre, we see her go to another room where her sister, Marissa (Chloe Bailey), is having passionate sex with her boyfriend, Khalid (Damson Idris). It's fairly explicit and has drawn a strong reaction from some viewers online. 
A lot of people have shared the scene on Twitter, which has drawn a strong reaction from people who weren't necessarily expecting to see it while scrolling down their page. @C1iffCinema called everyone out, "I open up twitter and the first thing I see is that sex scene, from Swarm, with Chloe Bailey & Damson Idris. Y'all horny AF on main." It certainly catches eyeballs, which was undoubtedly part of the intention of opening the series with it. 
The memes and gifs don't stop
Chloe Bailey's sex scene is in stark contrast to the public image her sister, Halle Bailey, is cultivating. Halle can next be seen as Ariel in Disney's "The Little Mermaid" live-action remake. But Chloe has certainly garnered a ton of reactions to her performance in "Swarm." She even spoke about that scene, in particular, to Deadline, where she said, "I was very scared because I haven't had that many partners, I'm not like that ... that sexual and open ... Damson made it really comfortable."
Of course, fans are going to do what fans do best on Twitter — turn it into a meme. Plenty of people had fun posting reaction images and gifs in response to the scene, and scrolling through all of the reactions can be a good time as long as you don't mind explicit material. The scene is definitely NSFW, so be careful about opening any tabs if you're at the office.
@NoShade thought it was amusing how Chloe Bailey has that scene in "Swarm" while having a more religious movie on deck: "Uhm not @ChloeBailey getting banged out on an Amazon prime tv show??? And also doing a gospel movie lmfao the kids wild these days honey." The gospel movie in question is "Praise This," which comes out on Peacock on April 7. But while some people were just being funny, others took it to a disrespectful place, causing @_courtmichelle to write, "I wish y'all gave Chloe Bailey more grace & room to evolve. The hate she gets on here is borderline disgusting." "Swarm" is rated TV-MA for a reason, and if you want to see what all the hype is about, all seven episodes are available to watch on Prime Video now.