Deadpool 2 Opens To $125 Million At Weekend Box Office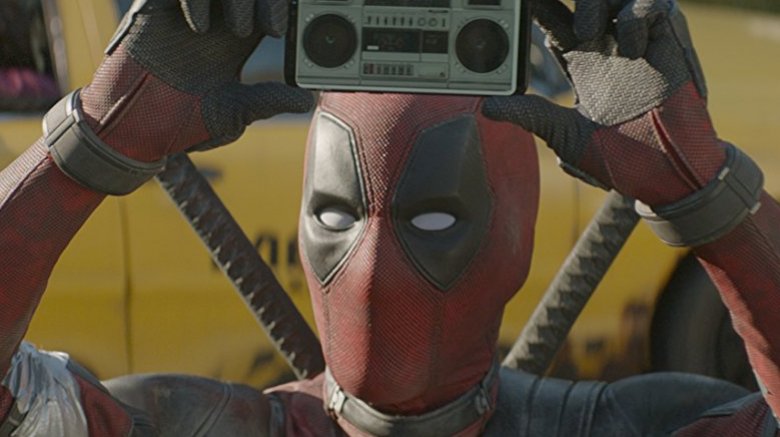 Deadpool 2 wasn't able to beat its own record. The movie opened to an impressive $125 million, good for the second biggest R-rated opening weekend of all time — after the first movie's $132.4 million. This puts the movie slightly below $130 million expectations, although it's certainly nothing to frown about, giving the movie the third biggest debut of 2018 after Avengers: Infinity War ($257.6 million) and Black Panther ($202 million).
Deadpool 2 features Wade Wilson (Ryan Reynolds) facing off against Josh Brolin's Cable as they fight over what to do about Julian Dennison's young mutant Russell. The movie brings together the X-Force, including Zazie Beetz's Domino, Terry Crews' Bedlam, Lewis Tan's Shatterstar, Bill Skarsgard's Zeitgeist, and Rob Delaney's Peter.
Morena Baccarin, T.J. Miller, Brianna Hildebrand, Jack Kesy, Stefan Kapicic, Leslie Uggams, Karan Soni, Shioli Kutsuna, and Eddie Marsan also star in Deadpool 2, which is directed by David Leitch based off a script from Reynolds and the first movie's Rhett Reese and Paul Wernick. The movie has received positive reviews from critics, with an 83 percent on Rotten Tomatoes. It was also lauded by audiences with an A CinemaScore, the same grade the first film received.
Second place went to the fourth weekend of Avengers: Infinity War, with the Marvel team-up still going strong with an impressive $28.6 million. The movie, which was the fastest of all time to reach $1 billion worldwide, currently sits at $595 million domestic, making it the eighth highest grossing film domestically of all time. It is currently the fourth highest grossing film of all time worldwide with $1.81 billion.
This weekend's other big new release, the comedy Book Club, took third place with $12.5 million, right around expectations. The film, which stars Diane Keaton, Jane Fonda, Candice Bergen, and Mary Steenburgen as the titular book club whose lives change when they read Fifty Shades of Grey, has received mixed reviews from critics with a 58 percent on Rotten Tomatoes and holds a A- CinemaScore.
Also opening this weekend was Show Dogs, which took sixth place with $6 million, also just around expectations. The movie stars Will Arnett as a cop who partners with a police dog (voiced by Ludacris) to go undercover at a prestigious dog show being used as a smuggling front. The movie received negative reviews from critics with a 26 percent on Rotten Tomatoes, but holds a A- CinemaScore.
You can view this weekend's full box office results (via Box Office Mojo) below. 
Top 10 Weekend Box Office Gross
1. Deadpool 2: $125,000,000 (– percent), $125,000,000 Total Domestic Gross   
2. Avengers: Infinity War: $28,672,000 (-53.8 percent), $595,032,959 Total Domestic Gross  
3. Book Club: $12,500,000 (–- percent), $12,500,000 Total Domestic Gross   
4. Life of the Party: $7,725,000 (–56.8 percent), $31,036,507 Total Domestic Gross 
5. Breaking In: $6,470,000 (-63.3 percent), $28,750,710 Total Domestic Gross
6. Show Dogs: $6,034,770 (– percent), $6,034,770 Total Domestic Gross   
7. Overboard: $4,725,000 (-52.1 percent), $36,973,570 Total Domestic Gross   
8. A Quiet Place: $4,040,000 (-37.4 percent), $176,176,313 Total Domestic Gross   
9. Rampage: $1,500,000 (–56.7 percent), $92,423,329 Total Domestic Gross   
10. RBG: $1,280,000 (+7.7 percent), $3,880,766 Total Domestic Gross