Supergirl's Dreamer Is Getting A Never Before Seen Origin Story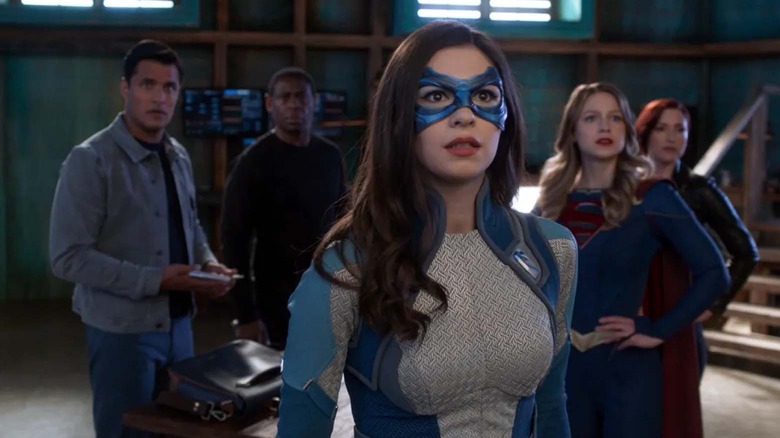 The CW
The below article contains spoilers for DC Comics' "Bad Dream: A Dreamer Story."
Dreamer (Nicole Maines) is set to star in a new young adult graphic novel, "Bad Dream: A Dreamer Story." Written by actress Nicole Maines, the story will fill in the long-awaited origin of the hero she portrayed in The CW's "Supergirl." The actress teamed up with Rye Hickman ("Hollow Hearts") to craft a graphic novel showing the character's upbringing and evolution into a hero.
When she joined "Supergirl," Maines became the first trans superhero on television. Her character, Nia Nial, is from the planet Naltor and has the powers of precognition, dream walking, and astral projection. She used those abilities to become a vital ally to Supergirl. In her time on The CW series, Dreamer became a fan-favorite character and Maines helped shape her storylines. The hero's success led to Dreamer getting an unlockable skin on the video game "Fortnite." Additionally, the actress will return to the "Arrowverse," appearing in the final season of "The Flash." Maines also penned multiple Dreamer-starring stories for DC Comics, including her appearance in "Superman: Son of Kal-El," and, most recently, writing her vital role in the "Lazarus Planet" event. 
Dreamer's spotlight is continuing to rise. DC Comics recently revealed more details about her upcoming graphic novel, "Bad Dream: A Dreamer Story," which will dive deeper into Dreamer's past.
Maines is writing a new YA Dreamer story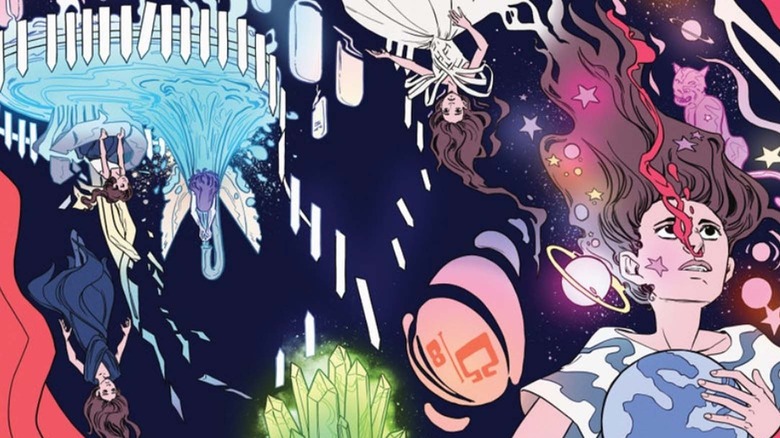 DC Comics
In "Bad Dream: A Dreamer Story," readers will learn how she gained her powers and see her childhood on Naltor. One of the main conflicts explored in the book is Nia Nal gaining her dream walking abilities when everyone assumed her sister, Maeve, would get them instead. As a result, Nia will run away from home so that Maeve doesn't find out the powers she's been training her whole life to receive have actually ended up with her sister.
Maines revealed to IGN.com that the graphic novel will have a direct link between her alien and queer communities. She shared that Dreamer's arrival on Earth will be quite a different experience than being on Altor. "But where Nia comes from, it's starkly different," Maines said. "It's a situation of, 'I've grown up in this very, very diverse place, where everyone is so different and everyone has their own stuff going on. Why am I the odd one out?'" "Bad Dream: A Dreamer Story" will serve as her official origin story with events taking place before that of "Supergirl."
Nicole Maines has proven she is the perfect person to write Dreamer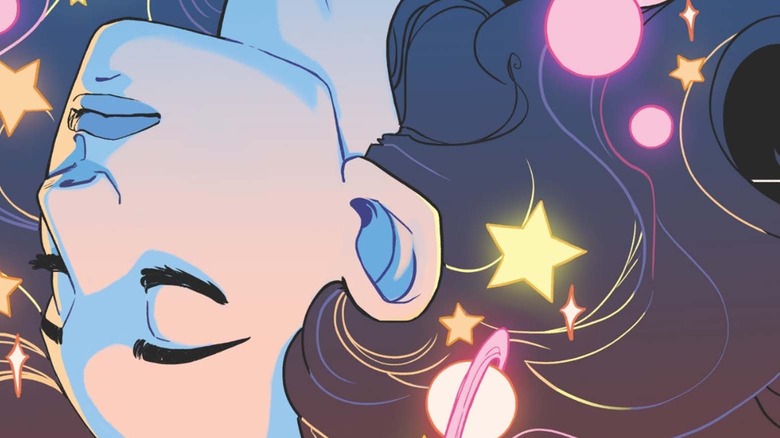 DC Comics
Maines' writing on Dreamer's appearances in DC's official continuity has been excellent. In her brief time in the main DC canon, Dreamer has never felt out of place — especially in the "Lazarus Planet" event, where her powers were instrumental in helping save the day. Even with other writers tackling her, Dreamer fits in well alongside Superman, Wonder Woman, and the Green Lantern. In the finale of "Lazarus Planet: Omega" #1, Dreamer held Doctor Fate's helmet,teasing a storyline and strongly hinting she might become the next wearer of the powerful magical artifact.
With the success of DC young adult titles — including Kami Garcia and Gabriel Piccolo's "Teen Titans" series, the trans hero Galaxy making the jump from Jadzia Axelrod and Beth Taylor's graphic novel "Galaxy: The Prettiest Star" to the main DC canon, and House of El stories from Claudia Gray and Eric Zawadzki — its graphic novel line has established itself as one of the publisher's most important imprints. "Bad Dream: A Dreamer Story" looks to continue its storytelling excellence. From the sounds of it, it will be a must-read for Dreamer, DC Comics, YA, and "Supergirl" fans.
"Bad Dream: A Dreamer Story" by Nicole Maines and Rye Hickman arrives in comic book stands in April 2024.