Red One - What We Know So Far
Jon Kopaloff/Getty Images
It feels like it's been too long since a new classic holiday film has come around. Films like "The Santa Clause" or "A Charlie Brown Christmas" have stood the test of time as traditional flicks to put on during the holiday season, but new additions come along rarely. Now, Amazon is promising to add their own addition to the genre: Currently operating under the working title of "Red One," the film enlists the talent of "Jumanji" director Jake Kasdan for a new twist on the standard Christmas flick formula.
At this time, Amazon is being extra-secretive when it comes to details for this project. While the company has announced a prospective release window, and even let slip the name of its biggest star, it has been anything but forthcoming in regards to the plot. Nevertheless, the idea that Amazon could give us the next great holiday film warrants some attention. With that in mind, here is what we know so far about "Red One."
What is the release date for Red One?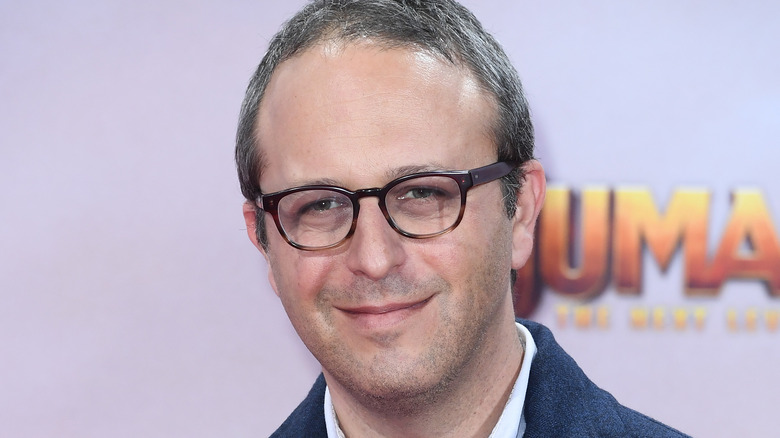 Matthias Nareyek/Getty Images
At the moment, "Red One" is still very much in the early stages. Amazon grabbed the project for its streaming services in June 2021, and since then, Seven Bucks Productions and Jake Kasdan's banner The Detective Agency have been spearheading production. According to Variety's initial report, filming on "Red One" is planned for 2022 so that it can be released over the holidays in 2023. For now, that's the closest we have to a release date.
However, a lot can happen to disrupt the film's production process between now and then, and the film's cast and crew will need to work hard to make that 2023 deadline. Luckily for "Red One," everything is going smoothly so far, and it seems that Amazon Studios chief Jennifer Salke feels confident. In June 2021, she told Variety that "Seven Bucks Productions is a leader in creating unique and compelling entertainment for the entire family, and we know 'Red One' will continue that tradition."
Who is in the cast for Red One?
Sony Pictures Releasing
The first casting announcement Amazon let loose for fans is one of the big names set to star in "Red One": Dwayne Johnson. Per Variety's 2021 announcement, Johnson is reuniting with director Jake Kasdan following their time working together on 2017's "Jumanji: Welcome to the Jungle" and the 2019 sequel, "Jumanji: The Next Level."
Unfortunately, Amazon has yet to reveal who the actor formerly known as "The Rock" is set to play. However, in October 2021, The Hollywood Reporter speculated that it could very well be Santa Claus himself, though Amazon has provided no additional information to verify this. What is known is that Johnson seems eager to work on this project. He told Variety that he's "been very impressed with Jen Salke and her team's vision and ambition to create an enormous, fun and unique 'Red One' holiday universe for families around the world to enjoy."
Johnson reiterated his enthusiasm for "Red One" in late January 2021 as he celebrated the addition of Chris Evans, who will star opposite the "Jumanji" actor in the forthcoming holiday romp, per Deadline. No information about Evans' character has been released at time of writing. On Instagram, Johnson remarked, "When CAPTAIN AMERICA teams up with BLACK ADAM to make a CHRISTMAS MOVIE," opposite a screenshot of Digital Spy's casting announcement news.
It's likely that Johnson and Evans will be the only known cast members — until the film gets deeper into production, at least. However, you can be certain that Amazon will release more names in the future, as "Red One" slowly but surely approaches its release date.
What is the plot of Red One?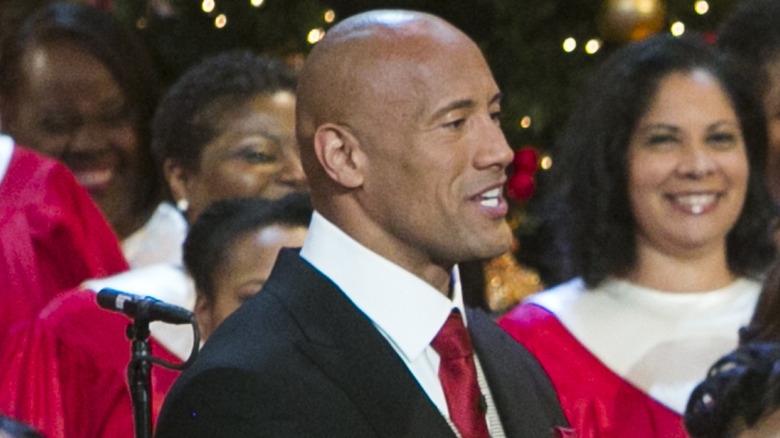 Pool/Getty Images
Holiday films are rarely mysteries, but the plot of "Red One" is. Not in the sense that the film is part of the mystery genre, but in the sense that Amazon has released zero concrete details regarding its plot. Per Variety's 2021 announcement, we do know "Red One" is based on a story devised by producer Hiram Garcia, and it is being sold as "a globe-trotting, four-quadrant action-adventure comedy," and "a whole new universe to explore within the holiday genre." These are big promises, but for now, there's no concrete info to dig into.
In late January 2022, we got a little more plot information in the way of a tantalizing tease from Dwayne Johnson. In the same Instagram post celebrating Chris Evans' casting, Johnson offered up the following: "Think 'MIRACLE ON 34TH STREET' meets 'HOBBS & SHAW' with a little bit of 'IT'S A WONDERFUL LIFE' sprinkled on top." The multi-hyphenate entertainer then revealed that the text chain between himself and other essential "Red One" team members has become "fun" and "filthy," further clarifying the tone of the Amazon holiday movie for fans. 
It's clear that Amazon is building up "Red One" to be something quite different in the holiday movie genre, and it's hard to argue against that when so little is known. As a result, the only expectations that viewers can have are the high ones set by Amazon itself, and it remains to be seen if the actual movie will deliver.