Looper Asks: Which Ted Lasso Character Can You Really Not Stand? - Exclusive Survey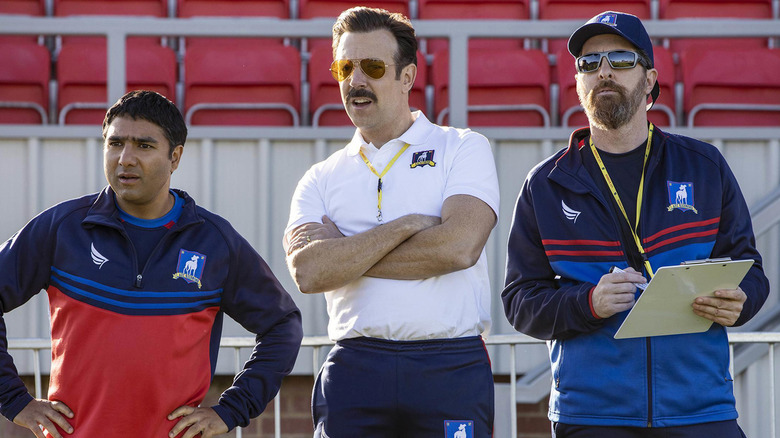 Apple TV+
Apple's "Ted Lasso" proves that enthusiasm and a positive attitude can be infectious in even the most unlikeliest of places. Now entering Season 3, "Ted Lasso" follows the titular character (played by Jason Sudeikis) as he becomes more adroit at navigating the world of professional football (also known as soccer) among a truly interesting cast of characters. Although many, like Rebecca Welton (Hannah Waddingham), have slowly been worn over by Lasso's wholesome charm, there are some that have been able to resist his personal magnetism.
Considering the people for and against Ted Lasso's growing orbit and popularity within the show, there are bound to be a couple of characters that some audience members aren't the biggest fans of. We here at Looper decided to host an exclusive survey that queried fans of "Ted Lasso" in order to ascertain which character is the one that is least popular among fans. Our options on Looper's YouTube survey were Rupert Mannion (Anthony Head), James Tartt (Kieran O'Brien), Edwin Akufo (Sam Richardson), Jamie Tartt (Phil Dunster), and Nathan Shelley (Nick Mohammed). After receiving over six thousand responses, one character lorded over all others in terms of fan hatred, and the winner of this unpopularity poll is none other than Nathan.
Nathan received more than half of the vote
Fan dislike of Nathan is clearly represented in our exclusive survey, which saw the character receive well over 55% of the vote. Other options didn't even come close, with the next runner up being Rupert Mannion at 17%, followed by both James and Jamie Tartt at 10%, and Edwin Akufo at 9%. Of course, this isn't to say that people actually hate the character, and the comment section has many opinions that actually praise Nick Mohammed's acting, because although fans can't currently stand Nathan, they love the character and the way he drives the plot forward. In other words, there is definitely some sympathy among audience members when it comes to Nathan, despite the overwhelming response to our poll.
Speaking with CBS News, Mohammed spoke about how Nathan has evolved throughout the series, and how he has become somewhat of a villain in Season 3. Mohammed explained, "In order to sort of play it realistically I had to sort of find a real truth to why he was behaving that way. A lot of it does stem from this toxic relationship he has with his dad. And you know, he was clearly bullied when he first started out as a kit man, by some of the players at the club, in AFC Richmond." This comment from the actor himself makes it sound like even he had to justify some of his actions and heel-turn, so what the future has planned for Nathan is sure to be a big story in Season 3 of "Ted Lasso."